This hostel was amazing. It was clean, in a great location, had meal options and a great bar with friendly staff. It was a really safe spot for a solo female traveler, and lockers in the room to keep belongings safe. The common area was bustling, but they also had areas that were quieter for down-time, talking with family on the phone, or journaling. Would highly recommend for other solo female traveler looking for social, safe, and clean hostels. - Anonymous
What sets them apart?
The fun common spaces (with a pool table, foosball, and air hockey), on-site bar and cafe, and diverse range of guests make this hostel a popular option.
Hostel Personality
Who's staying here?
This hostel has a true diversity of guests. From solo travelers to families with kids, you'll find someone from every age group represented. Depending on what you're looking for, many solo travelers enjoy the atmosphere, but often times guests keep to themselves, so if you're looking to make friends, this may not be the best place. Female travelers have complimented this hostel on its safe location and secure feel.
Insider Tip
Check out the walking tour.
Stayokay Amsterdam Vondelpark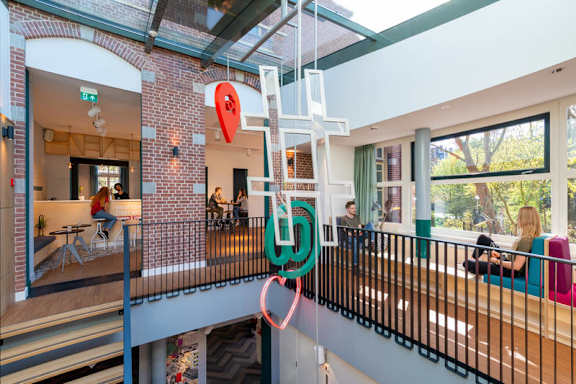 Stayokay Amsterdam Vondelpark Hostel is a friendly place to stay in a charming building. It's located by Vondelpark, which is a nice place to explore. It's in an area that doesn't feel particularly touristy, but is walking distance to many attractions, as well as trams and buses that make the city easily accessible.
This hostel has a diverse group of guests that include backpackers, families, and every age group. There are great common spaces where you can hang out and play pool or foosball, but the rooms are quiet and you can enjoy a great night's sleep.
The Facilities
Dorms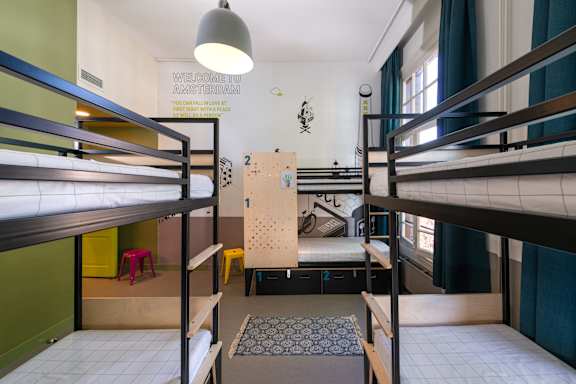 This hostel has many different dorms that sleep between four and twenty people. They're modern and bright with comfortable bunk beds. Each bunk bed is separated by a small wall that offers just a little bit of privacy. Guests are given security lockers and rooms are very secure. Single sex and co-ed rooms are available
Private Rooms
This hostel has a range of private rooms available. There are doubles with either twin beds or bunk beds, four bed rooms, and family rooms that sleep up to six. These rooms are perfect for groups of friends or families that are traveling together.
Bathrooms
All of the rooms have ensuite bathrooms with showers and toilets. Like the rest of the hostel, the bathrooms are very clean, modern, and reliable. They receive very few complaints.
Restaurant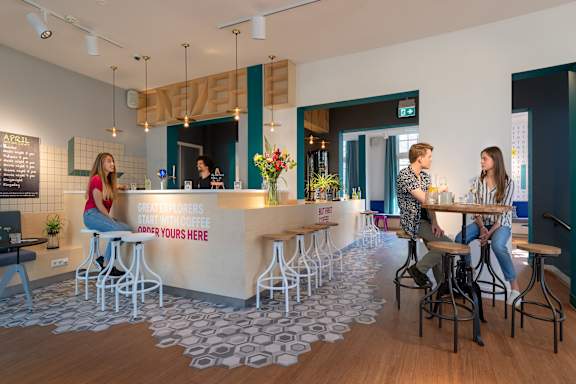 There's a cafe and bar on-site, Brasserie Bite & Drink, that offers hot meals and beers at a reasonable price. It's really more of a cafe than a bar, and everything's about what you'd expect to pay elsewhere in Amsterdam (which is expensive in general!). If you're hoping for the best deal, hit up the bar during the daily happy hour when there are food drink specials.
Common Areas
This is a relatively large hostel with many great common spaces to hang out. There are more social rooms with foos ball, pool, and air hockey. There's also space with public computers where you can catch up with friends back home. If you want a quiet space, that's easy to find. Grab a book at the book exchange and enjoy some time to yourself. Whatever you're looking for, this hostel is large enough to offer it.
Outdoor Space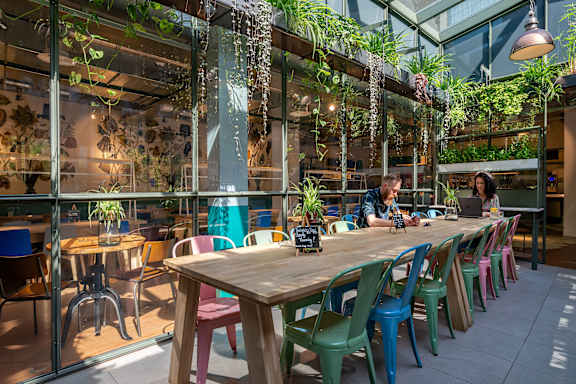 There's a little bit of outside seating with a table where you can enjoy meals when the weather's nice. If you really want to enjoy being outside, head to the park just outside the front door.
The Location
Vondelpark
What's Nearby?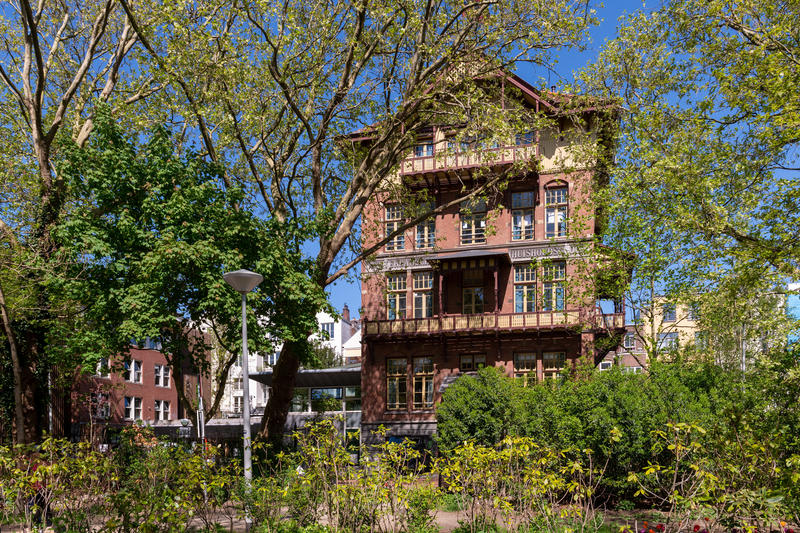 Located in the heart of Vondelpark and looking out at the lovely green park, this hostel is a short ten minute walk from both the Van Gogh Museum and the Rijksmuseum. If you're looking to take advantage of the city's nightlife, head to the nearby Leidseplein Square and hit up some popular spots like Paradiso, Jimmy Woo, and Melkweg, all just a ten minute walk away. The hostel's neighborhood isn't particularly touristy, which many guests appreciate, but there are still plenty of bars and restaurants. The Anne Frank House and Dam Square are both about a mile away.
Nearby Transportation
Bus and tram stops are all nearby, which can take you different parts of the city that might not be as accessible on foot. Head to Leidseplein Square to catch tram lines 1,2, and 5, which will take you directly to Dam Square and Amsterdam Central Station. The hostel also has bikes for rent, which is obviously the best way to get around Amsterdam!
Activities
There aren't a ton of activities at this hostel but the free walking tours are excellent and the daily happy hour is the best time to grab a drink in the hostel bar at a reasonable price.
Amenities
In addition to the standard amenities like Wi-Fi access, luggage storage, and security lockers, this hostel offers all kinds of entertainment for guests including a pool table, foosball game, and lots of board games. There's a book exchange if you've finished your latest novel and all kinds of travel information if you're planning your next day's adventures. This is Amsterdam, so you should definitely take advantage of the bike rental and experience the city like the locals do.
Staff
The staff here are friendly and helpful. This is a very professional establishment and you can expect professional service. It's a large hostel so they may occasionally get overwhelmed, but in general the staff keep things running smoothly.
Heads Up
If you're traveling alone and hoping to make some new friends, it may be a bit challenging here as many guests keep to themselves. The hostel also isn't in the most touristy area, but many guests appreciate this. This hostel also does not have a shared kitchen, but there are plenty of places around to grab a bite to eat, including the hostel's cafe.
Stayokay Amsterdam Vondelpark
Do you have a favorite hostel that you would like to review? Let us know!