Lovely staff, safe atmosphere, clean, friendly, value for money. Will definitely stay here again. - Anonymous
What sets them apart?
This is a calm hostel right in the center of Amsterdam. They strictly prohibit alcohol and smoking, although there is a smoking area outside in the courtyard. The friendly Christian hospitality and impressive breakfast appeal to many travelers.
Hostel Personality
Who's staying here?
This is a Christian-run hostel that strictly prohibits alcohol and smoking. it appeals to travelers of a variety of ages who want to avoid the party scene that is so common in many Amsterdam hostels.
Insider Tip
The largest dorms rooms can get a bit loud so if you're hoping to sleep well, stick to the smaller rooms.
Shelter City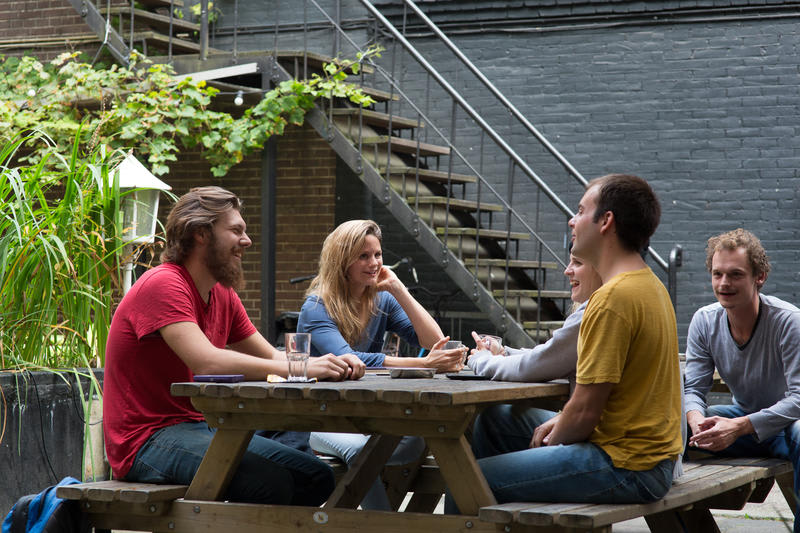 Shelter City is a well established Christian hostel in the heart of Amsterdam. It's walking distance to many attractions and also near a metro station. The hostel is staffed by Christian volunteers who are friendly and welcoming. They do not allow alcohol or smoking at the hostel, but there is a smoking area outside in the courtyard.
The hostel has very basic rooms with simple furnishings. They serve a free breakfast of pancakes and fruit every morning that guests love.
The Facilities
Dorms
This hostel has dorms that sleep anywhere from 4 to 20 people with everything in between available. The beds are simple and a bit squeaky. The larger rooms can also feel a bit cramped. The outlets are limited in the dorm rooms, but you can charge your electronics in the reception area if you need to.
Bathrooms
The bathrooms are average with decent showers. Many guests felt they could be cleaned more frequently but in general they are in good condition.
Common Areas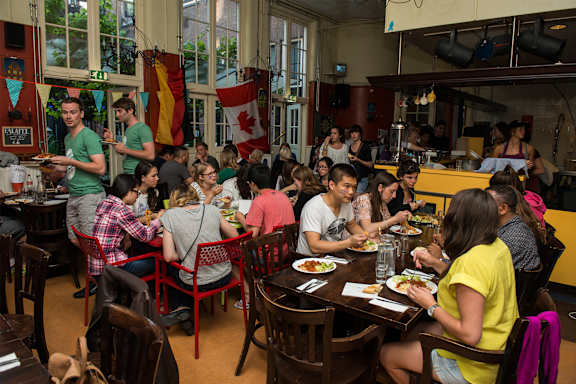 There's a nice cafe with plenty of seating and tables. The hostel also has public computers available to guests so you can send a message to friends back home.
Outdoor Space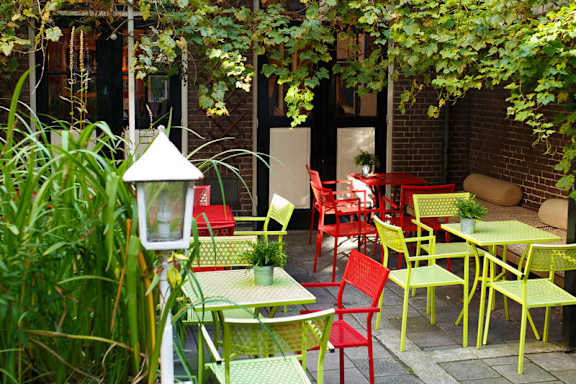 The outdoor garden is a favorite part of this hostel. There are tables and chairs for guests as well as a large fish pond. It's the perfect place to enjoy a meal with friends or relax with a book when the weather is nice. Some of the dorm rooms also open to the outdoors.
The Location
Amsterdam City Center
What's Nearby?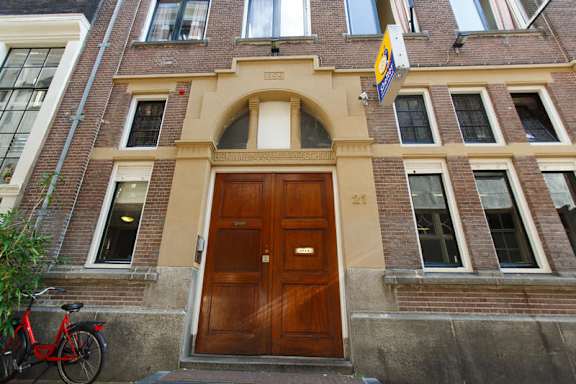 This hostel is conveniently located right by Nieuwmarkt Square, which has many great restaurants and cafes. There's also a market housed at the square that dates back to 1614.
The hostel is about a 10 minute walk from Basilica of St. Nicholas, and 0.7 miles from Museum Ons' Lieve Heer op Solder. Dam Square is just under a mile away and the Rembrandt House is 1.5 miles away. The city's famous Flower Market is 1.7 miles away.
Nearby Transportation
Nieuwmarkt Metro Station is very close to the hostel. It's served by three lines - the 51, the 53, and the 54.
Activities
This hostel occasionally offers group dinners for guests. There's also free breakfast served every morning and sometimes they run walking tours of the city. Discounts are also available on all kinds of tours and activities, so inquire at the reception area.
Amenities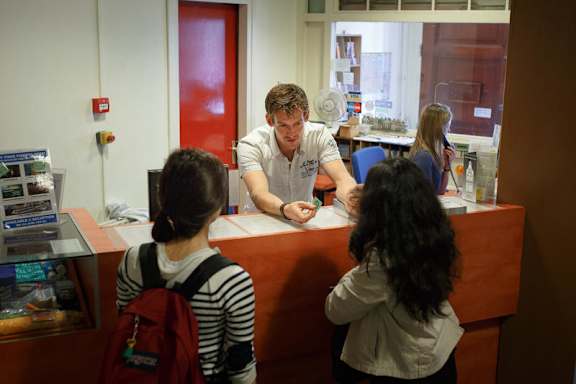 This hostel's pancake breakfast is a favorite of all guests. It's a filling and delicious meal that's included in the price of the room. Also available to guests is luggage storage, travel information, vending machines, and Wi-Fi access, among other things.
Staff
This hostel is staffed by Christian volunteers from around the world. They provide friendly hospitality to the guests and make a very impressive breakfast of pancakes, which is free every morning.
Heads Up
Many guests complain about the cleanliness of this hostel. The beds are a bit squeaky and many guests feel the rooms are too cramped.
Shelter City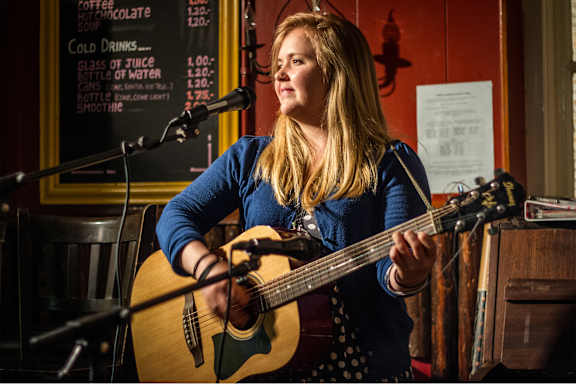 Do you have a favorite hostel that you would like to review? Let us know!