Great location and the discount on food and drink at the bar is really good! The rooms were spacious and the beds were comfy! Facilities were very clean. - Anonymous
What sets them apart?
The popular bar, central location, and good value for the money make this hostel a fun and popular option.
Hostel Personality
Who's staying here?
This hostel has a lively bar downstairs that keeps things fun late into the night. If you're looking for a party then this hostel is a good option, as you don't have to go far for a lively crowd and affordable drinks.
Insider Tip
If you're in a larger dorm, try to shower at night because the showers can get a bit crowded in the mornings.
St Christopher's at The Winston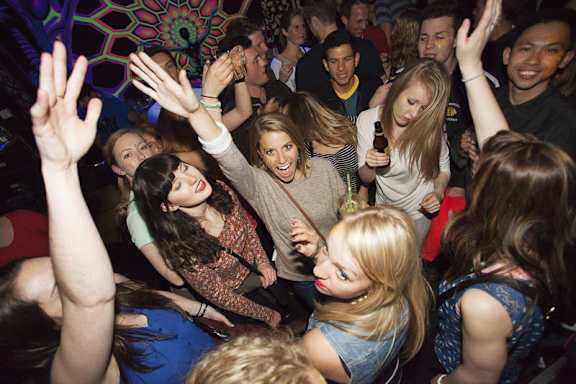 St Christopher's at the Winston is part of the St Christopher's chain of hostels which is found throughout Europe. Like the other branches of this chain, the hostel has a popular bar, Belushi's bar and restaurant, where guests enjoy hanging out and drinking late into the night.
This is a bit of a party hostel, so sleep isn't really a priority for many guests. It's a relatively clean hostel with comfortable beds and a solid security system. It's central location near everything also makes it a popular option in Amsterdam.
The Facilities
Dorms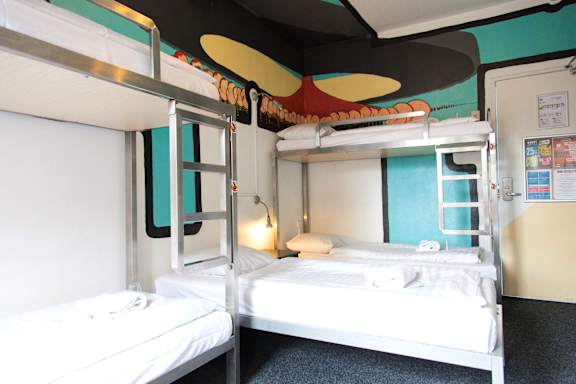 Dorm rooms sleep 4, 5, 6, 8, or 10 people. The beds are basic and some have privacy curtains. The rooms are relatively clean with very simple furnishings, reading lights, and security lockers for guests. Guests can choose between female only rooms or mixed. Both towels and bed linens are included in price of the room, which is unusual and a nice touch.
Private Rooms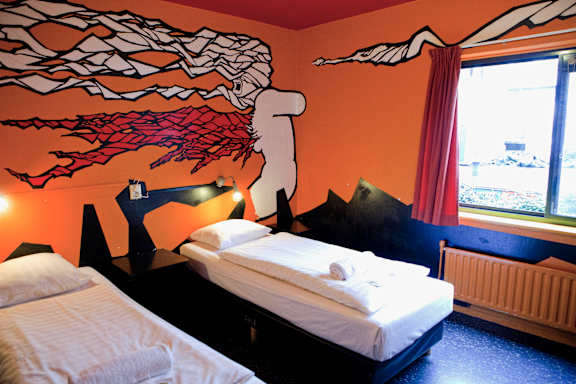 Single, double, and twin private rooms are available for guests who want some space to themselves. These are basic rooms with simple furnishings at reasonable prices. Smaller dorm rooms can also be reserved for entire groups.
Bathrooms
Most rooms have private ensuite bathrooms. The bathrooms are cleaned regularly and have modern fixtures that are reliable.
Bar
Belushi's Bar and Restaurant
, a mainstay at every St Christopher's hostel, is the place to go for cold drinks and good food. The bar stays active late into the night and there always seems to be something going on. Guests enjoy a 25 discount on all food and drinks, so there are good and and good value for the money.
Common Areas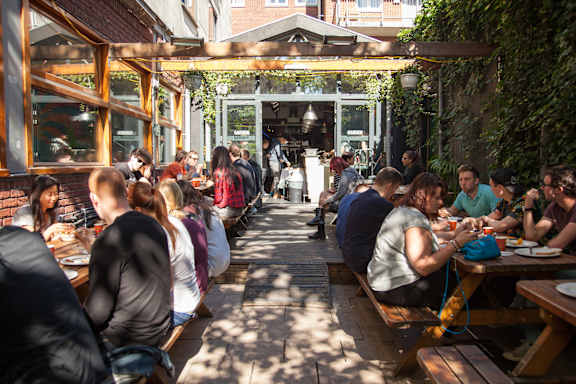 The bar is the most popular place to hang out at this hostel. There's not as much additional common space as you might find at other hostels, but there is a smoking room and an outdoor terrace.
The Location
De Wallen
What's Nearby?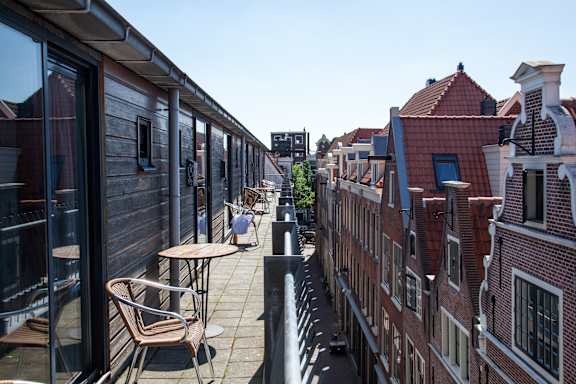 This hostel is conveniently located right in the heart of Amsterdam's city center. It's right by Dam Square and adjacent to the Red Light District. In the neighborhood you'll find many great bars and clubs. If you're hoping to experience a more cultural side to Amsterdam, many of the city's museums are accessible on foot or by tram. The Anne Frank House is also less than a 15 minute walk away.
Nearby Transportation
Many things you'll want to see and do are accessible on foot, but if you to go a little further, there are plenty of tram stops nearby. You can reach both Leidseplein and Museumplein by tram in just 20 minutes.
The airport is accessible by train or bus, which will take you to Amsterdam Central Station. The trip takes about 20 minutes and the you can walk from the train station to the hostel in just 10 minutes.
Activities
During the day there are free walking tours of the city organized by the hostel. At night, there's always a party at the hostel's on-site bar. Drinks are affordable (guests get a discount) and there's always a crowd.
Amenities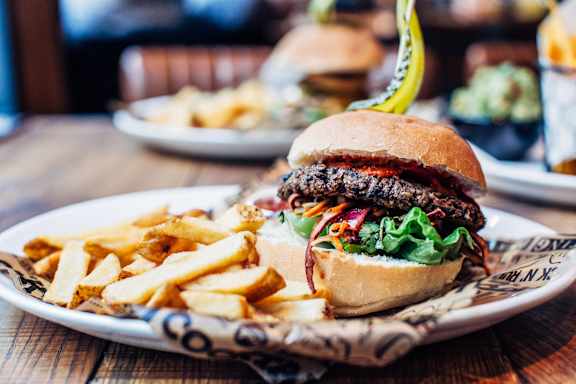 This hostel has Wi-Fi access, luggage storage, and travel information if you need it. The rooms and building are very secure and guests are given security lockers. Towels are also provided in the price of the room, which many guests appreciate. There's also a continental breakfast served every morning for a very reasonable price.
Staff
Staff here are generally friendly and accommodating. Guests say there concerns were addressed promptly with no questions. The staff are on-site 24 hours a day, so the buildings are secure and your schedule can be flexible.
Heads Up
This hostel can be a bit loud with the bar downstairs. Some guests also complained that with the exception of the bar, there's little common space to hang out in. There's also no kitchen available to guests, but they do receive a 25 percent discount at the bar and restaurant.
St Christopher's at The Winston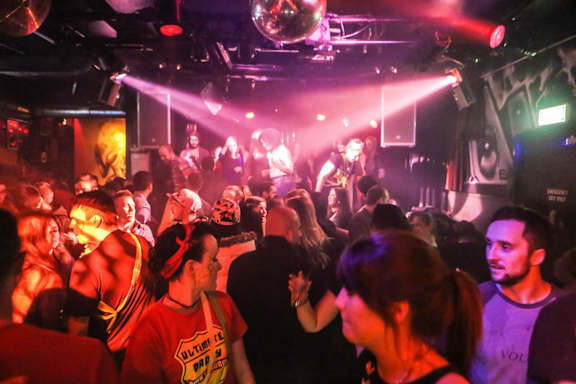 Do you have a favorite hostel that you would like to review? Let us know!