San Carlos de Bariloche On a Budget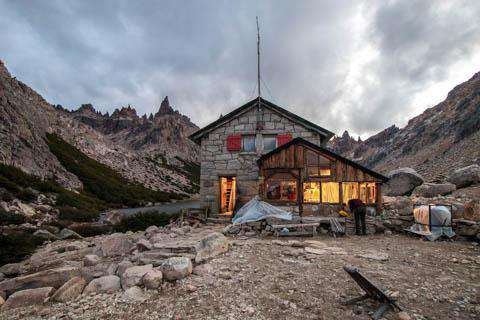 Set in the foothills of the Andes Mountains in Argentina, San Carlos de Bariloche is the biggest city in the Lake District. Bariloche is popular for skiing and snowboarding in the winter and trekking, swimming, fishing and horseback riding in the summertime.
No matter the time of year, there is something for everyone in Bariloche. Skiing season begins from June to October while fishing season is from November to April. Summer is from December to March, but visiting during low seasons (Spring in October to December and Autumn in late-April to mid-June) also has its benefits when it comes to saving cash and avoiding crowds.
Check out our ultimate guide to
Hiking in Patagonia
.
Sights
Centro Civico, the tourist information center is located in Downtown Bariloche right on the waterfront of Lake Nahuel Huapi, where the library, Museum of Patagonia, and municipal buildings were all built in Alpine-style architecture.
A half-day is plenty of time to take a boat to
Isla Victoria
to explore beautiful beaches with crystal clear waters and a variety of trails through a forest of giant centennial Sequoias trees. Visit the Arrayanes woods on a nearby island for even more unusual trees, which started as seedlings from foreign lands. Guides are available for hire if you want to hear the island's interesting history, but be sure to book a guide who speaks your language.
Cerro Otto
is ideal for a self-guided trek and easy walk for incredible panoramic views of Bariloche. Easily accessible by car or cable car, the lodge on top has a revolving restaurant and a free art gallery. There is also a free bus to take visitors to and from the town center.
Take a public bus to
Parque Municipal Llao Llao
for a quiet walk and amazing vistas and while you're in the area, take a break at the Gilbert Brewery for a stout beer with goulash or trout.
Activities
Cerro Catedral is the most popular resort for skiing and snowboarding, offering more than just activities in the snow, with plenty of bars, restaurants, concerts, polo and rugby games, and even a small shopping center. Ski lifts are also operational during summer months for beautiful views of the mountains. Hiking and picnicking are also popular activities for the warmer seasons.
Explore the lakes and islands by boat in
Nahuel Huapi National Park
. Take a boat ride from Puerto Pañuelo across Lago Nahuel Huapi to Puerto Blest, a hub and takeoff point for many activities like the Lago Frias excursion. A hike through the forest and an ascent of 700 steps will bring you to stunning views of waterfalls, Cascada de los Cantaros. All kinds of watersports, from paddleboarding to rafting to kayaking can be organized with tour companies like EXtremo Sur. Check the website for discounts: http://www.extremosur.com/. Lanin Tours also books year-round tours, expeditions and excursions.
Outfitters Patagonia runs excellent guided fishing tours with customizable trips for trout and flyfishing in the Limay, Chimehuin and Caleufu Rivers, among other waters.
Even beginners can ride horses through the hills of Bariloche with Cabalgatas & Aventura Ariane Patagonia. For those who prefer a tamer ride, bike rentals are available through Circuito Chico Bikes and Cordillera Bike Rentals and Tours, both of which will help you plan your route. Circuito Chico is a popular driving and bike-riding excursion that begins on Avenida Bustillo, goes through Cerro Campanario to one of the country's most famous hotels and resorts, Llao Llao, to Colonia Suiza, a small Swiss village in a beautifully wooded area. Curantos, which means "hot rocks," are best described as underground barbecues and draw in many visitors to the Swiss colony on Sundays. Be sure to try some locally made sweets and beers before you leave for Cerro López for hiking and finally returning back to Bariloche.
Take a day trip to see the rare Black Glacier, starting with a 3-hour bus tour through the mountains with stops on the way. Enjoy lunch at Pampa Linda and arrive in Cerro Tronador, the highest extinct volcano in the region where you can view and listen to the Ventisquero Negro avalanches.
Food and Dining
Regional Bariloche specialties feature Patagonian lamb, wild boar, deer, and trout, but Bariloche cuisine also has strong Swiss and German influence, so don't be surprised if you find goulash or fondue on the menu. Familia Weiss Restaurant offers all of the above at reasonable prices, but be warned that the service is not known to be quick, so don't dine here in a hurry.
The moderately-priced La Salamandra Pulperia is an intimate steakhouse owned by a husband and wife team, which often gets rave reviews for its ribeye, fry bread and mushroom bruschetta. For lighter fare, the quaint Bellevue Salon de Ta & Queso Pan y Vino serves tea, sandwiches, salads, and lovely views of the lake. Be sure to make a reservation, as the cafe is small and fills up quickly, especially during high season.
Bariloche also has plenty of breweries to enjoy craft beers, which are usually served with a charcuterie plate of smoked meats and cheeses. Cerveceria Manush is popular for its beer tasting flights as well as its cazuela, or beef stew, and trout dishes. Antares is an even more affordable option known for burgers, imperial stouts and happy hour for 2-for-1 beers. La Cerveceria Kunstman offers typical pub food and is frequented for its burgers, sandwiches, and desserts along with a beer museum upstairs. Diners rave about its excellent service, beers and beautiful location near the lake.
Bariloche is also known as Argentina's famous capital of chocolate, as the European immigrants who moved there after World War II brought their recipes with them.
Calle Mitre, located near the civic center, is a chocoholic's dream, where many of the chocolatiers are situated. Mamuschka is the perfect place for those with a sweet tooth, boasting extensive varieties of chocolates and pastries at middle-of-the-line prices. Chocolates Rapanui, famous since 1939, is well-known for its chocolate-covered raspberries and ice cream.
Transportation
While downtown Bariloche has beautiful Alpine architecture, most of the other sights are outside the city. Car rental agencies can be found all over, but if you're on a budget, the public bus is the way to go. Public buses cover various routes for tourist attractions and depending on the attraction, they usually come by every 20 minutes.
Pre-paid paper tickets can be purchased from bus offices, terminals and even some hotels to cover any distance, but will cost AR$15, which is the maximum cost for a bus ride.
The best value is the cospel, or magnetic bus card, which can only be purchased at the bus office at 3 de Mayo on Moreno Street for a nonrefundable AR$14. The cospel is swiped every time you enter the bus and takes credit according to the distance of your trip (between AR$9 and AR$15). Cospel cards can be shared; just inform the driver your destination and number of passengers to charge on the card. Some hostels also allow guests to borrow Cospels for a refundable deposit.
Public buses now also accept Buenos Aires transport system's Sube card. The only catch is that you can't top up your card at the airport, so be sure to have enough funds before you enter the city.
Related:
Looking for a
party hostel in Rio
,
Sao Paulo
,
Lima
, or
Buenos Aires
?
Traveling alone through
Argentina
?