Puerto Iguazu On a Budget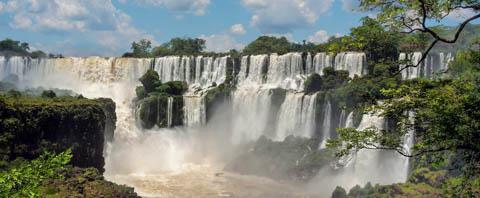 Puerto Iguazu is located in the northeastern part of Argentina at the border with Paraguay and Brazil. It is a tourist city and travel destination because of its close proximity to Iguazu Falls, which is only 18 kilometers away. Much of the city's infrastructure has grown to maintain the tourist crowds that come to see the falls. The town itself has a population of slightly over 80,000.
The city's climate is subtropical and can remain quite warm in the winter and very hot in the summer. It rains throughout the year and there is no month that would be considered a dry season. November is typically the rainiest month. Because of its climate and geography, Puerto Iguazu is completely surrounded by rainforest.
Sights
Travelers come to Puerto Iguazu specifically to see Iguacu Falls. The waterfalls is on the Iguazu River on the border between Brazil and Argentina. Most of the falls is on the Argentine side. The height is between 60 and 82 meters and the width is 2.7 kilometers.
In addition to Iguacu Falls, there are several other significant sights nearby. Three Frontiers Landmark is where the borders of Argentina, Brazil, and Paraguay meet. From here you can see all three countries. Also try and visit Guira Oga. It is a refugee park for animals where you can see many diverse animals including a toucan and a caiman. You can reach the park by bus. Wanda Mines is popular with gem collectors. It's been operating since the 1950s and is interesting to see.
Other sights in the area include La Aripuca Resort, the Museum of Images of the Jungle, the Mborore Museum, and the Luis Honorio Rolon Municipal Nature Park.
Neighborhoods
Puerto Iguazu is a tourist city with plenty of amenities to accommodate visitors. There are a handful of hostels and hotels spread around town and restaurants that cater to tourists are easy to find.
Iguacu Falls is 18 kilometers away and can easily be reached but bus or taxi.
Activities
Most people visit the waterfalls in the morning so that they can hike the island trail. To reach this trail you must take a bus across the river. The price of the boat is included in your entry to the park, but the boat only takes the first 1,000 passengers, and can close as early as 11:45. A second day visit to the falls is half price, but you must receive a stamp on your ticket as you're leaving the park the first day. This stamp requires that you present an ID.
Food and Dining
There are a handful of restaurants in Puerto Iguazu. One of the best is La Rueda. It has several interesting local dishes and menus are available in English.
If you want to try Asado then go to La Vitrina. They prepare the barbecue on a large, outdoor grill and have many additional options including salads, pasta, and empanadas.
Transportation
You can arrive in Puerto Iguazu by either plane, train or bus. Plane flights are frequent from Buenos Aires, with several flights a day making the trip. The direct bus from Buenos Aires takes about 18 hours, and there are buses from several other cities as well including Salta, Mendoza, and Cordoba. The cheapest option is the train, which runs several times a week from Buenos Aires Federico Lacroze railway station. It only travels as far as Posadas, and from there you have to take a bus.
To reach the waterfalls you can take a bus that runs twice an hour. It will drop you off at the entrance to the waterfalls on the Argentine side or anywhere in route if you ask the driver to stop. Most hotels can give you a bus schedule.
You can also take a bus to the border with Brazil and then catch a second bus on the Brazilian side that will take you to the falls. There is also a ferry that goes to Paraguay. It runs twice an hour during the day time. Once you're on the Paraguayan side you can walk down main street and catch a bus to Ciudad del Este.
Taxis are available to the falls for a fixed price, regardless of distance. It is possible to negotiate a cheaper rate for round trip.
Related:
Looking for a
party hostel in Rio
,
Sao Paulo
,
Lima
, or
Buenos Aires
?
Traveling alone through
Argentina
?