What sets them apart?
Very close to the beach and with a great social vibe, this modern hostel offers plenty of hang out spots for guests. They also organize walking tours and pub crawls so that guests can get to know each other and Barcelona.
Hostel Personality
Who's staying here?
With a mix of guests of many ages and from all over the world, this hostel caters to everyone. Most of the guests are younger travelers as would be expected of any hostel, but a few of the guests are a little older. Many are solo travelers, while others come in smaller groups.
Insider Tip
Check the activities calendar on the wall by the reception area when you arrive as there is a lot going on at this hostel.
Amistat Beach Hostel Barcelona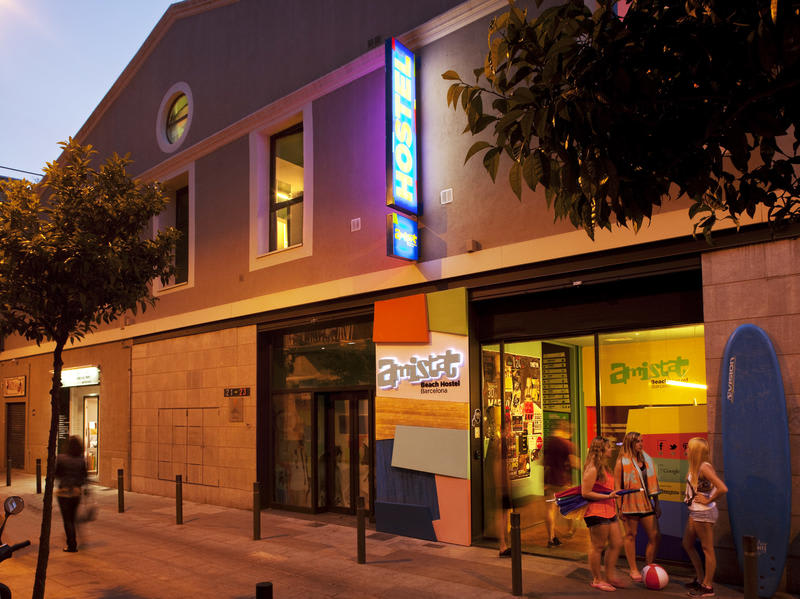 The Amistat Beach Hostel has a long list of great amenities and a terrific location within walking distance to the beach just north of central Barcelona. The metro station is very close, and can whisk you into the city center in just a few minutes. The entire hostel is decorated in a modern and fun style, and offers plenty of places to rest and relax. The common areas and organized outings make this hostel very friendly and chill. The social vibe is usually pretty good, especially in the summer months. Most guests come out of their rooms to take advantage of the affordable breakfast and the nice common areas to make plans for the day. The pub crawls, walking tours, and group trips down to the beach make it easy to meet other guests and make friends.
The Facilities
Dorms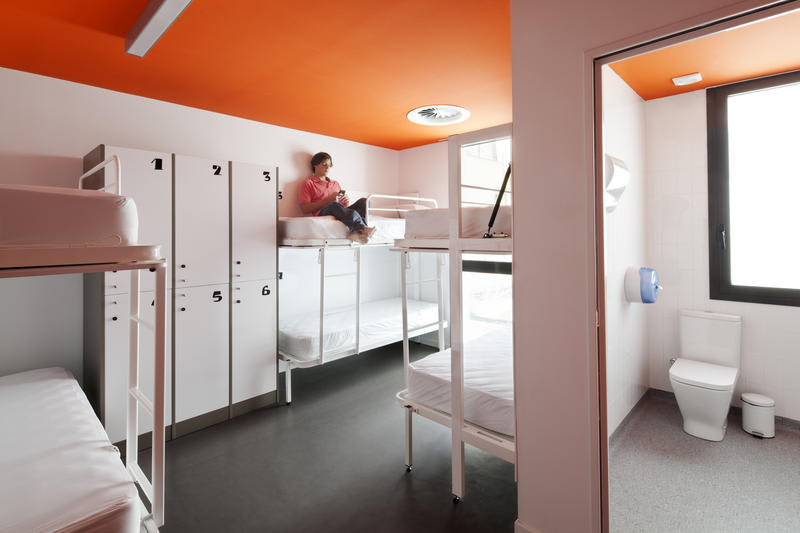 Dorm rooms come in sizes from 4 beds all the way up to 12 beds. The cost for the larger rooms is less, so it just depends on how much privacy vs. crowds you want to tolerate in a dorm. The larger rooms are also the best places to meet new people. All female dorms are available, too. The dorm rooms have lockers that are large enough for backpacks. Beds have lights and plugs.
Some of the dorms have ensuite bathrooms so that you don't have to go down the hall. The entire building has air conditioning, although for some people the rooms can get too hot or too cold at night. Sheets are provided, but heavier blankets have to be rented for a few Euros.
Some of the dorm rooms have balconies, too.
Private Rooms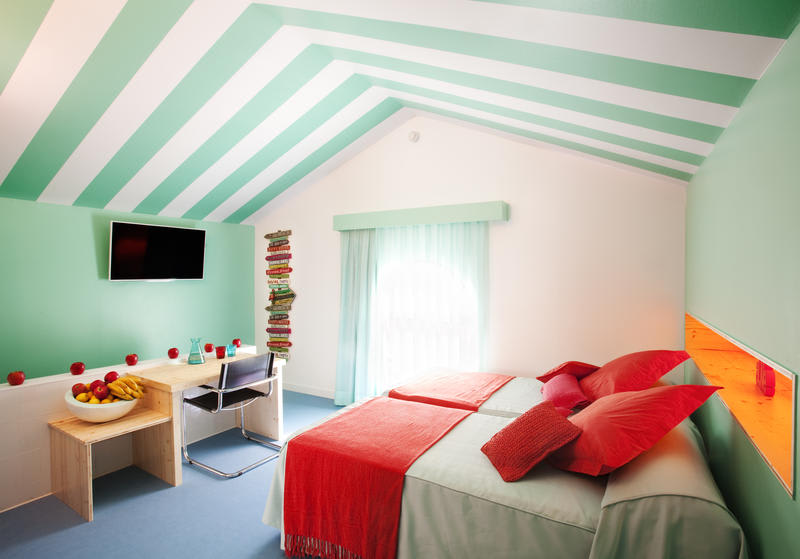 The private rooms offered by the Amistat Beach Hostel are definitely a big step up from the dorms. These rooms are like modern and colorful budget-oriented hotel rooms. They have ensuite bathrooms, comfortable furniture, nicely appointed decorations, and a cozy vibe. These rooms are perfect for couples of any age.
Bathrooms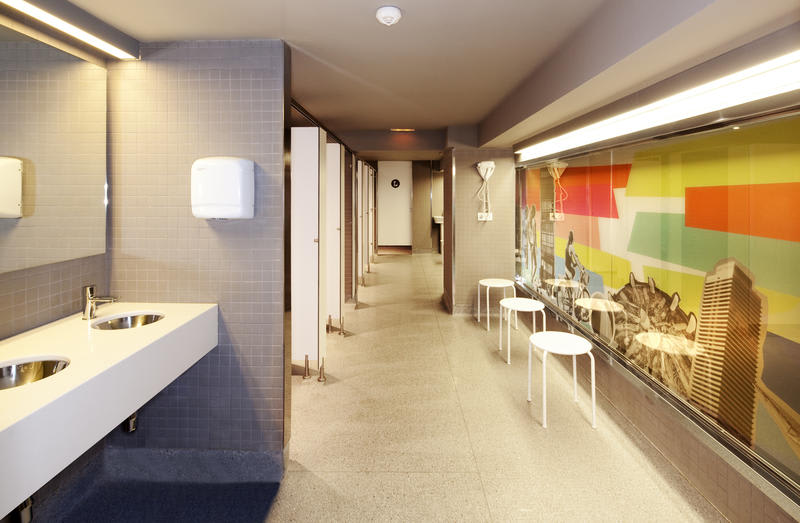 While some of the rooms offer ensuite bathrooms, others utilize the public bathrooms on the hall. All facilities are modern, recently constructed, and kept clean.
The ensuite bathrooms are just the right size for the small number of guests in the rooms, and contain a nice stand-up shower, a sink, and a toilet. Rooms also have hairdryers.
The hallway bathrooms are large, and contain plenty of space for everyone. Divided into a male and female bathroom, they have multiple stalls for showers and toilets, and several sinks, also with hairdryers.
Restaurant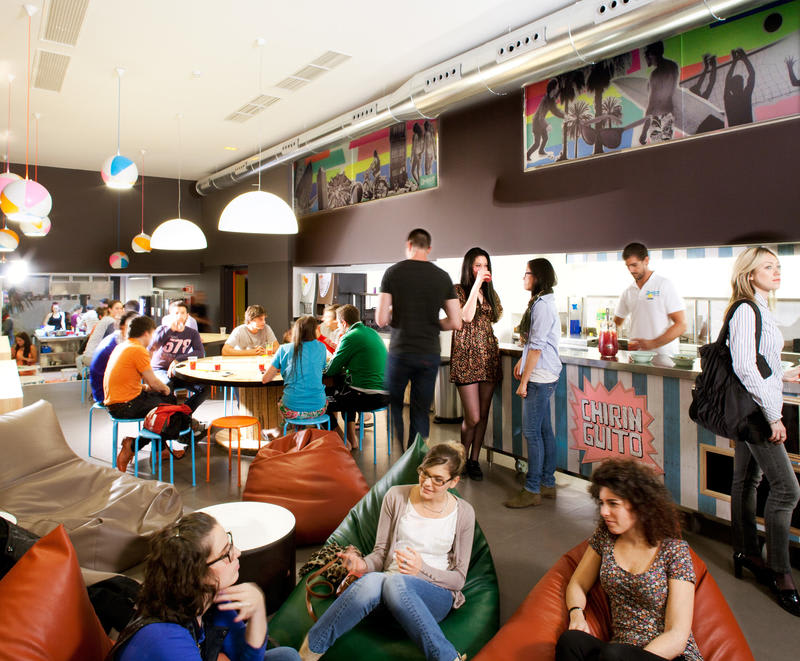 A cafeteria area is located in the hostel (separate from the shared kitchen). Here you can get breakfast in the morning for a small price. The breakfast consists of cereal, bread, fruit, cheese, and deli meats. During the day they also can prepare (for a price) some lunch and dinner with juice or soda.
Common Areas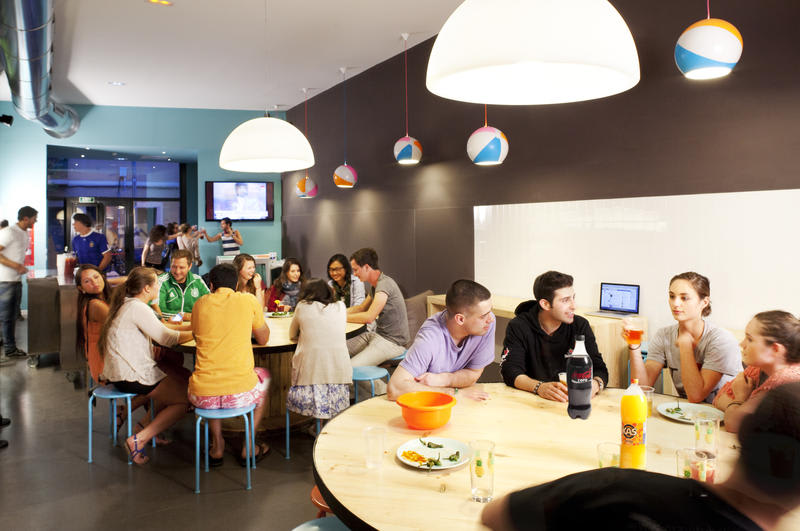 The common areas in this hostel are very nice, and make a popular place for everyone to hang out and get to know one another. The previously mentioned cafeteria area is a nice spot to hang out and meet other guests during meals. The communal kitchen is also very well stocked (stoves, microwaves, refrigerator), and offers free pasta for cooking. Just off of the kitchen is a small terrace to soak up the sun and relax. Also around the lounge is a TV section with sofas, another seating area with comfortable chairs, and plenty of tables and chairs for meals.
The Location
El Poblenou
The El Poblenou section of Barcelona is near the beach, full of modernist buildings mixed in with new development, and has plenty of restaurants, shops, and bars.
What's Nearby?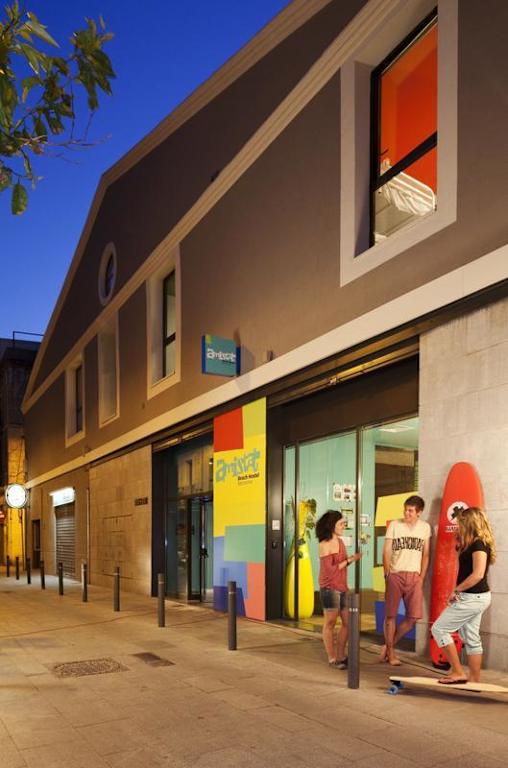 Located in the El Poblenou section of Sant Marti, the Amistat Beach Hostel can be found just north of central Barcelona only 400 meters from the beach. The beach in this area is nice, with wide sand, calm waves, and warm water - it's the perfect spot for a beach party with volleyball, football, playgrounds, and more.
This area of Barcelona is also full of shops, restaurants, bars, cafes, and supermarkets to make your stay even more enjoyable. The metro stations are very close, so you can reach anywhere in town in a few minutes. The El Poblenou section of town is full of older art deco buildings along with modern buildings, and this area is mainly residential with a good mix of things that anyone would need or want in a city. This allows guests to get a glimpse of real life in Barcelona.
Nearby Transportation
This area of town connects easily to the rest of Barcelona via the Metro. The Poblenou station is only 3 blocks away from the hostel (about 10 minutes) along an urban residential route which is lined by a park. This is on Line 4 which connects through the middle of the Gothic Quarter, Plaza Catalunya, Passeig de Gracia, and other convenient spots in the middle of Barcelona.
Activities
The hostel organizes several activities for guests. An affordable breakfast is served in the mornings, which makes for a nice way to meet your fellow travelers. The "night tours" (pub and club outings) are also popular, as guests are taken to various bars and clubs in town to party and enjoy the nightlife. Also, the hostel offers walking tours of the city so you can get an overview of Barcelona before you explore more in-depth. Also, they offer mixers in the hostel where you can just hang out and chill with everyone else.
One of the most popular activities is the group dinner night (for a small fee) where they cook local dishes such as paella. This brings everyone together to hang out at the tables and meet other guests and the staff.
A calendar on the wall of the lobby also mentions a large number of other activities that are happening in the hostel, such as morning beach runs, beach picnics with free sangria, photography classes.
Amenities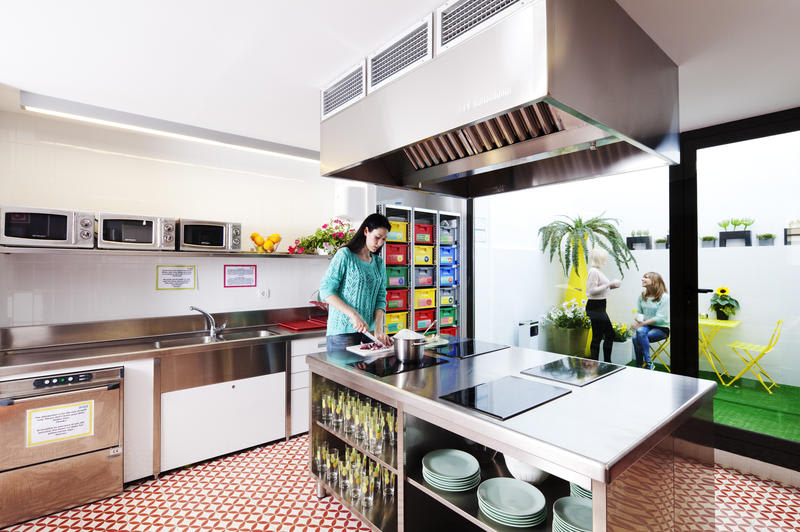 The amenities offered here are top notch and meet the needs of everyone quite nicely. Free Wi-Fi, laundry, plenty of common areas, food, a terrific kitchen with free pasta for cooking, public computers, a TV and Wii, and an outdoor terrace are just the start.
A small fee is required for some items, such as a blanket for the bunk beds or towels.
Staff
The staff at the Amistat Beach Hostel makes sure that 1) the hostel is kept clean and 2) everyone is having fun and making friends. A huge number of activities are offered, which keeps everyone busy. The staff is also available 24/7 for help and travel or tour information.
Heads Up
As this hostel is close to the beach, itl can be very quiet and not as social in the colder months.
Although not advertised, they have a policy of not allowing alcohol in the hostel. This is actually the law in Barcelona for hostels without a bar permit, and this hostel sticks to it more than some of the other hostels in the city. Plenty of bars and clubs are nearby for those that want to party.
Amistat Beach Hostel Barcelona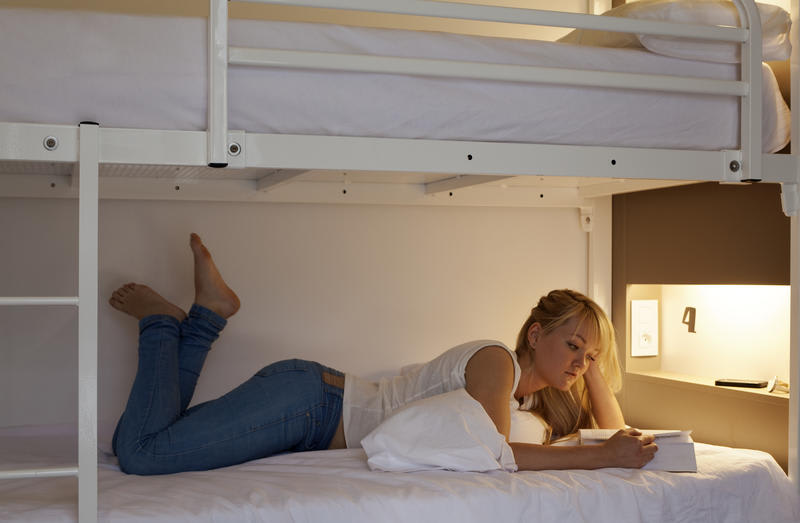 Do you have a favorite hostel that you would like to review? Let us know!