Perfect location walking distance to the old town, great atmosphere - cute design and cosy feeling. Good for socialising in terms of people staying there. Staff super friendly and helpful. Nice kitchen, bathrooms clean. Overall really enjoyed my stay. - Joz
What sets them apart?
This hostel has a family vibe offering group dinners (for free!) and lots of activities to meet other guests. Whether you want to stay in and play games or head out on the pub crawl, this hostel is a fun place to meet a diverse crowd of travelers.
Hostel Personality
Who's staying here?
This is a social hostel with lots of activities so it's great for solo travelers, small groups of friends, or anybody who wants to have fun and meet new people while they're in Barcelona. There are guests who want to party into the night and others who want a more mellow experience, and there's enough space and activities for everyone.
Insider Tip
If you're planning to do the pub crawl, buy a 10 pass public transport card to get you to each of the clubs.
Pars Tailor's Hostel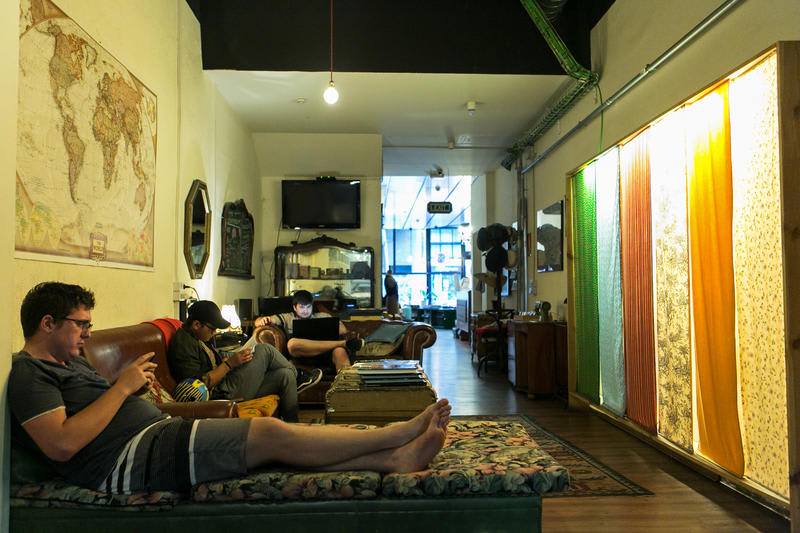 Pars Tailor's Hostel is a medium sized hostel with a diverse crowd of people. It's a social hostel with lots of activities for guests, and it's not uncommon to find groups cooking together in the kitchen, hanging out on the terrace, or enjoying a beer in the common area. The hostel staff are friendly and they have daily activities for guests. The actual style and design of the hostel if quicky and fun, and takes advantage of the tailor shop theme.
The hostel is conveniently located in the authentic neighborhood of Sant Antoni and you'll appreciate the local restaurants and cafes nearby. It's also easily accessible to public transportation that can take you anywhere you might want to go in the city.
The Facilities
Dorms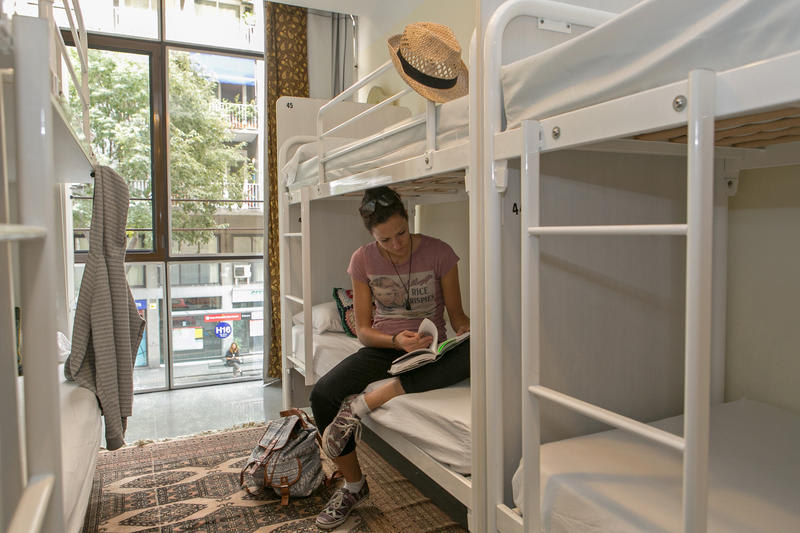 This hostel has 6, 8, and 12 bed dorm rooms that are co-ed and 12 bed dorms that are female-only. Some rooms have shared bathrooms while others have ensuites. The female-only dorm is ensuite. The beds are comfortable and firm and there's air conditioning in every room. Each bed has it's own plug, a large security locker, and free bed linens (if you stay two or more nights). The rooms are secure and have key card access. There is a small deposit to use the lockers but that is returned when you check out.
If you're traveling with a group it's possible to book an entire room for privacy and to keep your group together. Choose the 6 bed kimono room or the 8 bed room for private en-suite bathrooms.
Bathrooms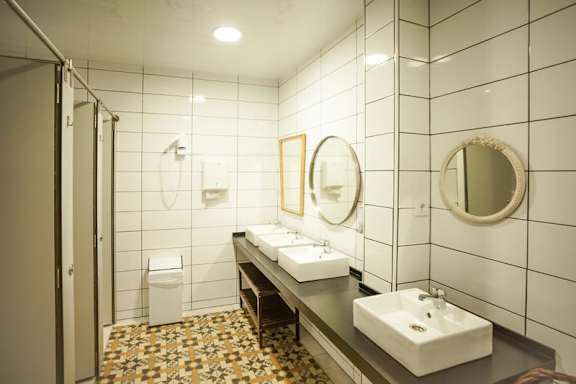 Some rooms have private attached bathrooms and others use shared bathrooms. They can get crowded at times but they're generally kept clean and the hot water is reliable.
Common Areas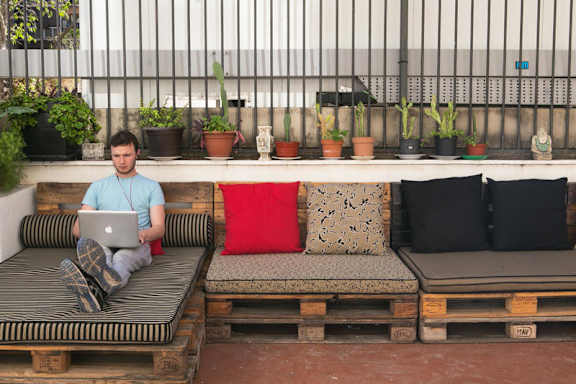 One of the most popular places to hang out is the hostel's terrace where there are often barbecues, group meals, or less formal gatherings of guests. This is the perfect place to soak up the Mediterranean sun, enjoy a cold drink, and hang out with other travelers.
If you want to stay indoors, there's a game room that has billiards and foosball tables, a dart board, board games, and a television. On low key nights guests gather here for movie nights or to play games. Sometimes a guest grabs the guitar and drums and there's an impromptu music session. There's also a book exchange if you want something new to read.
Another popular place to meet guests is the shared kitchen. It's not uncommon for guests to cook meals together or join in a paella cooking class.
The Location
Sant Antoni
What's Nearby?
This hostel is located in the local neighborhood of Sant Antoni. Nearby there's no shortage of cafes, restaurants, and bars. There are also local grocery stores and museums in the area. The hostel is conveniently set between two of the city's main squares, Plaza Espana and Plaza Catalunya, which are both a 15 minute walk away. From the hostel you can get to many popular Gaudi buildings and Las Ramblas (also a 15 minute walk away). Sagrada Familia can be reached in about twenty minutes on the metro.
Nearby Transportation
This hostel is easy to reach by public transportation. It's right by an airport bus stop and about a fifteen minute walk from Plaza Catalunya, with it's many transportation connections. The closest metro stops are Urgell Metro Station (on L1) and Sant Antoni Metro Station (on L2), both of which can be reached in five minutes on foot.
Activities
This hostel has daily activities for guests, particularly during the peak summer months and on weekends. You can enjoy group dinners, sangria and beer nights, barbecues, pub crawls, and beach volleyball games. Many of the events are organized with the sister hostel, Pars Teatro, so there's a fun and diverse crowd.
During the day the hostel offers free walking tours. If you want a quieter night you can hang out with other guests and play games, pool, or foosball. There are often guests relaxing and watching movies or playing board games.
Amenities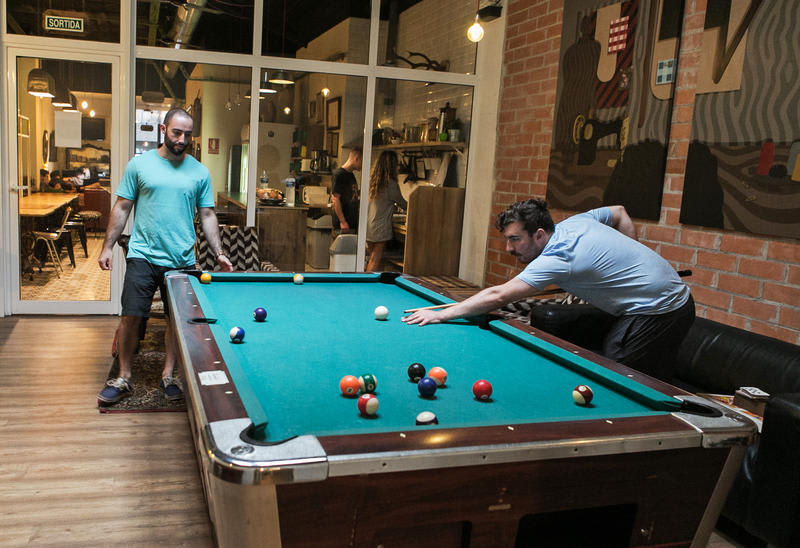 Pars Tailor has some great amenities to make sure your stay is comfortable. There are many kinds of entertainment for guests like a pool table and board games. There's bike rental, a book exchange, and laundry facilities. The shared kitchen is the perfect place to make your own meals, and if you want a snack there's a vending machine. The hostel is secure with security lockers in the dorms, 24 hour reception, and key card access.
Staff
The staff here keep things running smoothly. They organize the activities and keep the facilities clean. They can answer any questions you might have. They know the neighborhood well and can recommend any number of local restaurants nearby. If you're looking for a friendly and welcoming place to stay, then this is it.
Heads Up
This is a fun hostel with a great crowd of people, but for some people it can feel a bit crowded, particularly for the number of bathrooms. The cleaning staff sometimes gets overwhelmed and lets things slip, but for the most part they're on top of things.
Pars Tailor's Hostel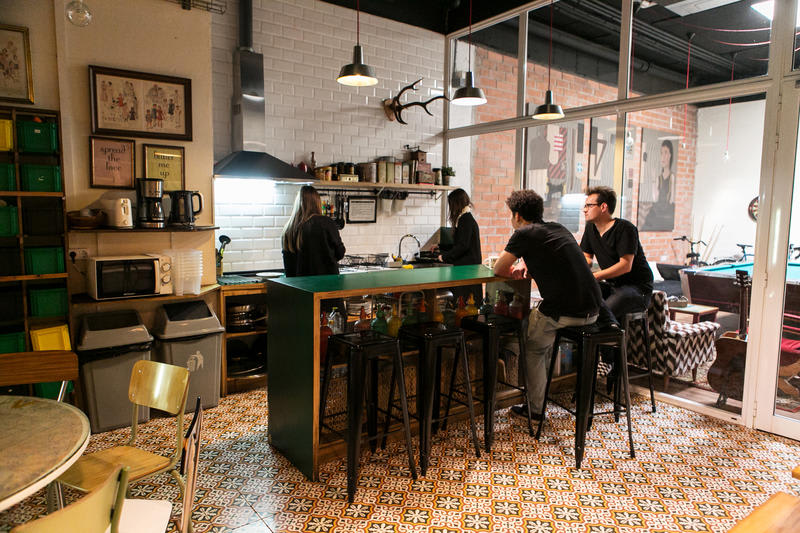 Do you have a favorite hostel that you would like to review? Let us know!