What sets them apart?
This hostel is all about the small community atmosphere. It's the perfect place to meet other travelers, make a few friends, and soak up the backpacker vibe. The staff are absolutely wonderful and they organize daily activities and meals for guests. There's even breakfast available all day, every day so you can fill up on eggs and cereal early in the morning or late at night.
Hostel Personality
Who's staying here?
This a small hostel with a family vibe that welcomes everyone. It's a social hostel with a lot of events and activities, but it's not a party hard hostel, so it's perfect for solo travelers or anyone looking to make friends but not necessarily get drunk every night. If you are looking to head out on the town, there are plenty of opportunities, but no pressure if you want to do your own thing.
Insider Tip
There's a locker by the reception area where they'll lock up your valuables.
Fabrizzio's Petit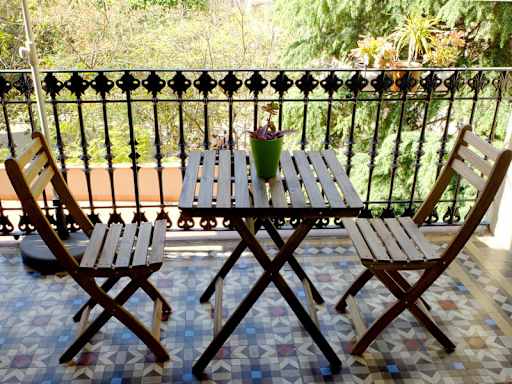 Every now and then you find a hostel that stays with you because of the people, the atmosphere, and the experience. This is one of those hostels and it is truly a favorite in Barcelona. Fabrizzio's Petit really does seem to have it all.
The hostel is small with cozy rooms and a family like atmosphere, so it's really easy to meet other guests. The beds are comfortable, the showers are great, and the activities are fun. Whether this is your first hostel experience or one of many, this hostel will likely become one of your favorites. It's one of those places that you remember long after your trip, so if you're looking for more than a place to crash for a few nights, then this is definitely it.
The Facilities
Dorms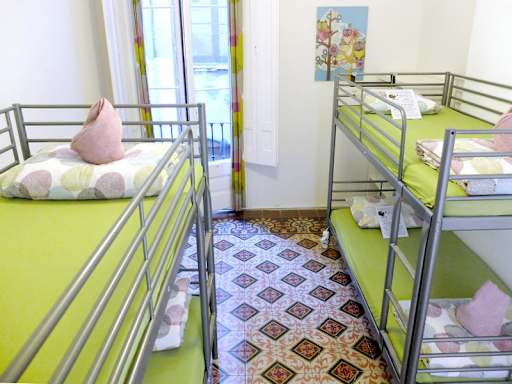 Fabrizzio's Petit has co-ed dorms with four, six, and or beds. The rooms themselves are pretty small, but the beds are really comfortable and the staff keep everything really clean. There's plenty of ventilation so whatever the time of year, you'll sleep well.
This is one of those hostels where you spend more time hanging out with guests outside of your room, but for sleeping, the rooms are excellent.
Private Rooms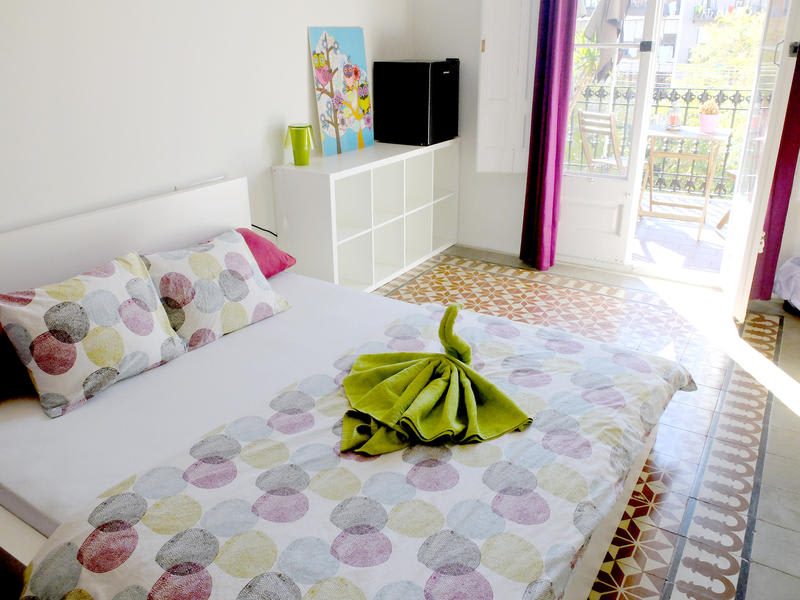 The hostel also has twin and double private rooms. The twin is a basic room with two twin sized beds. It's perfect if you want a little private space but don't want to pay a ton for it. The double is a bit more luxurious. It's a much larger room and has an ensuite bathroom with a shower. There's also a door that opens to a balcony and looks out on the courtyard to the "jardin de las aguas". The private rooms also has its own mini fridge and a television that streams Netflix. If you want privacy, comfort, and a bit of style, then this is the room to book.
Bathrooms
The bathrooms at this hostel are really quite nice. They're constantly cleaning them and the showers are reliably hot with plenty of water pressure. The hostel is small enough that you won't have to wait long for a shower, even during the peak morning hours.
Common Areas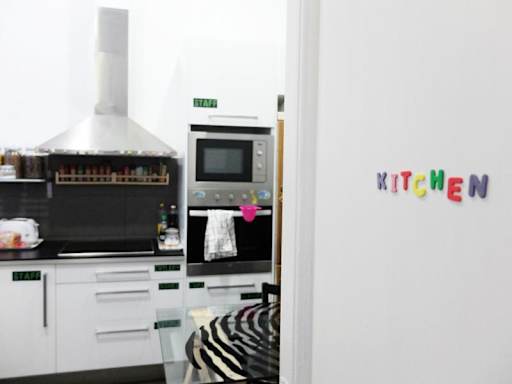 The homey atmosphere of this hostel is created in part by the great common areas. In addition to the lounge, where many guests hang out, the kitchen is a popular gathering place for many people who enjoy helping to prepare the frequent group dinners offered by the staff. The impromptu cooking lessons are a fun way to meet people and enjoy some local Catalan dishes. You can also pop in any time of the day to try the all day breakfast of cereal, eggs, toast, and more.
If you want to soak up the Mediterranean sun, the
balcony
is the perfect place. You can read a book, chat with other guests, or people watch as the balcony looks down on a classic Barcelona square.
This hostel is cozy and welcoming, so it pulls people out of their rooms to meet other guests. The common space is a central gathering place for many guests and you'll quickly make a few friends during your time here.
The Location
Eixample
The Eixample neighborhood is where the old world charms of the Gothic Quarter merge into modern Barcelona. Here, many famous museums and attractions can be found, as well as plenty of restaurants, bars, shops, churches, and other sights. Public transportation in this part of town is very common, and the streets are laid out in an orderly fashion, so it's hard to get lost.
What's Nearby?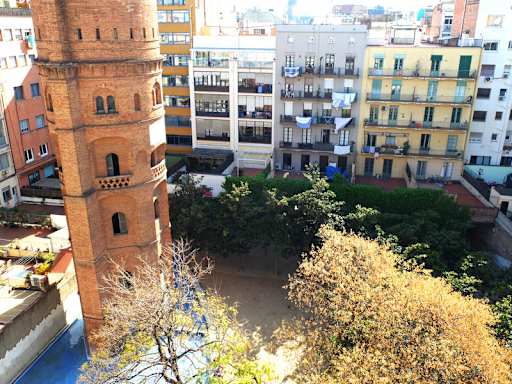 This hostel is located on a quiet street surrounded by apartment buildings. Despite the calm and peaceful setting, it is still centrally located and walking distance to many popular tourist sites. The Gothic Quarter is about a 25 minute walk south of the hostel and Plaza Catalunya Square is about 15 to 20 minutes on foot. The Sagrada Familia is to the north of the hostel, also about a 20 minute walk away. If you're headed to the beach, you can take either a bus or metro and be there in about 20 to 25 minutes.
Other landmarks within a mile of the hostel include Tivoli Theatre, Barcelona Cathedral, Boqueria Market on Las Ramblas, and the Picasso Museum. In the neighborhood surrounding the hostel you'll find some great restaurants and supermarkets, too.
Nearby Transportation
Girona Metro Station is the closest station to this hostel. It's just a three minute walk away and is on Line 4. Passeig de Gracia Train Station is about five minutes away on foot, and this is where you'll catch the airport train.
Activities
This hostel offers a wide variety of activities for guests, some free and some for a small price. They offer regular walking tours of the city. These tours often meet up with guests from other hostels, so it's a fun way to meet travelers that might be staying somewhere else. Almost every night they organize group dinners that serve Paella and other local specialties. Many guests enjoy helping to prepare the meals, so it really becomes a group activity with lots of fun and a bit of drinking before heading out on the town for the pub crawl. Every week there's a schedule of events that often include beach volleyball tournaments and sangria nights. Ask about the schedule when you arrive so that you know everything that's going on.
Amenities
This hostel has all of the standard amenities that you'd expect at a European hostel. There's Wi-Fi, 24 hour reception, an elevator, plug adaptors and more. The shared kitchen is well stocked and a great place to prepare a meal. The lounge has access to PlayStation and Wii and there are board games for guests to place as well.
Staff
This hostel is all about the staff. They organize the activities, they ensure the facilities are clean, they respond to any concerns of the guests, and they always seem to do it with a smile on their face. The staff are what keeps the family like atmosphere of this hostel running smoothly. Don't hesitate to ask any questions you might have and definitely don't miss out on the fun activities they offer. If you're more interested in keeping to yourself or heading out alone, that's okay though, as there really is no pressure here and you're free to do as you please.
Heads Up
This is one of those hostels where everything just seems to work. It's really hard to find something to complain about, but if you ask enough people, you'll always find someone who'd like something to change. The rooms here could be a bit bigger and more secure and some people feel like the walls are too thin. Beyond that, most people have only positive things to say about this hostel and you'll likely agree.
Fabrizzio's Petit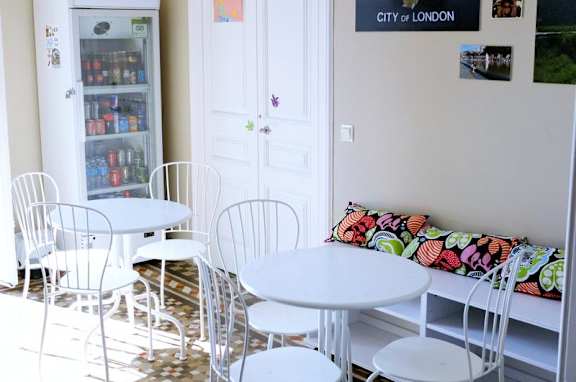 Do you have a favorite hostel that you would like to review? Let us know!