What sets them apart?
This hostel is set up as a traditional youth hostel with lots of common areas, tons of social activities, and a friendly and engaging staff. The hostel prides itself on being more than just a place to stay, but rather a community with travelers and staff from around the world. The focal point of this hostel is not the rooms, but the other spaces which encourage guests to hang out, chat, and get to know each other. The hostel works to keep costs down so any traveler can enjoy this hostel and all that Barcelona has to offer.
Hostel Personality
Who's staying here?
As a true backpackers hostel, most of the guests are young budget travelers looking to hang out with other young travelers. There's a hint of a party atmosphere and it's not hard to find people to go out with, but if you want a more mellow evening in with friends, that's also an option. The hostel makes smart decisions to ensure that prices stay low so it appeals most to the budget conscious crowd. This hostel is more about an amazing community of people than it is about all the bells and whistles.
Insider Tip
Make sure to go on the backpackers night out, particularly if you're traveling alone. It's a great way to meet people.
HelloBCN Hostel
If you're looking for a true backpacker's hostel with lots of common areas, a fun group of people, and low cost rooms, then this is the hostel for you. The staff focuses their energy on the atmosphere, the activities, and the happiness of the guests, and it shows with the welcoming and fun vibe you get as soon as you arrive.
The rooms themselves are pretty basic, but the common areas are designed to pull guests out of their rooms to hang out and socialize. This hostel can have a bit of a party vibe, but it's welcoming to everyone and the staff are very responsive to meet each guests unique needs.
The Facilities
Dorms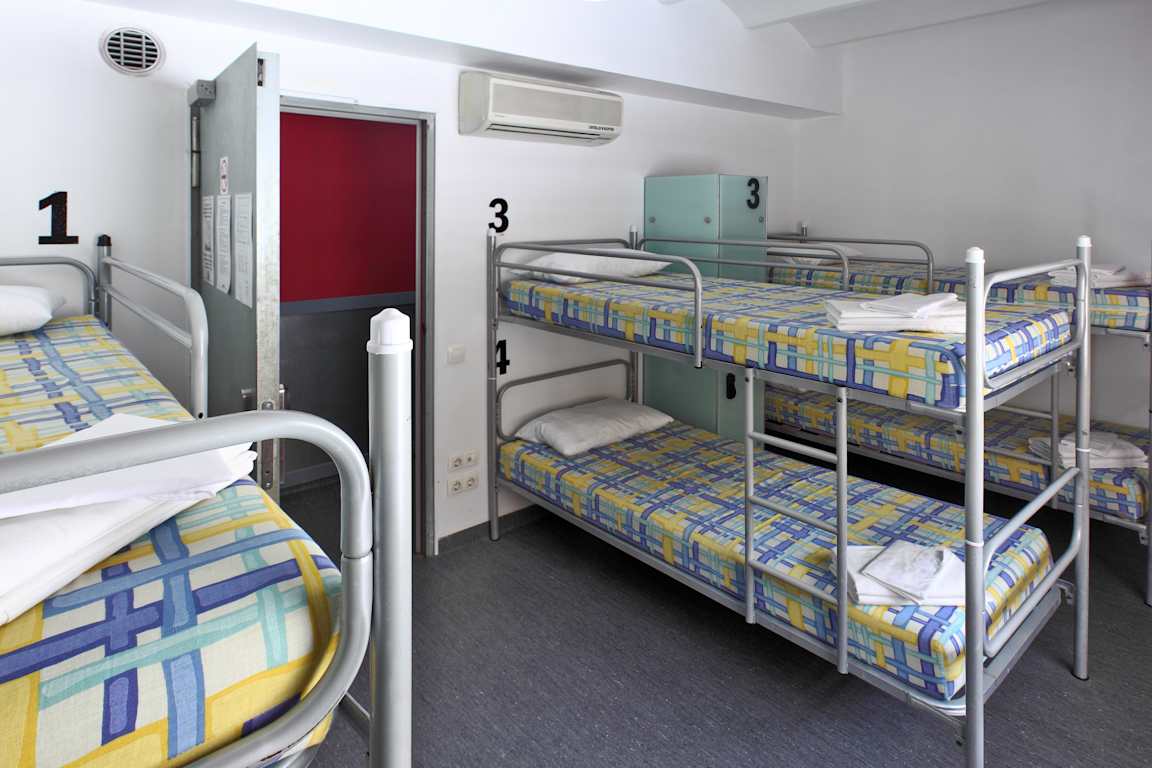 The focus of this hostel isn't really on the dorms, but instead on the common areas. The dorms are small and simple, but they are clean and comfortable so it's easy to sleep. They offer what you need, like security lockers and bed linens, but don't expect fancy frills. They have air conditioning, which is much appreciated on the warm Barcelona nights, and very solid and secure doors which help keep you and your things safe. There's also heating during the winter months.
The dorms vary in size and include four, six, and eight bed co-ed rooms as well as four bed female only rooms.
Private Rooms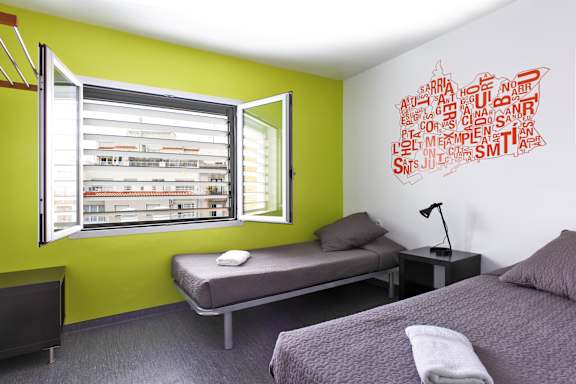 If you want some space to yourself, then twin private rooms are available. The rooms are air conditioned or heated depending on the season and there are two twin beds in each room. The rooms are furnished with a small table and there's plenty of natural light. The private rooms also have an ensuite bathroom and a bit more space than the dorms.
Bathrooms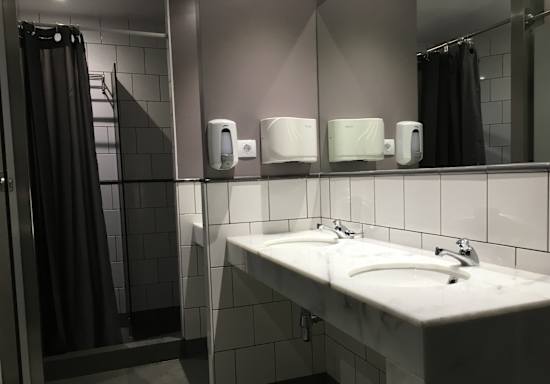 Every floor of this hostel has a male and female block of toilets and showers. Like the rest of the hostel, the bathrooms are kept clean. They are basic but designed to meet your needs. Like many hostels in Barcelona, the showers are push button, which means they turn off with a timer so you must reset the shower frequently. It's a bit inconvenient but very effective at conserving water and keeping prices in check.
Bar
This hostel has an on-site bar that opens every night at 7 p.m. Many guests enjoy starting their night out here with a cold beer before heading out together into town. There's also satellite television available in the bar so it's a great place to catch up on any sporting events or other shows.
Common Areas
This hostel is all about the common areas, from the sun terrace on the second floor to the common room or on-site bar, there's plenty of places for guests to go. It's easy to make new friends at the indoor common area where you can play ping pong or one of the other games available to guests.
If you're looking to save some more money, and who isn't, then cook some of your meals in the hostel's fully stocked shared kitchen. This is also a great place to meet other guests as you're rarely only cooking up a meal. The kitchen is well stocked with supplies, so all you have to do is grab your ingredients from the nearby grocery store.
Outdoor Space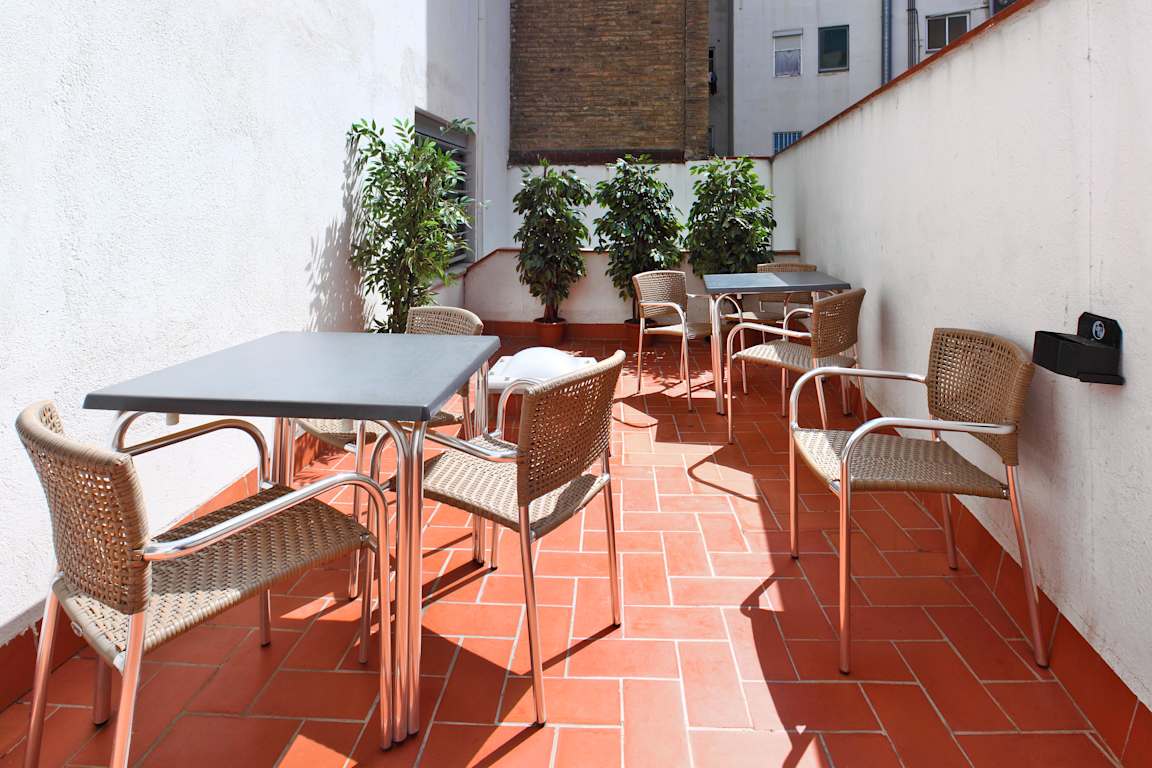 In the warm Mediterranean climate, you really can appreciate the sun terrace that this hostel offers. It's the perfect place to escape the chaos of the city, sip some coffee, or read a book. Many guests come here to unwind or plan the next leg of the trip. Located on the second floor, it's a convenient place to relax in a sunny setting.
The Location
Sants-Montjuic
The Sants and Montjuic neighborhoods sit to the south of the city center, and have easy access to everywhere in Barcelona via the Metro system. The Sants area is more residential, but still has plenty of restaurants, bars, and shops. Montjuic is a scenic hill overlooking the city, and offers a more quiet area that still has terrific access to all of the best sights in town.
What's Nearby?
Hello BCN Hostel is in the Sants-Montjuïc neighborhood of Barcelona. It's just a two minute walk from two of the city's most popular and local nightclubs - The Sala Apolo and the Sala Plataforma. If you're headed into the center of Barcelona it's about a 20 to 30 minute walk to some of the most popular landmarks and sights like Las Ramblas, Port Vell, the Gothic Quarter, Placa de Catalunya and Placa Reial. A quicker option is to hop on the nearest metro at Paral-lel Metro Station which is just a couple of minutes away and will get you there in ten to fifteen minutes.
The neighborhood has some very well priced supermarkets nearby, so if you're planning to make your own meals it's very convenient. It's also about a half hour walk to the beach, or you can take the metro to save a bit of time. Many visitors also enjoy visiting nearby Montjuic, which offers panoramic views of the city as well as a popular bar at Migdia Lookout.
Nearby Transportation
This hostel is conveniently close to Paral-lel Metro Station, which is just a couple of minutes away. This station is on Line 2 and Line 3 and is also the lower terminal of the Funicular de Montjuic.
To reach Placa de Catalunya, you can take Line 3 for three stops. The trip takes about fifteen minutes. This is a very popular travel hub which will allow you to reach anywhere in the city by train or bus, as well as to take day trips out of the city.
Activities
HelloBCN offers frequent pub crawls and backpacker nights when guests gather at the bar and then head to some of the city's best clubs. It's a great chance to meet other visitors from around the world and get an insider's perspective on the best nightlife in the city. The bar also plays the current sporting events, so there are impromptu gatherings of guests cheering on their favorite teams.
If you want to head further into Catalonia, talk to the staff about day trips throughout the region. They offer a variety of trips that are convenient and fun.
Amenities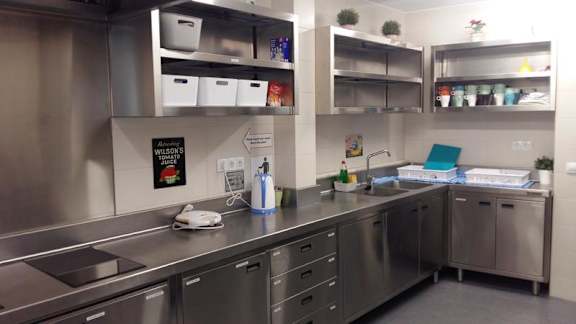 This hostel has all of the standard amenities you would expect including wi-fi access, laundry machines, luggage storage, and more. They offer a simple breakfast with cereal and toast every morning for free, but if you want something more substantial head to the shared kitchen to prepare your own meal.
This hostel is also very secure and each guest is given a convenient keycard bracelet that is easy to carry around and creates a very safe and secure environment for guests.
Staff
The staff about HelloBCN are great! They really work with the guests to make sure they're satisfied with their room and during their stay. If you have any concerns, don't hesitate to let them know and they'll do their best to adjust the situation and make sure you're comfortable.
The staff are multilingual and knowledgeable on Barcelona, so they can give suggestions, directions, or any other local information you might need. Maps and tourist information are also available.
Heads Up
This hostel does it's best to keep prices in check so young backpackers and budget travelers can stay here. Some people complain that the dorms are a bit small and basic, and the breakfast isn't hearty, but at least it's free. The push button showers are a bit annoying but, again, this helps conserve water and money. (And this is also the norm for hostels in Barcelona.) The location is also a bit outside of the center of town, but the metro is very close by.
HelloBCN Hostel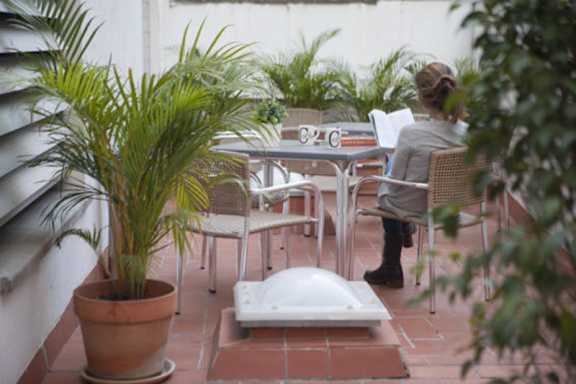 Do you have a favorite hostel that you would like to review? Let us know!