What sets them apart?
The 360 Hostel Barcelona is a terrific all-around hostel with a long list of comfortable amenities, spacious rooms, and a fantastic social vibe that is hard to beat anywhere else. The overall level of friendliness of the staff and other guests will quickly put this hostel at the top of your list of favorites.
Hostel Personality
Who's staying here?
While a mix of guests stay here, many are younger travelers, and many are traveling alone. This hostel has a reputation of attracting guests that want to have fun, meet others, and see Barcelona while not just staying in the hostel to get drunk and party.
360 Hostel Centro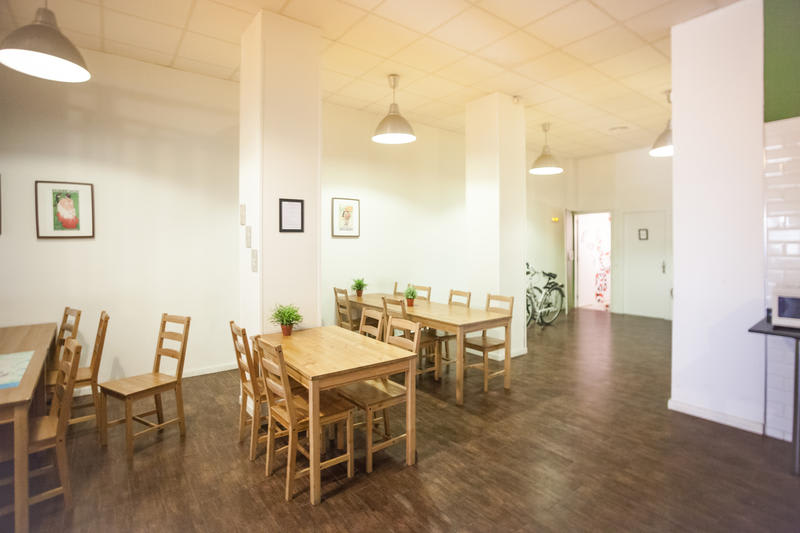 The 360 Hostel Barcelona aims to be your home away from home during your stay in Barcelona. With similar amenities and personality to the nearby 360 Hostel "Arts & Culture" location, you really can't go wrong if you stay here. Dorms and common areas are very spacious, the building is old and charming yet refurbished and modern, and the staff is super friendly. Various free activities keep the guests entertained and meeting others, especially at the well-liked free nightly dinners of paella and tapas. During these events, guests fill up the large kitchen area, help cook, and get to know one another. This creates the ideal hostel environment where people from around the world meet up and plan their adventures in Barcelona.
The Facilities
Dorms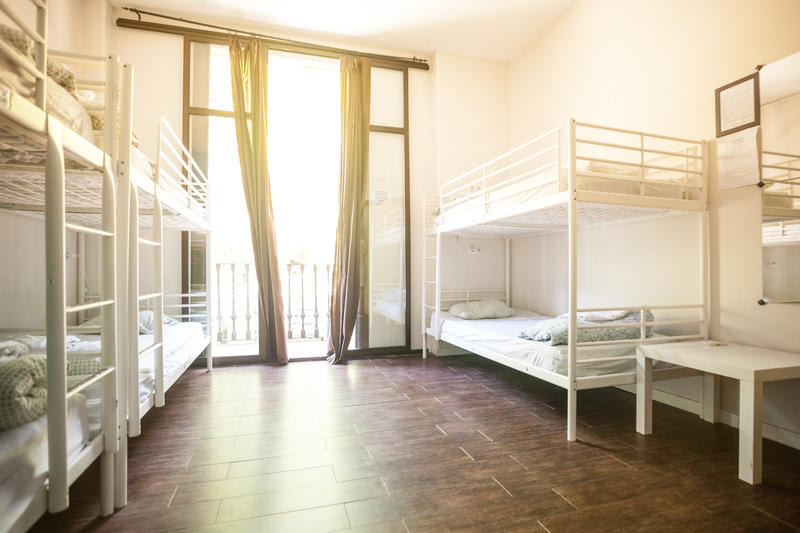 The dorms in the 360 Hostel are surprisingly comfortable, as they have high ceilings, nice beds, and large windows. Some of them even have doors that open to small balconies. The rooms have lockers that can fit backpacks. Guests also have access to plugs, mirrors, and other furniture to make your stay comfortable. Dorms go up to 10 beds in size for the larger rooms, which is a good size to meet other people. Smaller dorms are available (2, 4, 6, or 8 beds) if you want a smaller, quieter environment. Air conditioning is also provided in the rooms for those warm Barcelona summer nights. Some beds have reading lights, but not all. Sheets and blankets are provided, too.
Bathrooms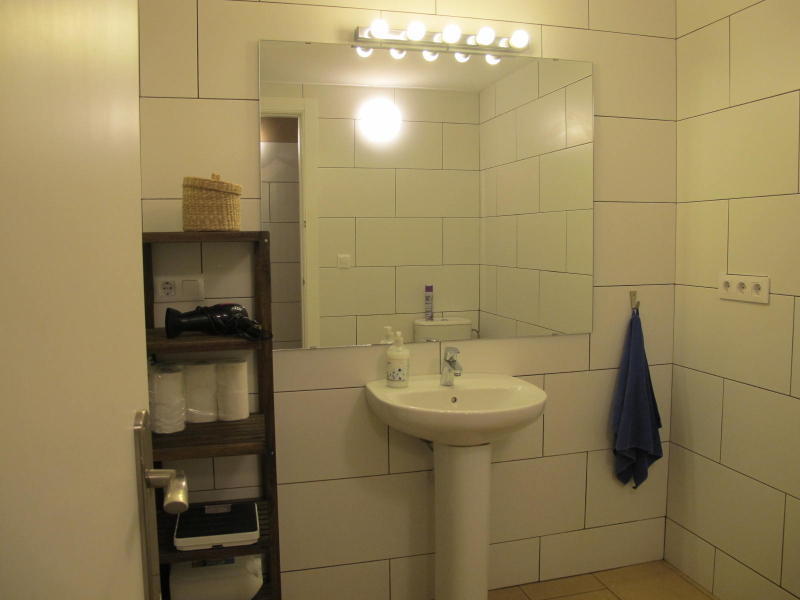 This hostel has enough bathrooms available for the guests and they are in good condition. The bathrooms are modern, and plenty of hot water is available. Showers have individual stall doors, plus some extra space to change clothes so all of your stuff doesn't get soaked. Hair dryers and scales are also provided, which is a nice touch for a budget place such as this.
Common Areas
The chillout spaces in the 360 Hostel Barcelona are spacious and plentiful. The lounge areas have sofas, tables with chairs for coffee or games, bar seating, ping-pong, and a TV. Being a larger hostel with many rooms, guests are everywhere, but it's easy to find space to relax and unwind, or space to hang out with other guests, too.
The kitchen is one of the areas where people gather often, especially for the evening meals which are free. This area is large with plenty of seating. The kitchen itself is well stocked with everything you would need to cook a meal, including pots and pans, stoves, microwaves, and refrigerators (but no oven).
Another area in the lounge has multiple public computers for those that want to get online for awhile.
The Location
Eixample
The Eixample neighborhood is where the old world charms of the Gothic Quarter merge into modern Barcelona. Here, many famous museums and attractions can be found, as well as plenty of restaurants, bars, shops, churches, and other sights. Public transportation in this part of town is very common, and the streets are laid out in an orderly fashion, so it's hard to get lost.
What's Nearby?
Located very close to the Arc de Triomf and on the border of Eixample and the Gothic Quarter, this hostel is in a terrific spot. Right out the door, you can walk south or west towards the Gothic Quarter, Plaza Catalunya, the Cathedral, and Las Ramblas. Or, head north into Eixample which is full of bars, museums, and shops, plus some of Gaudi's famous buildings such as Casa Batllo. The Parc de la Ciutadella (which includes the zoo) is also a short walk away.
Nearby Transportation
Being in the center of Barcelona, several metro stations and train stations are very close by. The Arc de Triomf station (both a regional train line and a metro station) is only a few hundred meters away, and will take just a few minutes on foot to reach. Other nearby metro stations include Tetuan and Urquinaona, and the transportation hub of Plaza Catalunya is also not far away. From here you can get a train or bus out of town for a great day trip to Montserrat or Costa Brava.
Activities
The organized activities at the 360 Hostel are what make this place amazing. It's just not possible to stay bored here, and meeting other guests is what these activities are all about.
First, the nightly dinners bring everyone together. Guests help cook and clean, so it's not just a quick bite and then everyone runs off to do something else. Instead, everyone gathers around the tables in the spacious kitchen and the room becomes full of conversations and fast friends. Paella, tapas, and sangria are usually what's on the menu (delicious!).
Walking tours are also offered by the hostel, for free (or for tips), so that you can meet up with your fellow travelers and get a great introduction to Barcelona. They have tours through the Gothic Quarter as well as tours to a Civil War era bunker to see the skyline.
Beach trips are also organized by the hostel staff. Head down to the sand and shore with your new friends from the hostel to play beach volleyball or just relax in the sun and water.
And we can't forget about the pub crawls! The staff organizes trips out of the hostel to some of the nearby bars and clubs in the area so that you can take advantage of Barcelona's nightlife.
Amenities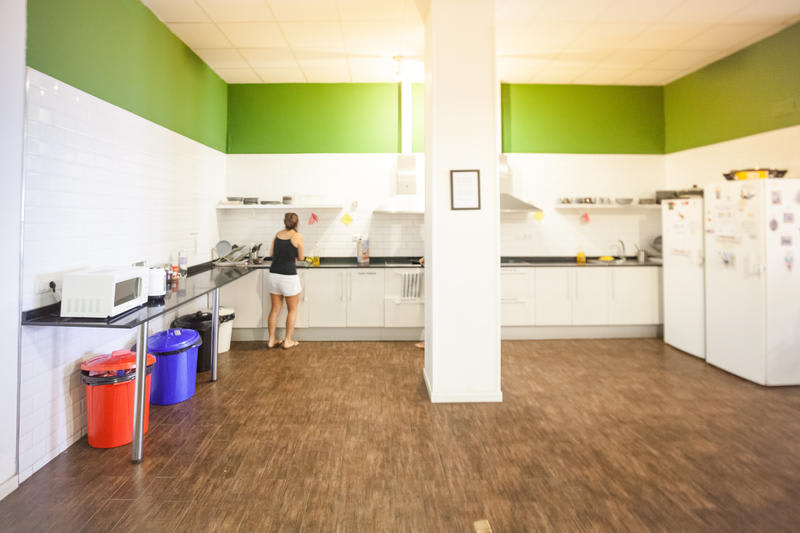 With a long list of amenities, this hostel is very comfortable and welcoming. As one would expect from a modern European hostel, you can find laundry, a great kitchen for cooking, Wi-Fi, air conditioning, wheelchair access, hair dryers, bike parking, and more. They also offer luggage storage if you arrive early or need to leave after checkout. Towels can be rented, bikes can be hired, and they have a tours and travel desk for any bookings you might need to make.
Staff
The staff at the 360 Hostel Barcelona is fantastic. The guests rave about how friendly and helpful they are. Not only do they run the facilities, but they also get everyone involved with activities. They make introductions to help single guests get to know one another. They make sure that everything is kept clean, run smoothly, and are happy to help, 24 hours a day.
Heads Up
It's hard to find any faults with this hostel. Guest reviews are consistently positive. Some say the wi-fi is sometimes spotty. Others say the location is terrific but not perfect. But if these are the only complaints that people might have, then this hostel is doing something right.
360 Hostel Centro
Do you have a favorite hostel that you would like to review? Let us know!