What sets them apart?
The Generator Barcelona (part of the Generator chain of hostels), is a large, modern, and comfortable hostel with many different options for many different types of guests. They have something for everyone here with plenty of amenities and modern conveniences at a great price.
Hostel Personality
Who's staying here?
This hostel is open to everyone. From younger budget travelers, to groups, to families, everyone can find the type of room they want here, be comfortable, make new friends, and explore Barcelona. As this is a large hostel, it is common to find backpackers looking to have a good time, families with kids planning their daily activities, and solo travelers exploring Barcelona all under one roof.

What you need to know: With travelers of all types, you will have a better experience at this hostel if you choose the right type of room for the experience that you want. If you're looking for a social vibe that could lead to late night parties, then choose a dorm. If you are a little older or are traveling as a family, then choose a private room. Otherwise, since this hostel is so large, you'll feel stuck in the wrong place. Many of the negative reviews of this hostel have come from guests that ended up in the wrong type of room, such as the backpackers complaining about too many kids or the older travelers complaining about too many backpackers.

Generally speaking, the hostel side of this place stays separate from the hotel side, and this works well for everyone.
Generator Barcelona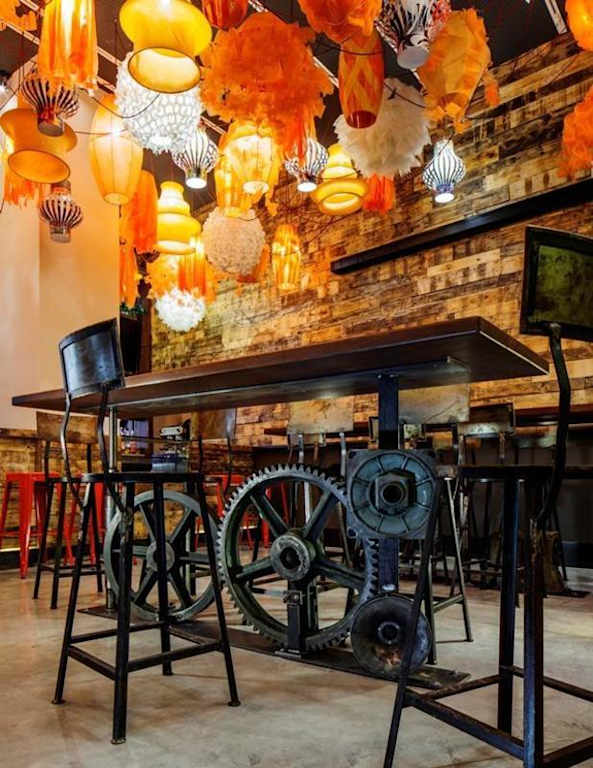 Modern conveniences at a good price are generally what the Generator chain of hostels is known for, and this branch in Barcelona is no exception. With bright colors, modern rooms and bathrooms, vibrant architecture, and a stunning rooftop terrace, it's no surprise that this hostel draws a large and diverse crowd of guests. It also helps that it's cheaper than a hotel, but offers many of the same amenities. The rooftop terrace has a view over the city where you can see the Sagrada Familia and many other buildings. The on-site bar and restaurant is also quite nice, and the overall list of amenities is very long (more on that below).
Plenty of dorms as well as private rooms are offered, and this can lead to the hotel-like atmosphere as many of the guests (such as families) are staying in their own rooms. This sometimes leads to frustration for younger backpackers that may be looking for a party vibe in this hostel. If you're looking for a serious party hostel, it's probably best that you look elsewhere. However, there are plenty of dorm rooms available full of younger travelers for you to meet, and several great spots to hang out in such as the bar and rooftop terrace. Plenty of backpackers have raved about the great times they have had here, stating that they made so many new friends in a fun, creative, and chill place.
The Facilities
Dorms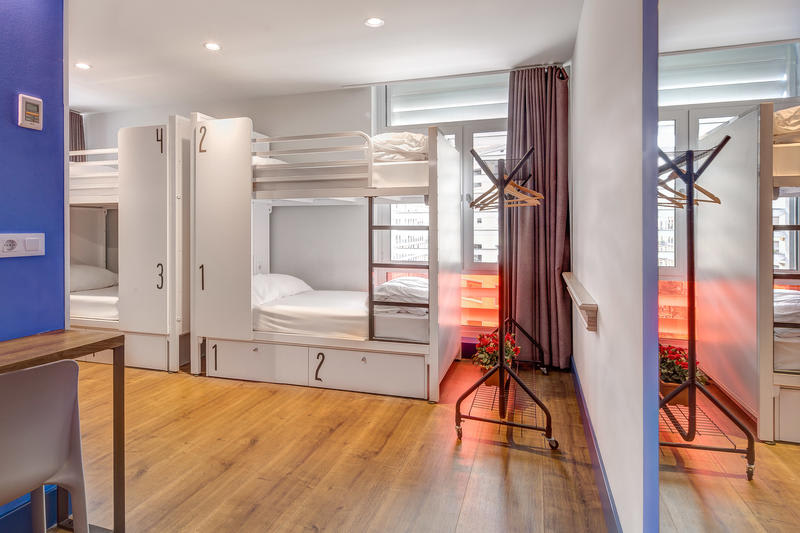 Featuring some of the nicest and cleanest dorms in the city, the Generator Barcelona is a great place to stay. Dorms come in various sizes, although none are too large. Most are 4, 6, or 8 beds in size. The bunks are modern with privacy curtains, plugs, and lights. The rooms usually have other furniture for conveniences such as clothes hangers, tables, chairs, and mirrors. Female-only dorm options are available, too. Lockers are located in the rooms, and the rooms also have air conditioning. Linens are included.
All of the dorms come with ensuite bathrooms. They are clean, modern, and have plenty of hot water. Most people agree that the showers here are very good, which is a nice change from the typical dorm showers in most of the other hostels in Barcelona.
Private Rooms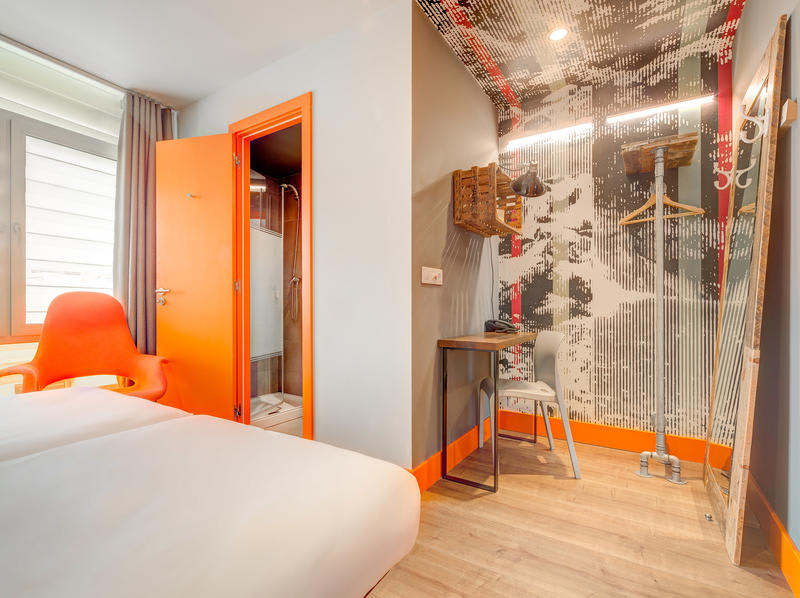 The Generator Barcelona offers not just budget-friendly private rooms, but full-fledged hotel rooms for guests, too. Private rooms come in a variety of sizes and levels of luxury, from small basic twin and group rooms to higher end "Deluxe" and "Superior" private rooms which are larger and offer some nicer amenities. Some have small private balconies, too! All private rooms have their own ensuite bathrooms, which are modern and clean.
It is also possible to get a private dorm room (with 4 beds) if you have a small group, or get a larger dorm room for a larger private group.
Bathrooms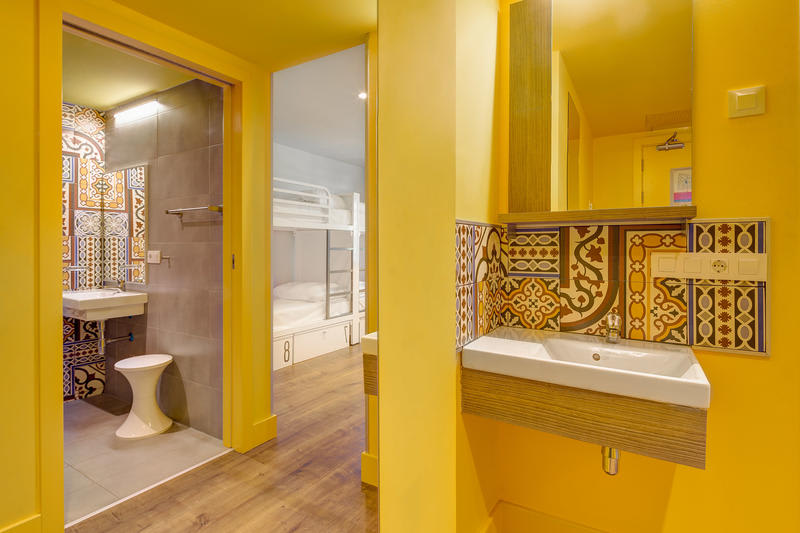 It's obvious that the Generator Barcelona has its home in a new, modern building. The bathrooms, by European standards, are very nice. They offer modern fixtures, hot water, nice walk-in showers, in-mirror lighting, vibrant colors and tilework, and an overall level of comfort that any traveler would find comfortable. Some guests have said that they are slightly too small, but since each room (dorms and private rooms) have their own bathroom, you'll never have to share with too many people anyway.
Bar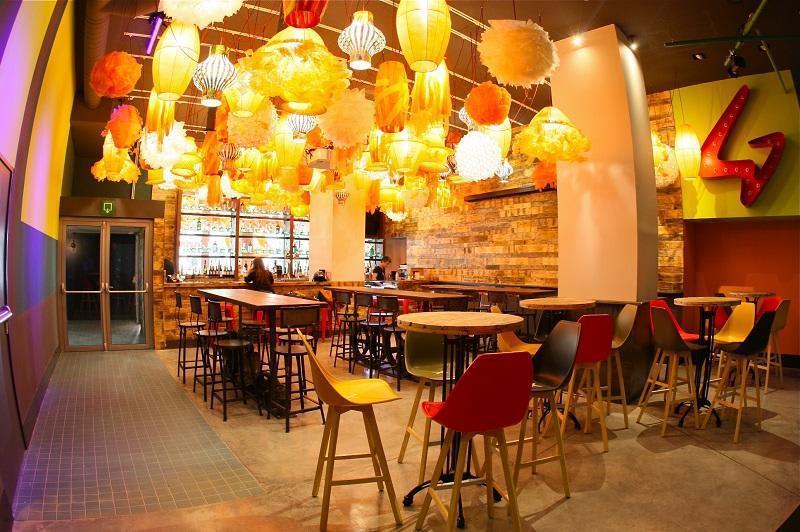 On the first floor of the hostel is a very nice bar and cafe area which is open most of the day and late into the night. Not only are drinks served here, but also food, including a terrific breakfast for guests (for an extra charge). Meals throughout the day can be purchased here. At night, the music and atmosphere picks up as plenty of guests gather here before and after heading out onto the town to explore Barcelona's nightlife.
Common Areas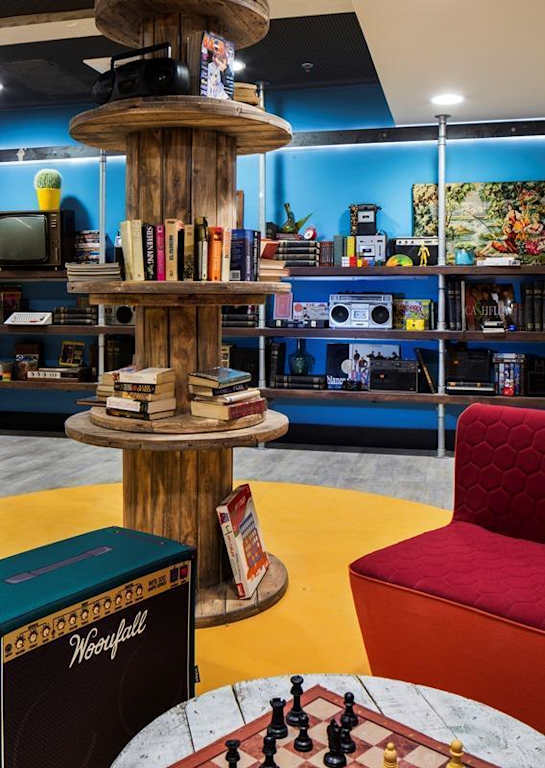 The lobby games room and lounge area is a nice place to relax, and features books, a TV, and plenty of comfortable seating with modern decor to hang out and meet up with other travelers. They also have foosball and games.
The
rooftop terrace
is perhaps the best place to relax at this hostel. Here on the top floor, the building overlooks the surrounding city skyline and has a view of the Sagrada Familia and other nearby sights, as well as the hills in the distance. It makes for a perfect place to unwind in the evening, meet up with other travelers, and make plans for the next day.
The Location
Eixample
The Eixample neighborhood is where the old world charms of the Gothic Quarter merge into modern Barcelona. Here, many famous museums and attractions can be found, as well as plenty of restaurants, bars, shops, churches, and other sights. Public transportation in this part of town is very common, and the streets are laid out in an orderly fashion, so it's hard to get lost.
What's Nearby?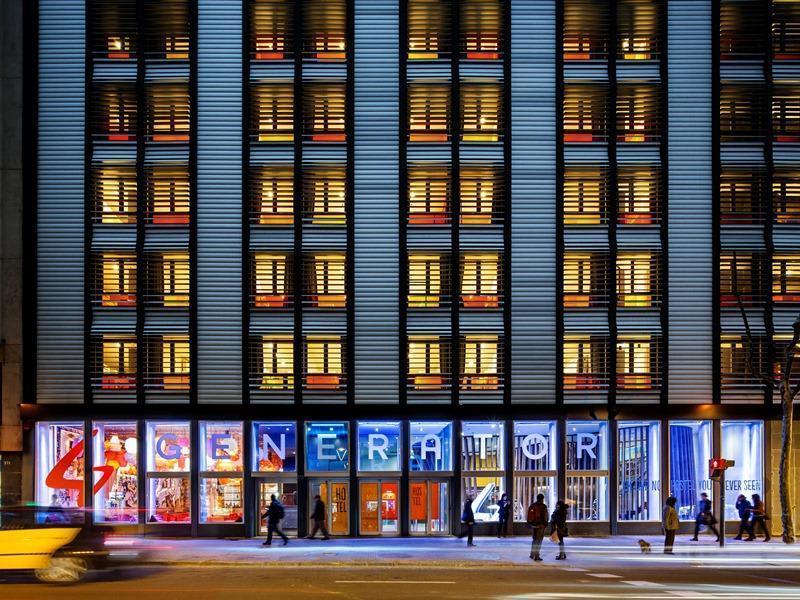 Located right between the Gracia and Eixample neighborhoods, the Generator Barcelona sits in a great location with easy access to plenty of bars, restaurants, shops, sights, and attractions. Public transportation is also just a few blocks away so that you can whisk yourself anywhere in Barcelona in a matter of minutes.
Gaudi's Casa Mila is just a few blocks away on foot, as is the popular Passeig de Gracia. In both Eixample and Gracia, visitors can also find various museums and theatres. Historic architectural homes and buildings can also be found in the vicinity of the hostel, too.
Many guests have said that this hostel is not in the best location for visiting tourist attractions, as it is about 1 mile from Las Ramblas and the Gothic Quarter. So, while you can walk out of the hostel and visit bars and restaurants, a trip on the metro will be required to get down to the touristy parts of the city.
Nearby Transportation
Several metro stations are nearby, including the Diagonal (lines 3 and 5) and Verdaguer (lines 4 and 5) stations. These two stations can take you to many places in the city without changing lines. Buses are also close by.
You can be at the Plaza Catalunya in 2 stops, which is a major transportation hub. From here you can take a train or bus on day trips to surrounding towns such as Costa Brava.
Amenities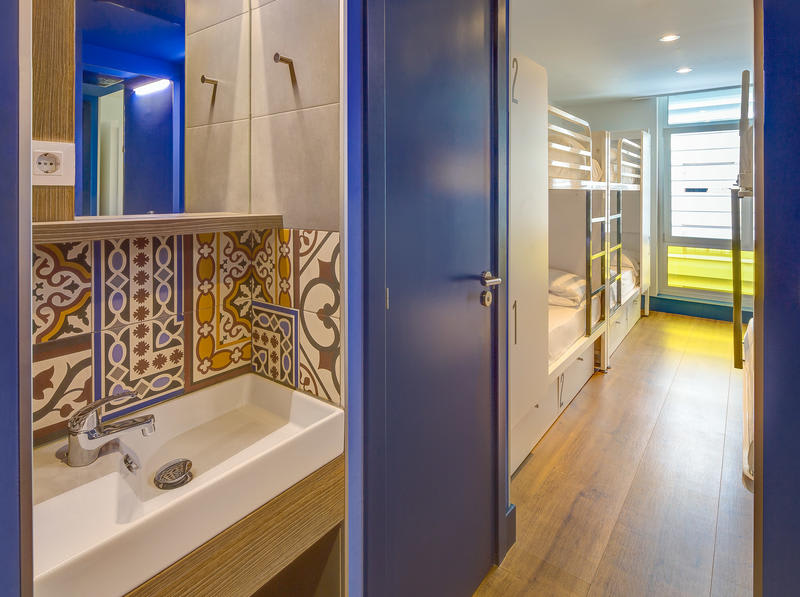 Of the long list of amenities that a traveler would expect of a hostel, or even of a normal hotel, the Generator Barcelona leaves nothing out. From laundry to Wi-Fi, from breakfast to keycard access, they have it all. The desk is available 24/7. They have an elevator, bike parking, a tours and travel desk, and more.
Staff
The staff at this hostel are on top of things. They speak multiple languages, and keep the hostel running efficiently. As this is a large hostel, sometimes there are problems with the facilities (such as a broken shower), but the staff is on top of keeping everything clean and well maintained.
Heads Up
As mentioned above, this hostel allows a variety of types of travelers from younger backpackers to families with children to older travelers. Some areas are all dorms, while others are all private rooms (hotel style). So, some backpackers have complained that there are too many children, while some families have complained that the dorms are too noisy. Keep in mind that the experience you have at this hostel may be up to you and how you interact with your fellow guests.
Also, they do not have a kitchen for cooking your own food, but they do have an on-site restaurant. (Outside food is not allowed.)
Generator Barcelona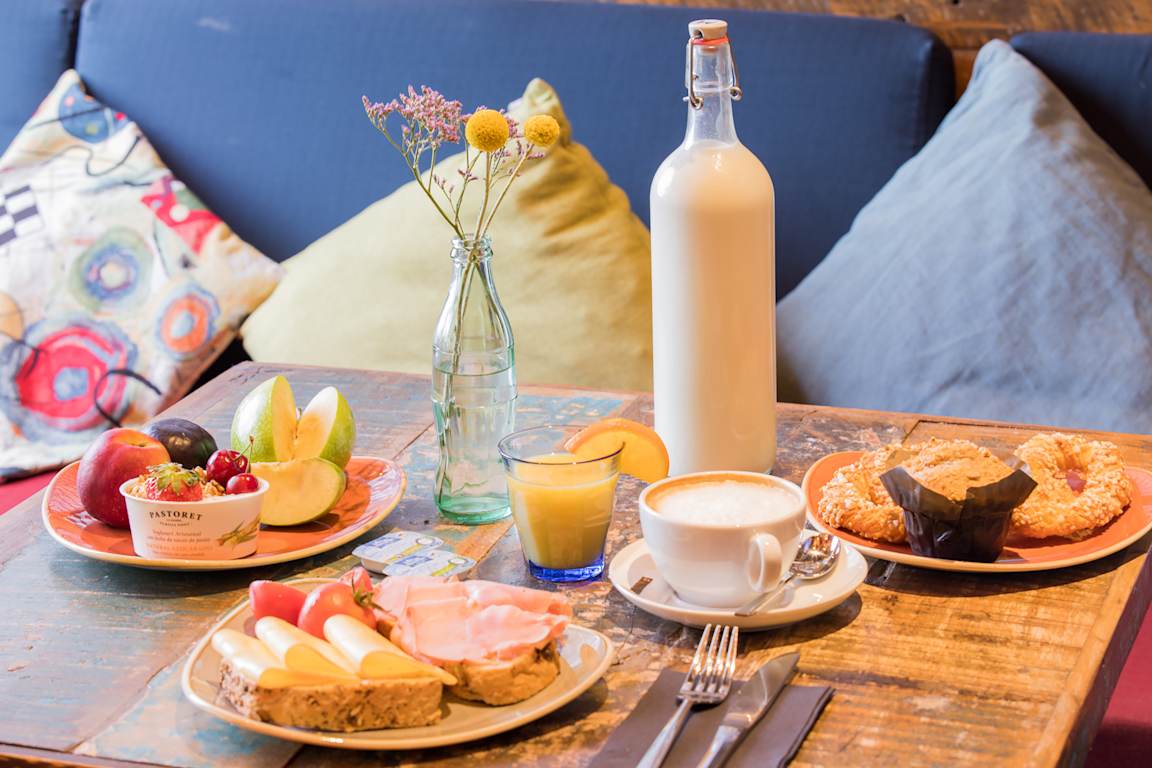 Do you have a favorite hostel that you would like to review? Let us know!