What sets them apart?
Itaca Hostel is all about location. It's centrally located near many of the city's most popular tourist destinations. It's also a hostel that welcomes a diverse crowd in a homey and down to earth atmosphere. It's not a party hostel, but it is easy to meet people and you'll likely find yourself chatting with fellow travelers until late in the night. The staff work hard to make a relaxing and tranquil setting that is the perfect oasis after a long day exploring the city.
Hostel Personality
Who's staying here?
This hostel attracts a diverse international crowd. The guests range in age and are of many different nationalities, so if you're really looking to broaden your perspective and open your mind during your travels, then this is a good hostel for you.
Insider Tip
Bring shower shoes as the water tends to overflow and cover everything.
Itaca Hostel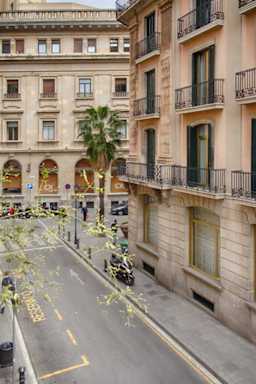 Itaca Hostel offers a peaceful retreat from the chaos of the city. It's a relaxing environment where it's easy to strike up a conversation with someone, yet it's not a loud party hostel, so you can expect the quiet hours to be respected. The hostel hosts all sorts of activities, so it's easy to meet other guests. The common areas are popular hang out spaces for guests who want to relax for a while.
Itaca Hostel's location combined with it's welcoming staff make it popular choice for travelers who want to conveniently explore Barcelona without spending too much time or money on transportation.
The Facilities
Dorms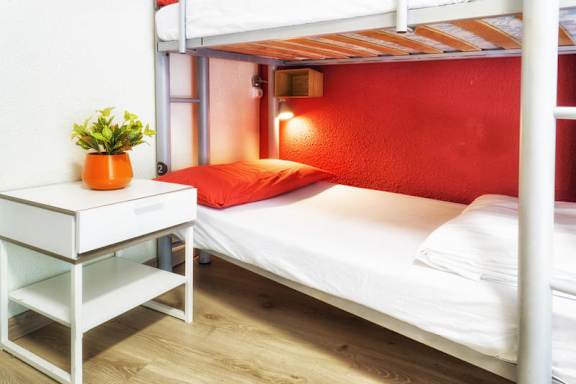 Itaca Hostel is a small hostel with dorm rooms that are either six, eight, or ten beds in size. All of their rooms are co-ed and have small exterior balconies. Many guests prefer to open the windows or doors to let in the breeze. There is no air conditioning, but there are ceiling fans and plenty of natural light. The rooms can get pretty hot during the peak of summer. Each bed also has a locker with a plug inside to charge your electronics in a secure environment. The bunks are also equipped with a reading light, night table, and sheets.
Private Rooms
If you're traveling as a couple or simply want a little more space and privacy, there is also one private double room available. The beds are singles but they can be joined together to form a double. (It's also possible to pull in a third bed and create a triple.) The room also has it's own private bathroom with a toilet and sink, but still uses the shared showers. This is the only private room in the hostel, so it's in high demand so make sure you book early. It's the perfect setting for a couple or small group of friends who want the amenities and activities of a hostel with out staying in a larger dorm.
Bathrooms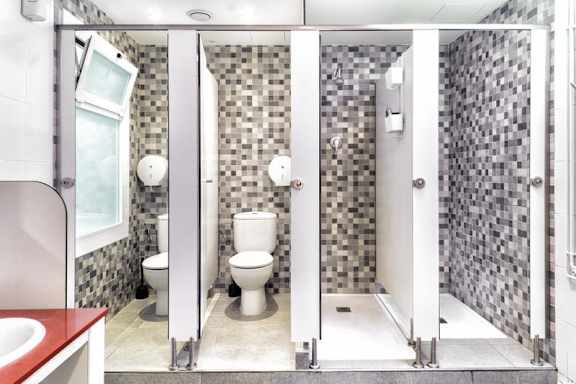 This hostel has a male and a female shower as well as a separate bathroom area. The bathrooms and showers are kept clean but they are in high demand when the hostel if full, so plan accordingly. The showers are push button, so once they time out you'll need to push the button again.
Common Areas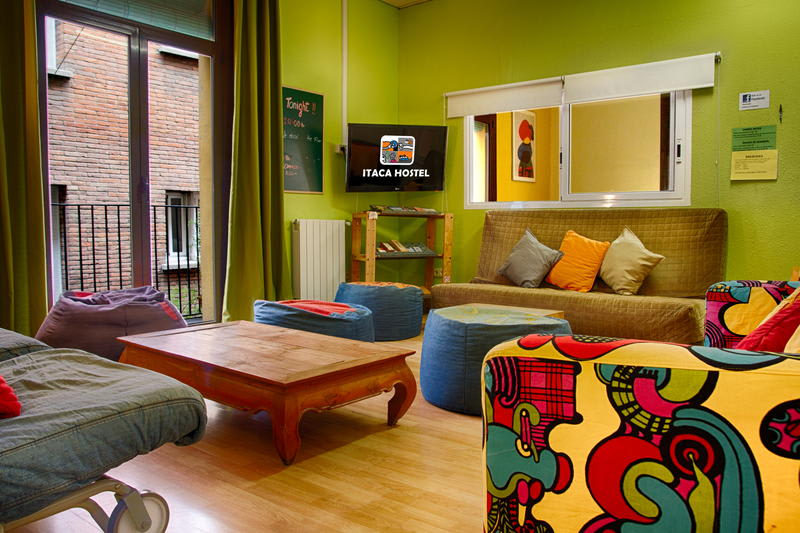 Many guests enjoy hanging out in the hostel's common area, which is the perfect relaxing setting with it's oversized sofas and chill atmosphere. It's the perfect place to hang out and chat with other guests, or plan the next part of your travels. The sofas are comfortable and there's a television with movies you can choose from during your time down. During the evenings the guests often host informal movie nights. If you're in to music, the hostel also has a guitar that guests are welcome to use. This hostel does respect the quiet hours and will close down the common space around midnight to ensure the hostel is peaceful, safe, and quiet for anyone hoping to get a good nights sleep.
There's also a shared kitchen available that guests can use to prepare their own meals. The kitchen is well equipped and convenient so it's easy to make a quick and cheap dinner for you and your friends.
The Location
Gothic Quarter
The Gothic Quarter, or Barri Gotic, is the original heart of the city. Here, old cobblestone streets weave through historic buildings with fascinating architecture. Restaurants, bars, and shops can be found everywhere, as well as plenty of tourist amenities. The narrow alleyways can be confusing, but getting lost is one of the best experiences here, as something new is always around the corner. The many plazas await with benches and fountains.
What's Nearby?
This hostel is all about the location. It sits on a quiet street, but it's still near everything in Barcelona that you might need. It's a one minute walk to the Barcelona Cathedral and you can walk to Placa de Catalunya in about five minutes. Passeig de Gracia, a street full of shops, is also nearby. If you head in the other direction you'll find Barri Gotic (the Gothic Quarter), Las Ramblas, the Aquarium, and the beach. You can walk to the beach in about 30 minutes, or you can catch a nearby bus and reach it in 15 minutes.
Other popular landmarks that are within a mile of the hostel include The Picasso Museum, Placa Reial, Tivoli Theatre, and Gaudi's Casa Batllo.
Nearby Transportation
This hostel is just a five minute walk to Plaza Catalunya, which is a major transportation hub for the city. The stop for the airport bus is also just 5 minutes away. Otherwise, in this central part of Barcelona, plenty of other metro stations and train stations can be found which all connect to the various lines through the city.
Activities
This hostel is a friendly place with a variety of different activities that you can enjoy. The have daily walking tours through the city that are free. They also frequently have movie nights and every Thursday night the staff makes Sangria that guests can enjoy for free. Many of the activities are informally organized so you'll likely find guests planning to hang out or meet up around town. The family like atmosphere of the hostel makes it easy to join up with others and explore the city as a group.
Amenities
Itica Hostel has the standard amenities that you can find in most European hostels including wi-fi, public computers, luggage storage (for a small fee), security lockers, and laundry facilities. They also have a nice shared kitchen that is well equipped and convenient for anyone planning to prepare their own meals. In the common area you can relax on the sofa and watch a movie or play on the hostel-owned guitar.
Staff
Guests rave about the staff. They really focus on making this hostel a peaceful and relaxed environment where everyone feels welcome and respected. They all speak a variety of languages and will go out of their way to make sure you have all of the information you need to plan your day in Barcelona. They'll often hang out with the guests and just chat, so the hostel has a family atmosphere where guests and staff all get to know each other.
Heads Up
This is a mellow hostel in a quiet setting, but they don't have air conditioning so most guests open the windows to let in a breeze. This also brings in the outside street noise. If you're looking for a traditional party hostel, this is not it. It's a relaxed atmosphere and doesn't attract a party hard crowd, so if that's what you're looking for, you'll likely be disappointed. However, the atmosphere here is still very social and friendly.
The hostel is small and peaceful, but there are a limited number of bathrooms and showers so things can get a bit crowded in the morning. But generally speaking, it's not too bad.
Itaca Hostel
Do you have a favorite hostel that you would like to review? Let us know!