What sets them apart?
The location is perhaps the biggest draw to this large and social hostel. Located right on Passeig de Gracia, and just a few blocks from Plaza Catalunya, Las Ramblas, and the Gothic Quarter, you really can't find a better neighborhood. This older modernist building has been converted into a large hostel which offers a long list of amenities and something for everyone.
Who's staying here?
A wide variety of travelers stay here, from younger backpackers to groups to middle-aged guests to families. This hostel is so large that anyone can find space here for a good price. Younger backpackers make up the majority of the guests, and with a bar and rooftop terrace, there is always something going on.
Insider Tip
You will likely need to pay a little extra for some smaller items such as a lock, a blanket, and a towel.
Safestay Barcelona Passeig de Gràcia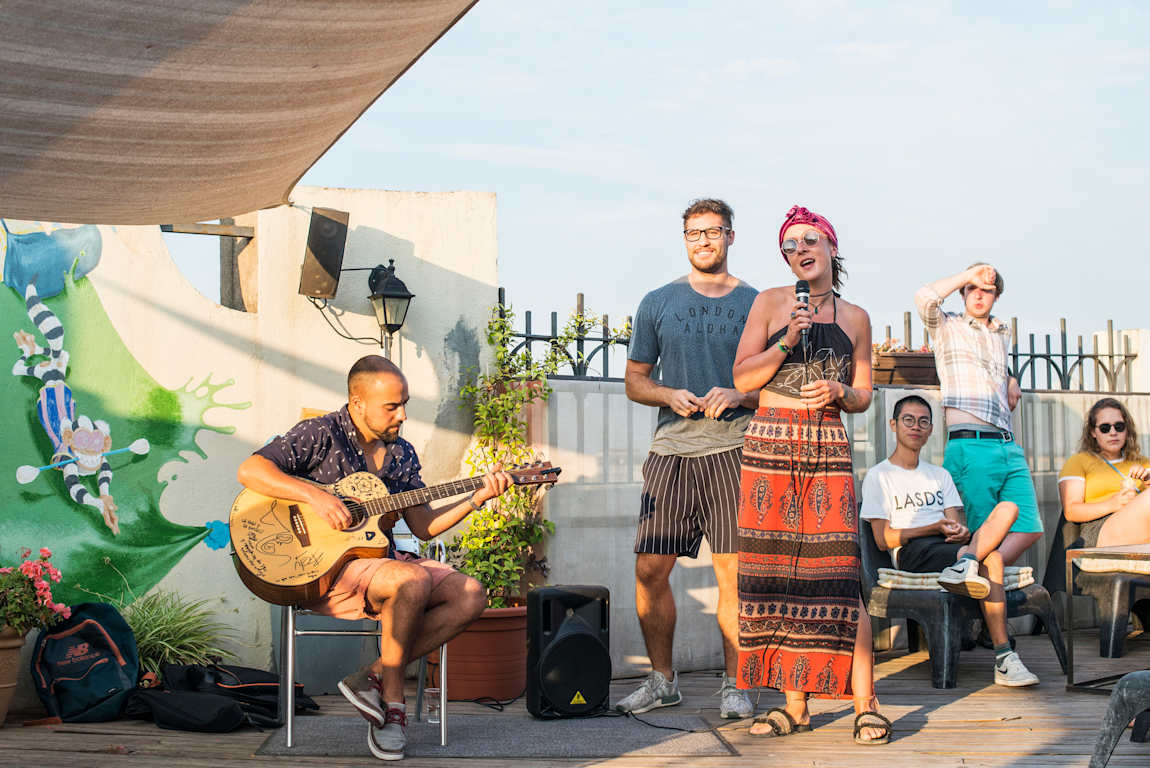 Part of the
Safestay
chain of hostels which is found throughout Europe, this very large hostel sits on the corner of a block of Passeig de Gracia, the premier European-style boulevard that crosses the middle of Barcelona. The location is unbelievable, and that's what draws the large crowd (the low price doesn't hurt either). Within a few blocks' walking distance, you can get to Plaza de Catalunya, Las Ramblas, the Gothic Quarter, and everything else in Eixample. Multiple restaurants, bars, and shops are around the corner.
The list of amenities is also nice. With two bars and a rooftop terrace overlooking the city, guests will have plenty of fun here. As a large hostel, guests will find plenty to do, and plenty of other people to meet up with.
The Facilities
Dorms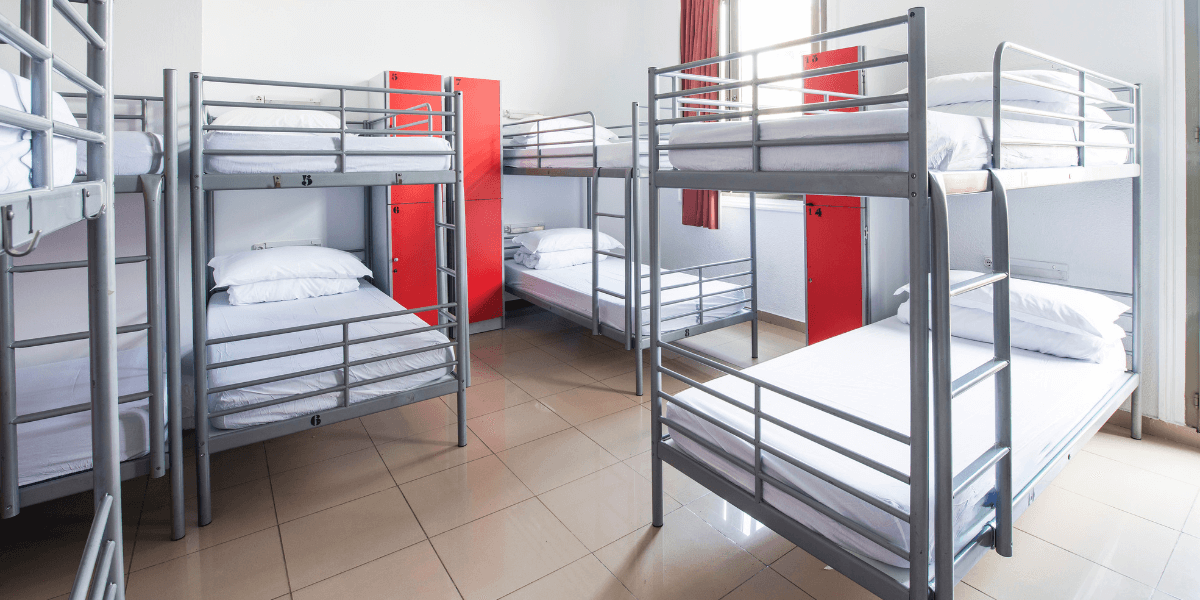 Dorms at the Safestay Passeig de Gracia hostel come in a variety of sizes, and many of the rooms are large. With bunk beds filling rooms up to 12 beds, and with so many rooms, it is easy for the prices to be cheap. Beds have lights and plugs. Some of the rooms have balconies, but they are locked for safety reasons. Rooms also have air conditioning and lockers. Female-only rooms are available. Dorms come in sizes from 12 beds all the way down to 4 beds. A few of the dorms have ensuite bathrooms, while others use bathrooms on the halls.
Private Rooms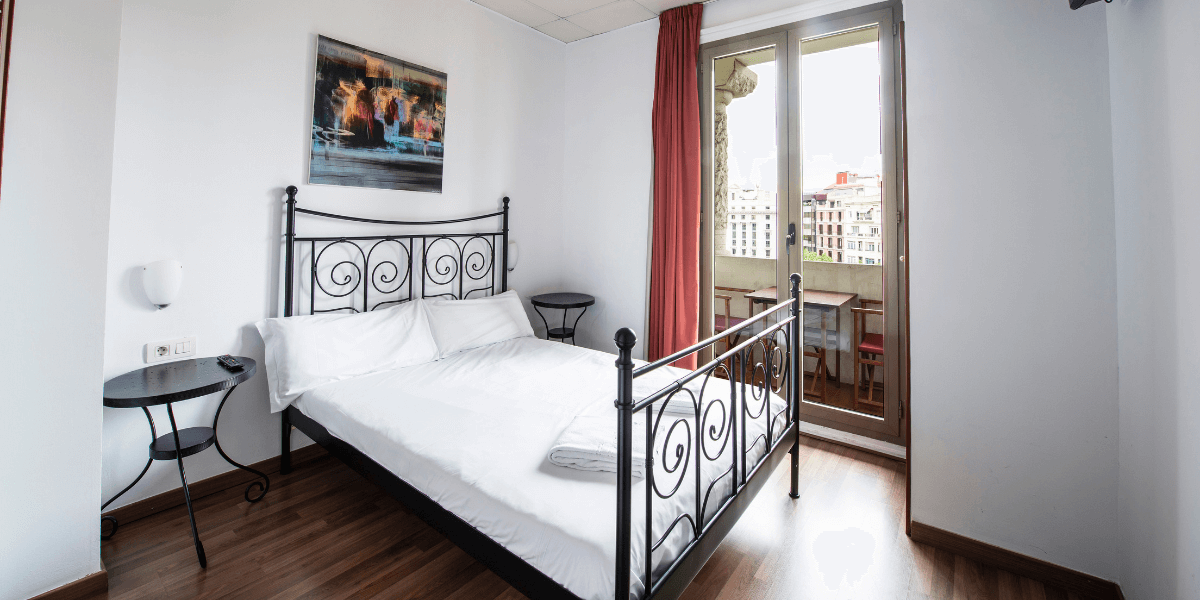 Private rooms can be selected for those guests that want more privacy, such as couples, families, or small groups. A private room up to 4 people can be selected (with 4 twin beds). Some private rooms have larger double beds. These rooms are similar to basic hotel rooms with a few modest furnishings. Some of the private rooms have ensuite bathrooms.
Bathrooms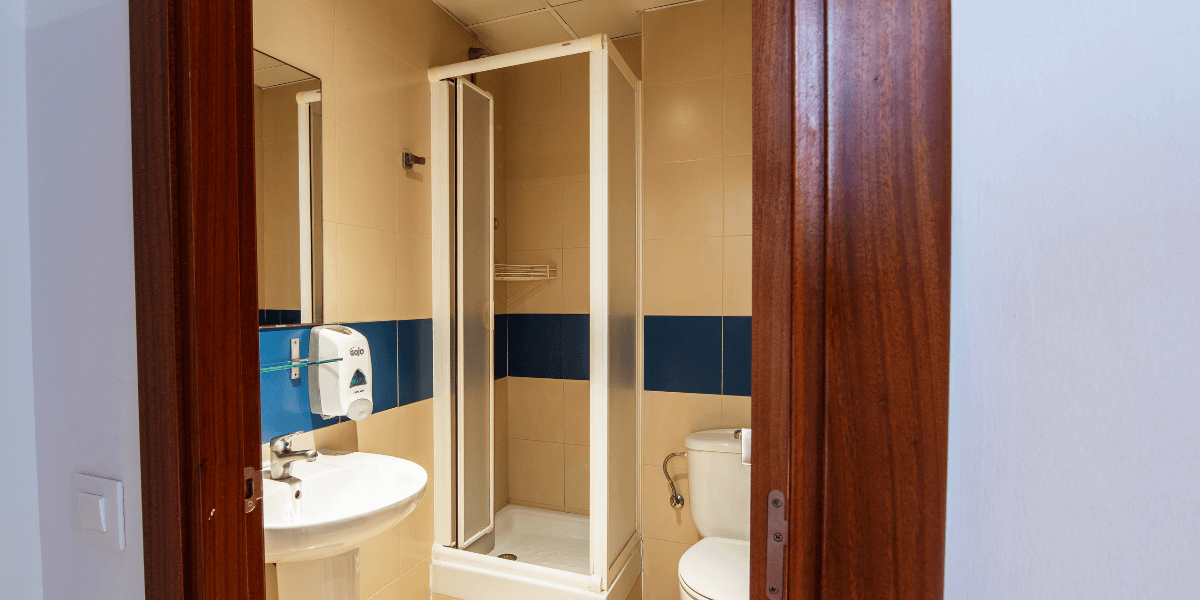 Although the building is older, the hostel has refurbished bathrooms. As is the norm with hostels in Barcelona, the showers are of the push-button type which can be annoying, but is meant to conserve water. Plenty of hot water is available.
Bar
Two bars are available at the Safestay Passeig de Gracia - one on the rooftop terrace and a larger one at the ground floor by the main common area. They serve beer on tap and mixed drinks, as well as snacks and soda.
Common Areas
The common areas in this hostel are spacious. Lounge areas with a TV are available for those that want to just hang out and chill. The larger bar area is also a nice place to relax, and the activity picks up in the evenings when more people come down and get ready to go out and experience Barcelona's nightlife. The communal kitchen is also a good place to meet up with other guests, especially during breakfast or when others are cooking their meals.
Outdoor Space
Taking advantage of its location, this hostel has a huge outdoor terrace on the roof, along with a bar. From here you can see across the skyline of Barcelona and down to the streets below. Plenty of comfortable seating and shade is on hand which makes this a nice spot to relax, listen to music, read, or have a few drinks from the bar with friends in the evening.
The Location
Eixample
The Eixample neighborhood is where the old world charms of the Gothic Quarter merge into modern Barcelona. Here, many famous museums and attractions can be found, as well as plenty of restaurants, bars, shops, churches, and other sights. Public transportation in this part of town is very common, and the streets are laid out in an orderly fashion, so it's hard to get lost.
What's Nearby?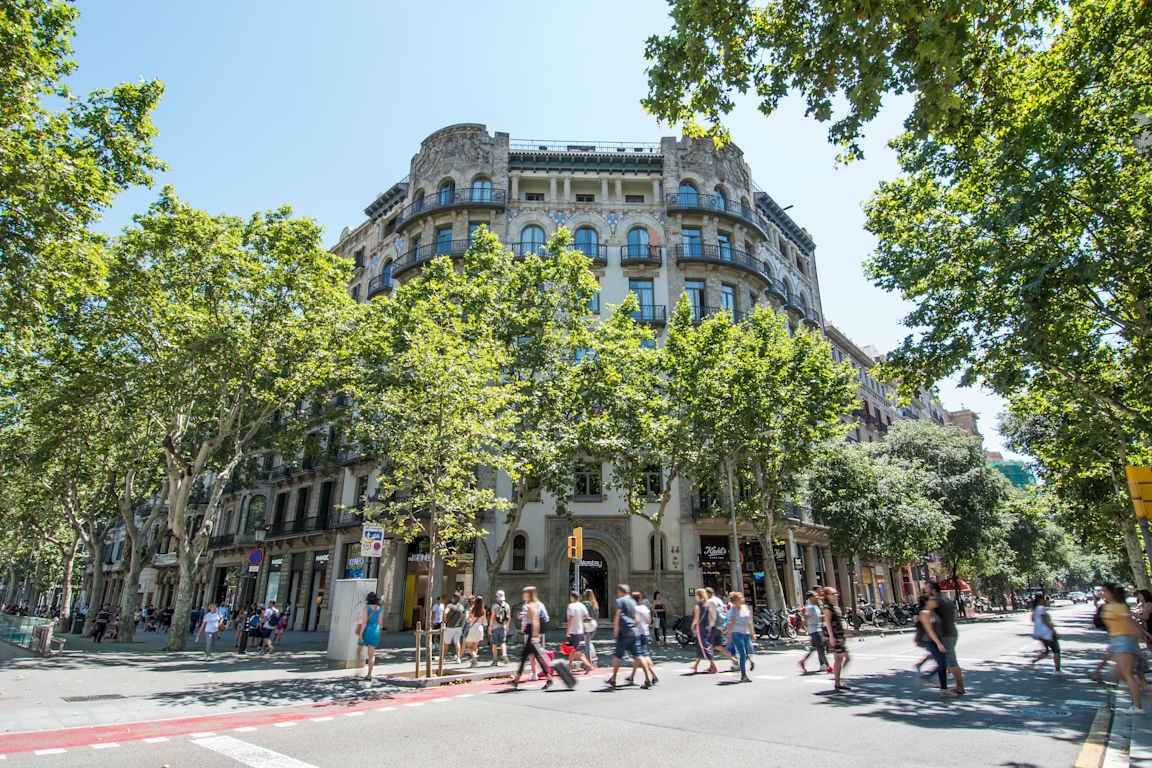 As mentioned before, it's hard to beat the location of the Safestay Passeig de Gracia. Three blocks away is the Plaza de Catalunya, which is the "center" of Barcelona and the gateway from Eixample into Las Ramblas, the Gothic Quarter, and El Raval. From your doorstep, it's easy to just take yourself on a tour of Barcelona for a few hours and see so many of the main sights.
Or, just take a stroll north up the Passeig de Gracia to see shops, restaurants, bars, theatres, and museums. Gaudi's Casa Batllo is only
one block
away! Casa Milla is only four blocks away. And several other art and history museums are close by. Or just admire the modernist architecture of Eixample as you wander the streets.
Nearby Transportation
Sitting so close to Plaza de Catalunya, you can be anywhere in or out of Barcelona very quickly. Several metro stations are nearby, including the well connected Passeig de Gracia station which is on lines 2, 3, and 4. Within a few stops you can be anywhere in central Barcelona in just a few minutes, including the Sagrada Familia, the beach, Montjuic, Gracia, and more.
Activities
The staff organize some events for guests to have fun and get to know each other. A pub crawl is organized, and the activities at the bar are plentiful. Even if nothing official is happening, the bar and dining area are always full in the evenings, so anyone can join in on the fun.
Amenities
The list of amenities is pretty standard for a European hostel. As this is part of a chain, one can expect the normal conveniences. Wi-Fi in the common areas is free, laundry is available, and lockers are in the rooms. Key card access keeps everything safe. Breakfast is available for an additional price.
Staff
There are a large number of staff members at this hostel that work hard to make sure everyone is comfortable and the hostel is kept clean. They do their best to run this large hostel as efficiently as possible.
Heads Up
While free Wi-Fi is offered in the common areas, you have to pay extra to get it in your room. Also, as this is a very large hostel, it sometimes has an institutional feel to it. Sometimes the rooms and bathrooms don't get cleaned as much as they should, because the staff just can't keep up. And due to the mix of types of guests, some younger backpackers don't like the vibe of having a few older guests or families in the building.
Safestay Barcelona Passeig de Gràcia
Do you have a favorite hostel that you would like to review? Let us know!