What sets them apart?
An eclectic decor and plenty of social activities makes this one of Barcelona's most popular hostels. The staff go out of their way to make everyone feel like they are "part of the family." The location is fantastic and close to everything. The free dinners, walking tours, and trips to nightclubs keep everyone having a great time, and the facilities are very comfortable.
Hostel Personality
Who's staying here?
Pars Teatro is popular with younger backpackers and budget travelers looking for an affordable and fun place to stay. The combination of dorm rooms, social activities such as free dinners, and nightly outings all make this a popular meeting place for young travelers.
Insider Tip
Make sure you participate in the group activities, or you will likely feel left out of all of the fun.
Pars Teatro hostel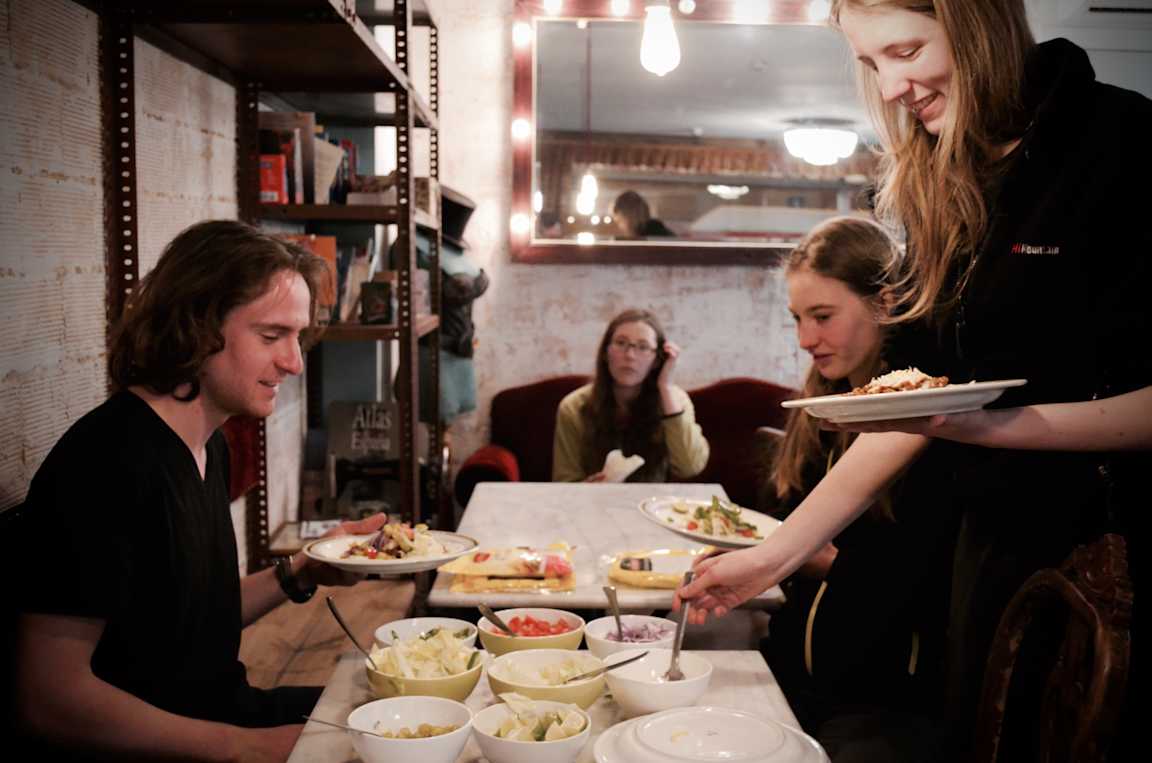 The Pars Teatro is run by a staff that clearly wants everyone to feel included. They use the phrase "part of the family" for all of their guests, and it shows in everything they do. They don't just want you to sleep here, they want you to do everything here from the daily activities (walking tours, beach trips) to the free dinners and pub crawls.
While this hostel doesn't necessarily have a party atmosphere, it is very social and the nightclub trips give anyone a chance to experience the crazy Barcelona nightlife.
The decor of the Pars Teatro is fun, eclectic, and unique. Puppets and other old-time theatre-themed furnishings can be found around every corner. With old art on the walls and funky furniture in the common areas, everything gives this hostel a homey and interesting vibe. Even the bathrooms are glitzy.
Everyone can feel welcome here, as the staff makes an effort to help guests meet up and make friends. The location is also terrific, allowing you and your new friends to head out to explore Barcelona's best areas (the Gothic Quarter and Las Ramblas are super close), or even the beach.
The Facilities
Dorms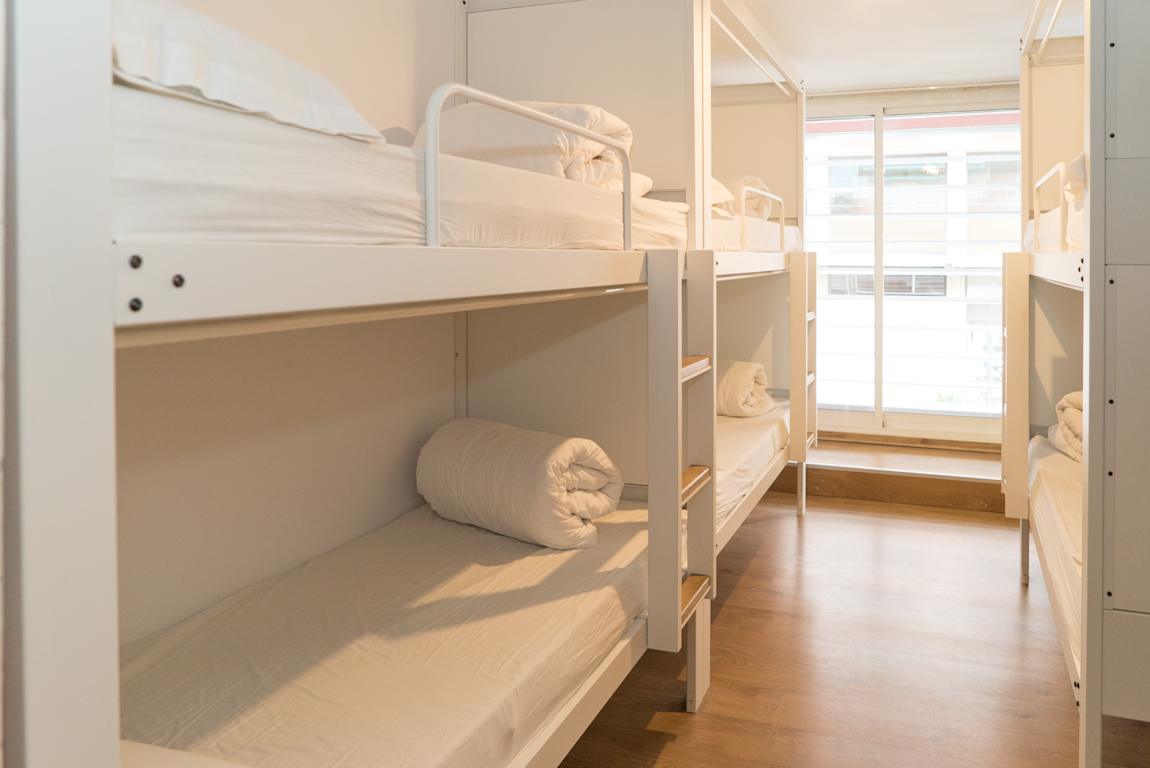 Despite the funky decorations of the common areas, the dorms are a little bland on decor. However, they are modern, comfortable, air conditioned, and safe. From 4 beds all the way up to 10 beds, rooms come in a variety of sizes. An all-female dorm option is offered, too. Bathrooms are on the halls.
Bunks are provided with linens and blankets. Bunks also have plugs and lights for each bed, which is very convenient.
Bathrooms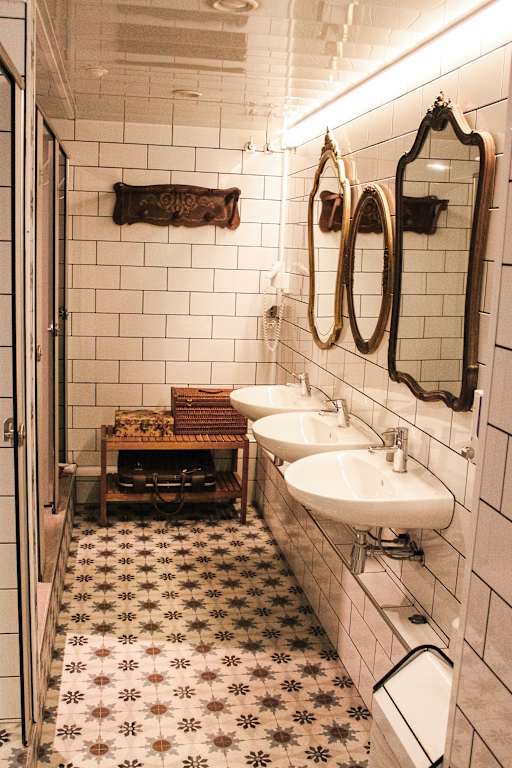 Bathrooms have modern fixtures but a fun, old-fashioned decor. Showers have plenty of hot water, and hairdryers are also available. Showers use a push-button system to save water, and this is the norm for many hostels in Barcelona.
Common Areas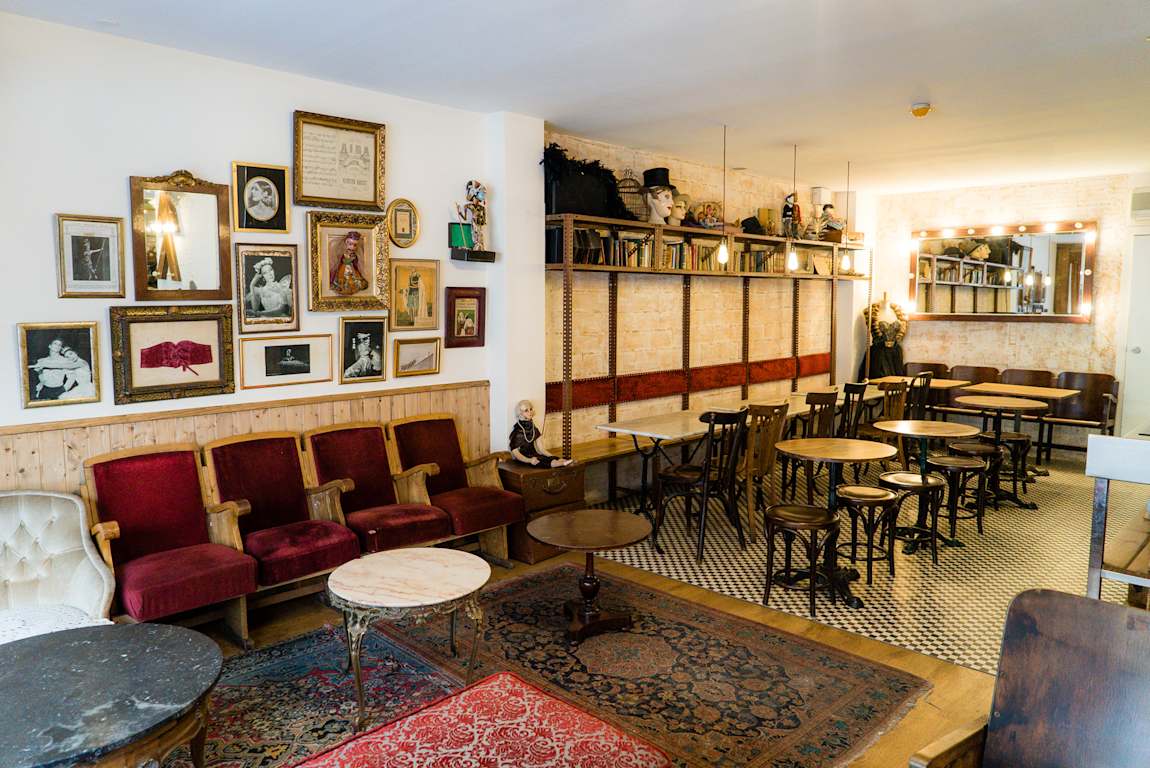 The main area where everyone hangs is the front lounge and kitchen area. The lounge area at the front of the hostel is a terrific spot where guests gather, and it consists of a large seating area with sofas and old theater row-seats, interesting theater-inspired artwork, and plenty of room for everyone to mingle. The adjoining kitchen offers plenty of seating for meals or just relaxing with friends. This is where the breakfast and free dinners are provided, along with some of the other activities such as sangria nights.
The Location
Sants-Montjuic
The Sants and Montjuic neighborhoods sit to the south of the city center, and have easy access to everywhere in Barcelona via the Metro system. The Sants area is more residential, but still has plenty of restaurants, bars, and shops. Montjuic is a scenic hill overlooking the city, and offers a more quiet area that still has terrific access to all of the best sights in town.
What's Nearby?
The Pars Teatro hostel sits in a great location that is a short walk into several great areas of Barcelona. It's a short walk down to the Barcelonetta beach area, a short walk to Las Ramblas, and is within walking distance of the Gothic Quarter. It's also close to El Raval, and sits at the foot of Montjuic. From here you can get to so many of the most popular destinations in Barcelona on foot. And if you can't reach it on foot, several metro stations are nearby to whisk you around town.
The Montjuic area is just to the southwest of the hostel. You can take the funicular train up the hill for some spectacular views. Also at the top are some cafes, tourist sights, and museums.
The El Raval neighborhood is known for it's edgy vibe, and sits just to the north of the hostel's location. Explore this area for it's funky bars and restaurants, or keep heading northeast towards Las Ramblas and the famous Boqueria market. Beyond that is the old historic center of Barcelona, Barrio Gotic (the Gothic Quarter). Here you can find the old architecture along with museums, churches, restaurants, and shops.
The Maritime Museum is also just a few minutes away on foot, and sits by the ferry port.
Nearby Transportation
The Paral-lel metro station is about 5 blocks away from the hostel, and is on Lines 2 and 3 (it also has the funicular up to Montjuic). From here, you're only a few stops from Las Ramblas, Eixample, Plaza Catalunya, and everywhere else in Barcelona.
The ferry port is also just a few minutes away. So, if you're headed to or from Mallorca, or one of the international destinations in Italy or Morocco, you are well situated. (
Ferry tickets can be purchased here
.)
Activities
In case you didn't notice, this hostel offers SO MANY activities, and most of them are free! Start your day with a nice breakfast (for a small fee) in the mornings in the kitchen, which consists of eggs, fruit, bread, and meat.
Free walking tours of different sections of Barcelona are offered every day . Some days it's the Gothic Quarter, while on other days it's the old bunker tour or a tapas tour. So, you can do a different tour for the first few days of your time here to get to know Barcelona as well as your new friends at the hostel.
On most nights, free dinners are offered, while on other nights, they have a sangria happy hour or an open bar. The free dinners are made by the staff and taste delicious.
Every night, the staff organizes trips out to various bars and nightclubs for free. This is usually preceded by some sort of happy hour, sangria, open bar, or drinking games depending on the schedule. The nightly outings are not just a way to see the Barcelona nightlife, but also a way to meet up with your fellow travelers.
Finally, some days they organize group trips down to the beach. Spur of the moment trips by groups of friends at the hostel also occur to head out into Barcelona to see various tourist attractions or to visit restaurants for meals.
Amenities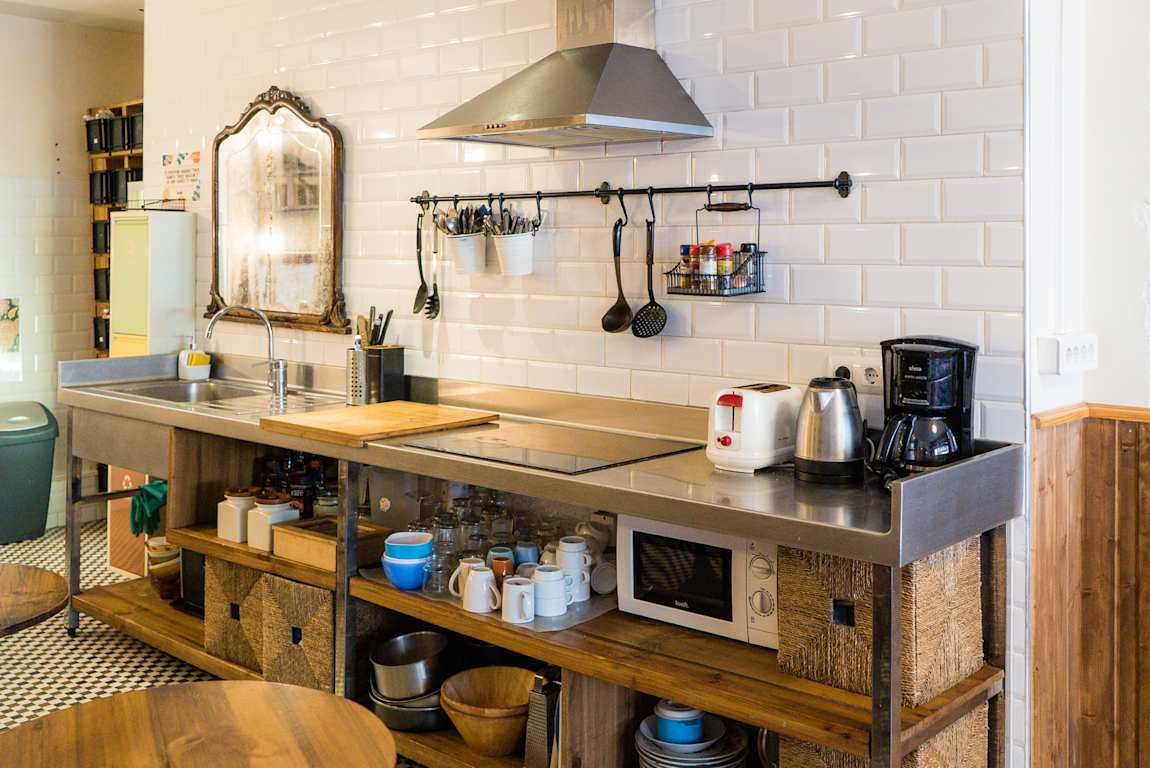 While this hostel is on the smaller side, the amenities are plentiful. The kitchen is a great place to cook if you want to save money on food (several grocery stores are nearby). The rooms are air conditioned, and Wi-Fi is available, too. Laundry, luggage storage, lockers, TVs, and tour and travel information are also provided.
Staff
Everyone here raves about the great staff and how they go out of their way to make everyone feel like… yes, once again "part of the family." As this seems to be their motto, they work hard to make sure that the place is not just clean, but is comfortable both in terms of the amenities and also with regards to the social atmosphere. They are always asking if everyone is having a good time and is happy.
Heads Up
While this hostel has plenty of charm, some guests have said that the rooms and bathrooms are a little too small. Also, some guests say that the social vibe is not consistent, and it would depend on the other guests visiting at the time. (This is true of any hostel, though.)
Overall, it's hard to find many faults with this highly rated and recommended place!
Pars Teatro hostel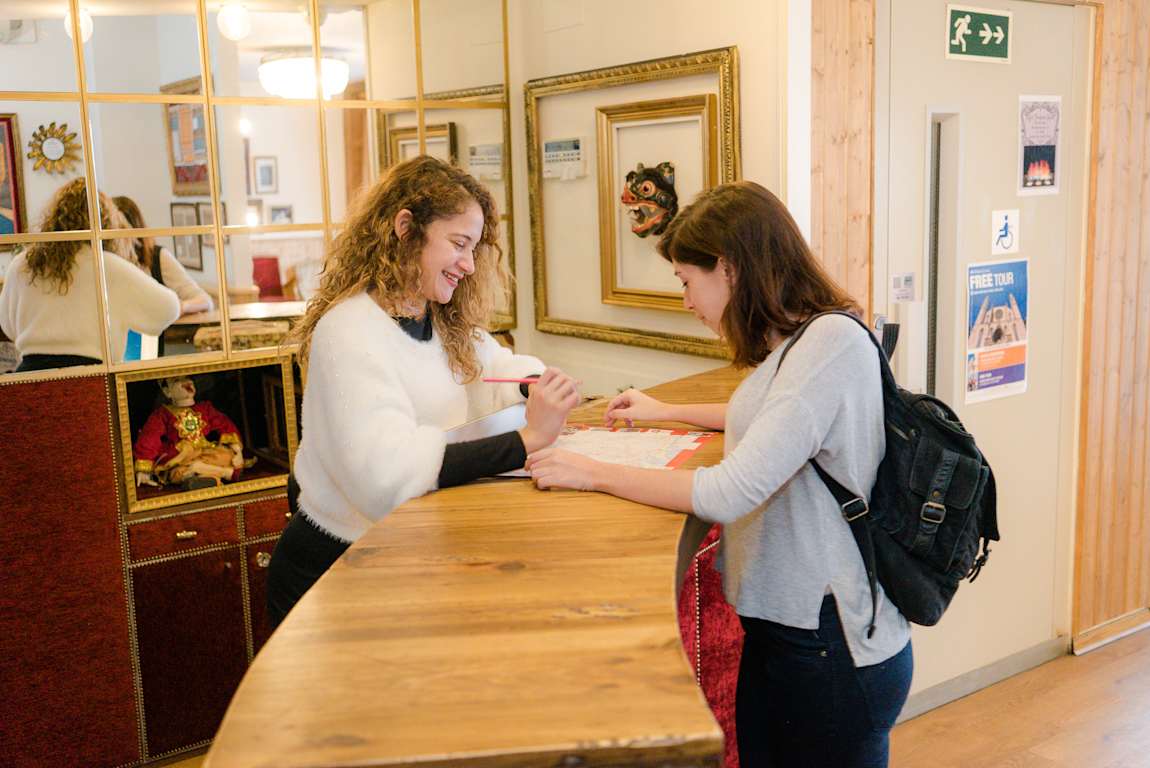 Do you have a favorite hostel that you would like to review? Let us know!