What sets them apart?
This was one of the first hostels in Barcelona and it's still going strong! It's a self proclaimed party hostel that always brings in a lively crowd. There is no shortage of activities and events, so there always seems to be something going on and it will most definitely live up to its "party hard" reputation.
Hostel Personality
Who's staying here?
This hostel appeals to young travelers (late teens and early twenties) who want to party hard through the night and into the mornings. It has a bit of a frat house vibe which appeals to some people, but might not be for everyone.
Insider Tip
The rooftop terrace is the best place to meet people! Also request a bottom bunk as there are no ladders to the top.
Kabul Party Hostel Barcelona
This is one of the premiere party hostels in Barcelona. The central location near most of the city's top sights, combined with its long standing reputation as a party hard spot make it one of the most popular hostel options for young party-goers looking to live it up in Barcelona. It's within walking distance to many popular bars and clubs and just a short distance to the beach by bus or metro.
This hostel is all about the activities. From free nightly dinners to free drinks at the bar, the perks you'll get here are among the best. Every night there's something going on and during the day you'll enjoy a filling free breakfast followed by free daily walking tours of the city.Yes, this hostel offers plenty of free stuff!
If you're looking for a good time, then this hostel is the place to be. It's one of the originals, and it's still going strong as a favorite for many visitors to Barcelona.
The Facilities
Dorms
This hostel offers dorms that range in size from two beds to twenty beds (the larger rooms are less expensive). The rooms are on the smaller side, so most people store their luggage in their security lockers. This is also where you'll find the chargers for your devices, which is very convenient.
In the larger rooms each bed has its own privacy curtain which is helpful with light and noise. The top bunk doesn't have a ladder, so climbing up and down can be a bit tricky, but it's totally manageable. The beds themselves are also a bit small and hard, but most people don't come to sleep anyway, right?
Bathrooms
This hostel has male and female shared bathrooms on each floor. The showers have plenty of hot water with good water pressure, but they are push button, which can be a bit annoying. The bathrooms aren't always the cleanest but the shower is separated into its own stall which provides privacy.
Bar
Kabul Party Hostel has its own bar on the rooftop terrace. They serve free beers for half an hour every day and cheap drinks at other times through the evening and late into the night. They have regular happy hours, nightly themed parties, live music, and all kinds of social events. This is where the party begins every night, before everyone heads out for the nightly pub crawls.
Common Areas
The Lobby
- The lobby is the main chill-out spot in the hostel and is where the free breakfast is served every morning. It has vending machines, several games including foosball, and plenty of seats to relax. This is also where they host nightly parties with music, drinking games, and happy hours. The lobby is open between 7 am and 1 am.
The Rooftop Terrace
- When the weather's nice, most people choose to hang out on the rooftop terrace. It offers an excellent view over Plaza Real, and has a bar with cheap drinks and free beer for half an hour every day. The hostel hosts barbecues and other social events on the terrace, which makes it easy to meet other travelers.
Outdoor Space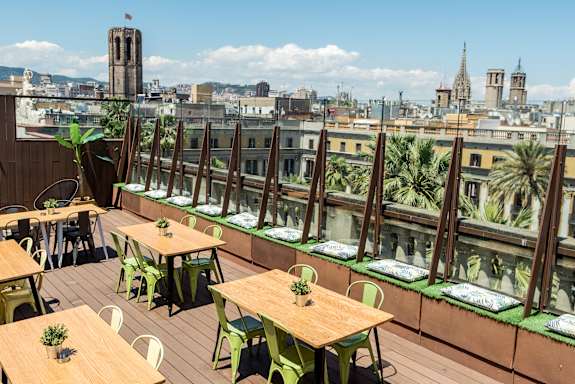 Many guests hang out at the rooftop terrace (mentioned earlier), where you'll find tables, a bar, and nightly activities. The terrace has great views over the city and down on the square. It's the perfect place to take advantage of the beautiful Mediterranean climate.
The Location
Gothic Quarter
The Gothic Quarter, or Barri Gotic, is the original heart of the city. Here, old cobblestone streets weave through historic buildings with fascinating architecture. Restaurants, bars, and shops can be found everywhere, as well as plenty of tourist amenities. The narrow alleyways can be confusing, but getting lost is one of the best experiences here, as something new is always around the corner. The many plazas await with benches and fountains.
What's Nearby?
One of the biggest selling factors for this hostel is the fantastic location. It's conveniently located right next to Las Ramblas on the edge of the Gothic Quarter. It sits right on Placa Reial Square in an area that's very walkable and convenient to many tourist sites and public transportation. It's located right above a nightclub that has flamenco shows and live music. There are also plenty of great restaurants and bars just a short walk away.
Within a mile of the hostel (and an easy walk) you'll find Boqueria Market on Las Ramblas, the Picasso Museum, Placa Catalunya, Tivoli Theatre, and Passeig de Gracia.
Nearby Transportation
This hostel is centrally located near most types of public transportation. The closest metro stop is Liceu Metro Station, which is 650 feet away and on line 3 (green line).
The beach is about a half hour walk or 20 minutes by bus (with a 5 to 10 minute walk to the bus stop).
The airport is accessible by public transit, or you can take a taxi for about €30.
Activities
This hostel is all about the activities. They organize all kinds of events for guests so it's easy to meet other travelers, whether you're traveling alone or with a group of friends. You can expect a party every night with music, drinking games, and eventually a pub crawl to some of the best bars and clubs in town. There are nightly happy hours in the lobby or on the terrace, regular barbecues, free dinners, and more. Different nights have different themes including paella nights, pasta nights, and barbecue nights. Meals are simple but delicious and fun.
During the day there are free walking tours that teach you all about the history and local secrets of the city. The tours leave every morning at 10:30 from the lobby and you can take either the Gaudi Tour or the Gothic Tour.
Amenities
Everything at this hostel is geared towards encouraging guests to socialize. A free breakfast is served every morning, and there's free dinner at night. The meals are basic but fun and give you the perfect opportunity to meet other guests.
This hostel also has all of the standard amenities that you'd expect at a European hostel. There's wi-fi throughout, travel information, discounted tickets, public computers, games, and more. They have self service laundry machines with detergent provided. They also have air conditioning, security lockers, and free luggage storage.
Staff
This hostel has 24-hour reception service and the international staff are young and fun. They cater to the party hard crowd, so you can always expect a fun activity or event. The tour guides are great as well. Staff speak a variety of languages including English, Spanish, Catalan, Portuguese, French, and Arabic.
Heads Up
This hostel is unapologetically a party hostel, so expect loud nights, cheap drinks, and a young crowd. It's not the cleanest hostel, and the facilities are a bit dated, but if you've come to party, then you likely won't notice.
Kabul Party Hostel Barcelona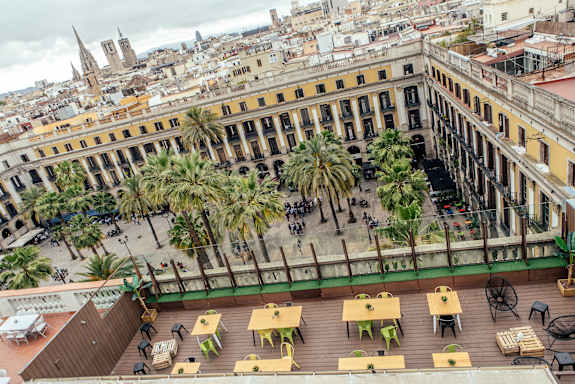 Do you have a favorite hostel that you would like to review? Let us know!