Barcelona's location on the eastern coast of Spain makes it an ideal base when exploring the nearby countryside and smaller towns. With so many options for day trips or even overnight trips, you'll have a hard time deciding which places to choose from! Fortunately, we've made a list of the most beautiful and most interesting places to visit, so take your pick.
Montserrat
About 50 km (30 miles) from Barcelona sits this stunning monastery on top of a mountain
known as Montserrat
. The views are breathtaking as the landscape is dramatic and rugged. This is the most important religious destination for Catalonia's Catholic population, but anyone can enjoy the natural beauty of the area as well as the interesting art and architecture of the monastery.
To get here with public transportation, one must take the train (R5 Line) to either a cable car or a funicular. The cable car is generally recommended as it provides beautiful views of the area during the trip up the mountainside. To take the cable car (about 30 Euros for a return ticket), take the R5 Line to the Montserrat-Aeri station, and then board the cable car. Otherwise, to take the funicular or "Cremallera" train (about 20 Euros), take the R5 Line to the Monistrol de Montserrat station. Tickets can be purchased as you travel, or online ahead of time, or as part of a package trip. It is also possible to take the public bus or a taxi. Here's more info about getting to
Montserrat by train
.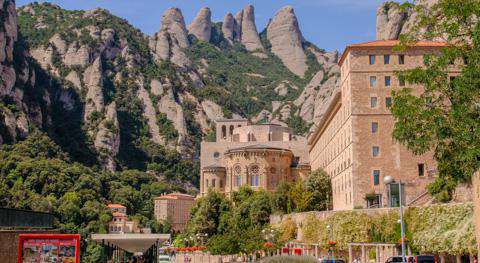 Tours are recommended, not only because they provide transportation, but also a guide and a historical overview. Many tours also add on nearby destinations such as wine tastings at vineyards, hiking trips, meals, and more. These can make your trip more efficient if you want to experience multiple activities in one day.
North of Barcelona
Costa Brava: Girona, Figueres, Pals, Cadaques, and others
The beautiful and rugged stretch of coastline north of Barcelona is known as Costa Brava. Here visitors will find gorgeous beaches mixed with small fishing villages. This region is also home to larger towns with winding alleyways, ancient fortresses, delicious cuisine, and plenty of Salvador Dali's artwork.
Many visitors spend multiple days in the region, and you should too if you have the time. But if you only have a day or two, make sure to see these highlights.
Girona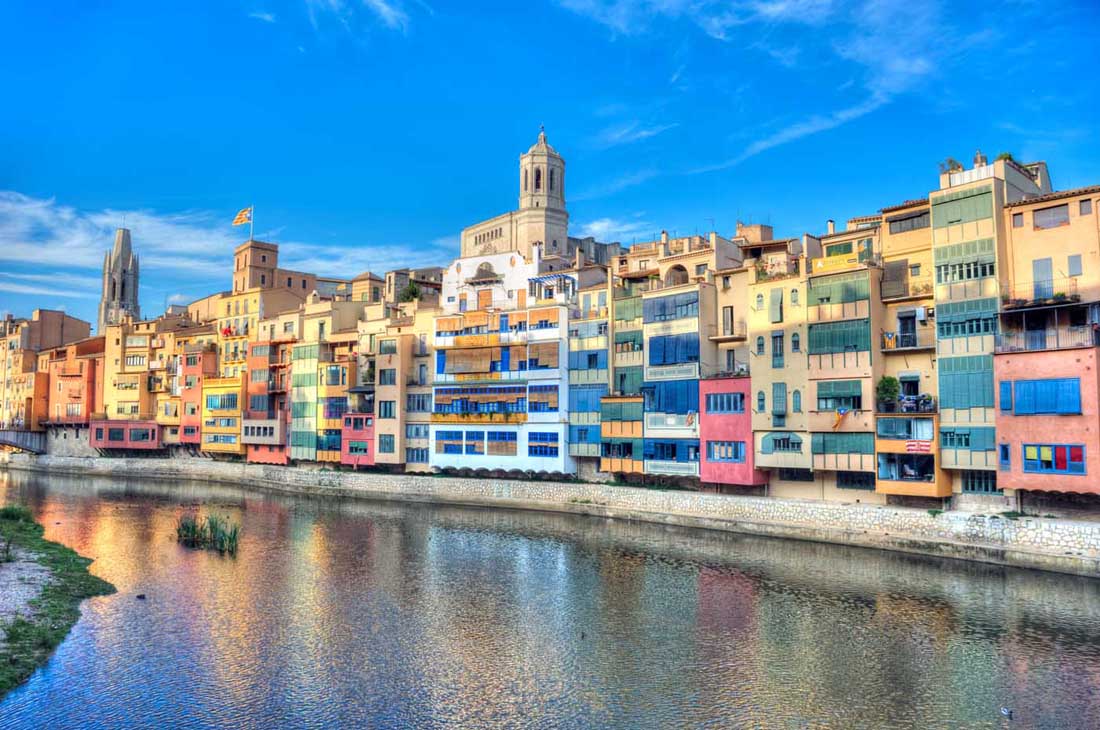 One of the largest towns in the Costa Brava, Girona is one of the filming locations of Game of Thrones due to its beautiful architecture and idyllic setting. Home to an ancient fortress, a photogenic Jewish Quarter, 900-year-old Arab baths, and a unique gothic cathedral, you can spend all of your time here and still feel enriched. Don't forget about the world-class dining options, either.
Figueres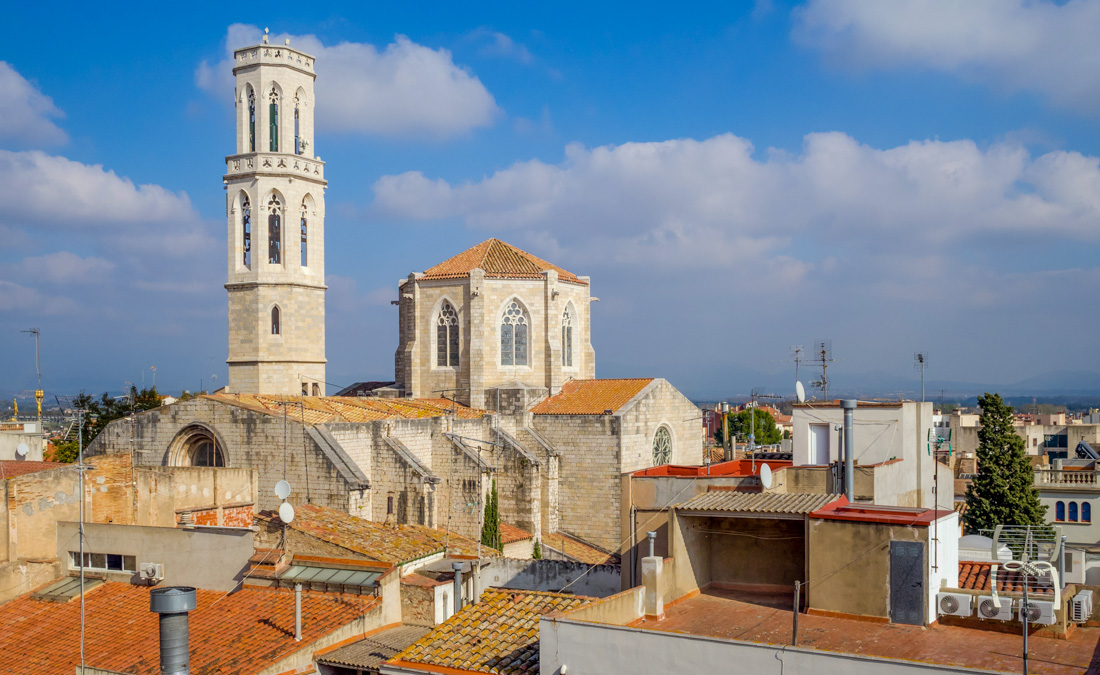 Home to the Dali Museum and Theater, this town is known for being the place to see Salvador Dali's artwork. However, there is more to this town than the museum. The nearby San Fernando Castle is another architectural and historical treat worth exploring. The center of the town is home to many sculptures and works of art. Ramble along Las Ramblas in Figueres to take in the atmosphere, the art, and then enjoy a cafe or two. A toy museum is also located in the town. Wine is another large draw to the region, and Figueres is a nice place to enjoy it, especially during the wine show in September or the wine festival in April. Yet even more festivals are held here throughout the year such as a comedy festival, a circus festival, and a music festival.
Pals
Built on a hilltop and surrounding a fortress, Pals is a historical village with a medieval atmosphere. Wandering through the town itself is an activity worth experiencing, as the narrow cobblestone alleyways pass under old stone arches and iron balconies. The Tower of the Hours is one of the town's main attractions, offering great views over the nearby coastline. Churches and a museum are also in the town, as well as plenty of pottery shops, restaurants, cafes, and art galleries. The nearby rice fields are worth a visit as well. Oh, and there's a beach, too!
Alella
Just north of Barcelona (but not as far north as Costa Brava) is the town of Alella. While some consider it to be a suburb of the larger metropolis, this area has a small town and historic feel. Surrounded by beautiful parklands and vineyards, the old town of Alella sits high on a hill and is home to historical churches, interesting architecture, and delicious food. From the old town, it is easy to head down the hill towards the small port-side town of Masnou with its own marina, beach, shops, and restaurants.
One of the main reasons to visit this area, other than to see the scenic town, is to venture out into the nearby wineries and vineyards for tastings and sightseeing. One of the most popular is
Bouquet d'Alella
, which hosts visitors for tastings and is easy to reach from the old town on foot. Even if you don't drink, the natural beauty of the landscape is worth the trip alone.
To get to Alella, take the R1 train from Plaza de Catalunya in Barcelona to Masnou (30 minutes). From Masnou, travelers can take a 10-minute bus up the hill (bus 690) or trek it on foot for 30 minutes.
Tours are also available from various companies.
Andorra
In the mountains and on the border between France and Spain lies the very small nation of
Andorra
. This rugged but small country is known for skiing in the winter and hiking in the summer, as well as hosting a number of historical sights. It is possible to visit Andorra on a day trip from Barcelona or other nearby locations, or spend a couple of days there if you like.
To get to Andorra, buses and rental cars are available. (Driving a car in the winter months is not advised.) Buses, run by ALSA, are approximately 30 Euros each way, or about 60 Euros round trip from Barcelona Nord station to Andorra la Vella, the main town in the country.
Tours and Day Trips are also available from a number of companies that provide transportation, meals, and an overview of this small and beautiful nation.
South of Barcelona
Sitges
Southwest of Barcelona, along the coast, is the coastal town of Sitges. Close enough that visitors can take the Barcelona commuter rail or bus system to reach it, this town sees a decent number of visitors, but rightly so as the atmosphere is quaint, historic, romantic, and beautiful. The old town is built of whitewashed buildings and narrow, charming alleyways. A number of museums and art galleries are found here, along with shops and restaurants. Don't miss the great beaches, either, as that is another reason that many travelers come to stay.
To reach Sitges from Barcelona, take the C2 trains towards
Vilanova i la Geltru
or
St. Vincenc de Calders
stations. Public buses are also available but take longer. The fare is less than 5 Euros each way.