Such an awesome stay at Ganbara! Great atmosphere and in a great location. Met the coolest people from so many different places. Facilities were clean and staff were extremely friendly from when I walked in until I left. - Anonymous
What sets them apart?
This hostel's great location, friendly atmosphere, and helpful staff make it a favorite of travelers to Bilbao.
Hostel Personality
Who's staying here?
This hostel appeals to all types of travelers, whether you're alone or with friends.
Insider Tip
The four bed dorms are a step above the eight bed dorms and worth the extra money.
Ganbara Hostel
Ganbara Hostel is one of the best places to stay in Bilbao. The staff are very accommodating and helpful, whether you arrive early and need a place to leave your things, or just need some questions answered about the area.
The hostel is very clean and comfortable, and the style is funky and fun. The bar and lounge areas make the perfect place to hang out with guests. The location is also close to the main tourist sights around town.
The Facilities
Dorms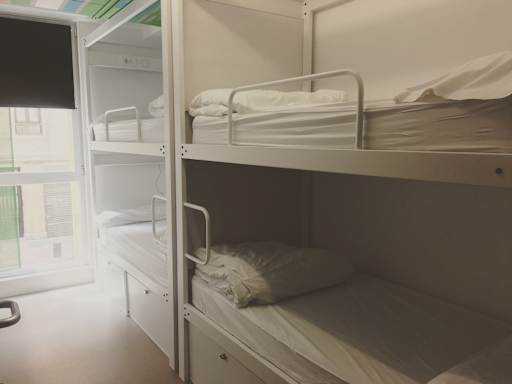 Guests can choose between dorms that are female only or co-ed. Each guest is given a security locker and bed linens. The rooms are clean and comfortable and the air conditioning is much appreciated, particularly during the warm summer months. Rooms sleep either four, six, or eight people.
Private Rooms
If you want a little more space to yourself, check out one of the private rooms. You can choose between rooms with shared bathrooms or en-suite, and the extra space to yourself is perfect for a couple traveling together.
Bathrooms
Rooms have either shared or en-suite bathrooms. They're clean and reliable with convenient little shelves where you can store your toiletries.
Bar
This hostel has an on-site bar that's the perfect place to start your evening or wrap up a busy day. The drinks are reasonably priced and there are usually people hanging around that you can chat with.
Common Areas
Hang out in the lounge area if you want to meet other guests. There are sofas and comfortable chairs so you can unwind with a book, watch some television, or plan your next day's adventures. There's also a well stocked shared kitchen that guests can use to cook their own meals. It's convenient and large, so it's the perfect way to save some money on eating out.
The Location
Casco Viejo
What's Nearby?
This hostel is located in a great part of the city. It's in the
Seven Streets Old Town
area near the city center. You can easily walk to the main tourist sights in about ten minutes. Plaza Nueva and La Ribera Market are all close by. The Guggenheim Museum is about a half hour walk away.
Nearby Transportation
Public transportation is easily accessible from the hostel. The Abando Train Station is just half a mile away and Casco Viejo Metro Station is about a five minute walk away. You can also catch buses to many places around town. If you're flying, the Bilbao Airport is accessible by metro, or you can get there in about a half hour taxi ride.
Amenities
This hostel has some great amenities including luggage storage, laundry facilities, bike parking, and all kinds of travel information. There are all kinds of entertainment including a Wii, book exchange, movies, and more.
Staff
The staff here are incredibly accommodating. You can leave your luggage as soon you arrive and they'll help you get situated as soon as possible. Don't hesitate to ask any questions you may have.
Heads Up
Some guests feel the hostel could be a bit cleaner and the rooms could be better equipped.
Ganbara Hostel
Do you have a favorite hostel that you would like to review? Let us know!