The hostel is in the middle of the Casco Viejo. It's very clean and safe. If you are traveling alone, don't worry, you will definitely make some friends. - Adriano
What sets them apart?
This hostel's charming personality, attention to detail, and amazing location in Casco Viejo make it a favorite for visitors to Bilbao.
Hostel Personality
Who's staying here?
The cozy atmosphere and chill vibe of this hostel attracts mellow travelers who want to make friends but aren't really looking for a party. It's the perfect place to chill out for a few days while you explore the city.
Insider Tip
The top bunk offers a bit more privacy than the bottom bunk, and it isn't too high like in many hostels.
Quartier Bilbao Hostel
If you're looking for a charming and cozy place to stay in the Casco Viejo (Old Town) neighborhood, then look no further. Quartier Bilbao Hostel has a friendly atmosphere that's welcoming and chill. Most guests aren't looking for a party, but they do enjoy hanging out in the common areas while swapping travel stories. It's easy to make new friends, but you don't have to worry about late drunken nights and loud music here. It's just not their style.
The rooms are comfortable and the beds offer just the right amount of privacy. It's the perfect place to retreat for a good night's sleep.
The Facilities
Dorms
Dorms range in size and include four, six, eight, and ten bed rooms and there are options for both female only and co-ed rooms. You can lock your belongings in the locker and each bed has its own shelf, light, and outlet. The beds are comfortable and stay reasonably quiet at night.
Private Rooms
Private rooms are also available for guests who want their own space. There are twin rooms as well as four bed rooms for small groups of friends who are traveling together. Private rooms have a few extra perks, like towels included in the price. They're furnished like simple hotel rooms and the beds are comfortable. Most rooms have a lot of natural light.
Bathrooms
Most dorm rooms use shared bathrooms but there is an ensuite bathroom for one of the female only dorms. Private rooms have their on ensuite bathrooms.
The bathrooms are clean and modern, but they can be a bit tight on space. The shared bathrooms also get a bit crowded during the peak times so plan accordingly. Most guests say this isn't a huge problem, though.
Common Areas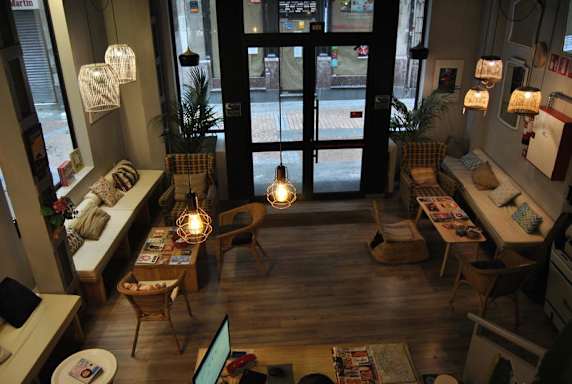 The common area is the place most guests gather to hang out and plan their time in Bilbao. It's a cozy and comfortable place to spend some time, whether you're reading a book, using the Wi-Fi, or getting to know other guests.
If you want to cook your own meals, there's also a well equipped shared kitchen that you can use.
Outdoor Space
Head up to the terrace where you can enjoy a cold drink and hang out with other guests. There's plenty of sun, so it's the perfect place to enjoy your morning breakfast (which is free!).
The Location
Casco Viejo
What's Nearby?
This hostel's location in Casco Viejo (Old Town) is the perfect base for exploring everything that the city has to offer. It's very close to the river and just minutes from Santiago de Bilbao Cathedral. It's also quite close to Ribera Market and Plaza Nueva. El Arenal Park is also just a third of a mile away (0.5 km).
The hostel is set on a pedestrian street with plenty of bars and shops around. It really couldn't be better located.
Nearby Transportation
You really can walk to so many places, but if you want to travel farther you'll appreciate the short five minute walk to Casco Viejo metro. This stop is on line 1, which will take you into the city center. The hostel is also just a 12 minute walk from Bilbao-Abando Railway Station, and the airport is accessible by a regular bus service.
Amenities
The free breakfast is a favorite of guests who visit this hostel. It's an impressive spread with toast, fruit, tomatoes, crackers, tea, juice and coffee. The hostel also offers the standard amenities including Wi-Fi, luggage storage, and travel information. The shared kitchen is well stocked and the perfect place to cook some meals as well.
Staff
The staff here are friendly and helpful. They keep the place running smoothly and really seem to care about the guests.
Heads Up
It's really hard to find fault with this charming hostel, but guests did feel the bathrooms were short on space and got a bit crowded.
Quartier Bilbao Hostel
Do you have a favorite hostel that you would like to review? Let us know!