Kuala Lumpur On a Budget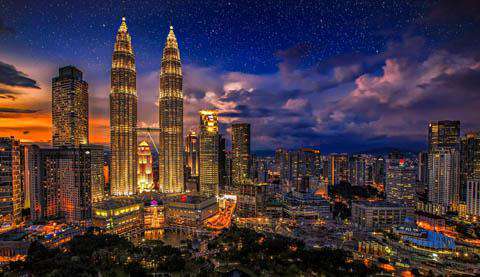 Kuala Lumpur, often referred to as KL, is the cosmopolitan capital of Malaysia. It is also the largest city in the country, having grown out of a small Chinese mining village. Today Kuala Lumpur is a microcosm of the country of Malaysia. The population is split between the Malay, Chinese, and Indian cultures which you can see reflected in the city's neighborhoods, cuisine, and entertainment. It's also an incredibly affordable city, even if you're looking for the comforts of a five star hotel or a luxury restaurant. Prices are almost always a fraction of what you would pay in Europe or the United States.
Kuala Lumpur has a tropical rainforest climate. The northeast monsoon season is from October to March and brings plenty of rain. Temperatures are relatively constant year around. Highs can climb into the low 90 degrees Fahrenheit but rarely reach the triple digits. Lows typically drop into the 70s. June and July are relatively dry, but rain can occur year around.
Sights
The sights in Kuala Lumpur reflect the city's diverse population and colonial past. Make sure you visit Chinatown, Dataran Merdeka, the Sultan Abdul Samad Building, and the Islamic Arts Museum. Also head to the iconic Petronas Twin Towers, which at one time were the world's tallest buildings. They are quite impressive and a trip to the top is enjoyable. Other notable museums around town include the National Museum and the Bank Negara Malaysia Museum and Art Gallery.
Neighborhoods
Kuala Lumpur is a large and sprawling city with many diverse and interesting neighborhoods. In general, the city can be divided into the Old City, Golden Triangle, Tuanku Abdul Rahman, Brickfields, Bangsar and Midvalley, Damansara and Hartamas, and Ampang. There are also northern and southern suburbs.
The Old City is the traditional heart of the city. This is where you'll find Merdeka Square, the Sultan Abdul Samad Building and Selangor Club. It also includes Chinatown. The Golden Triangle is essentially the city's central business district. There are many malls and high end hotels as well as the Petronas Twin Towers. Tuanku Abdul Rahman is a traditional shopping area with many festivals and budget accommodation options. Brickfields is the city's Little India.
Activities
Shopping is a national past time in Kuala Lumpur. There are endless markets and malls around town. Other activities include attending a sporting event, going to a museum, seeing a show or concert, or visiting a spa. Many of the high end five star hotels have excellent, world class, spas attached.
Food and Dining
Food in Kuala Lumpur is very cheap, but also very delicious. If you're on a particularly tight budget, you can get all kinds of great local specialties at the many street stalls around town. There is also plenty of Chinese and Indian food, both of which are good and affordable. Of course, there is also no shortage of Malaysian cuisine, so whatever your style, you should be pleasantly surprised with your food selection.
Curry houses, or kedai mamk are very common, particularly at Jalan Doraisamy near the Heritage Row. Dishes available include full curries or snacks of roti canai. The many shopping malls around Kuala Lumpur also have food courts. The prices can be more expensive but the dishes are fresh and quite good.
In general, you'll find Malay food in Jalan Masjid India and Kampung Baru in the Tuanku Abdul Rahman district. Chinatown has the best Chinese food and Lebug Ampang and Brickfields have great Indian food. For high end western food head to Bangsar.
Transportation
Kuala Lumpur is a major transportation center for the country. You're likely to find yourself passing through this city on bus, train, or plane transfers during your time in Malaysia. There are incredibly affordable flights out of Kuala Lumpur, so if you are choosing to explore Asia by air, this will likely be a stop off for you on several occasions.
Within Kuala Lumpur, public transportation is quite convenient. The city continues to upgrade its train system, and you are likely to see ongoing improvements. There are several different train systems that are not fully integrated, so you should fully understand your route and ticketing situation in advance. Buses travel throughout the city but the frequency is low. The Go KL system has two routes that run through the central business district and is free.
Related:
Looking for a
hostel in Malaysia
or
Indonesia
?
Traveling alone to
Kuala Lumpur
or
Penang
?
Looking for a
party in Singapore
or
Bali
?