Should you visit Cambodia or Laos?
For visitors to nearby Southeast Asian countries, a trip into Cambodia or Laos might be an option depending on the schedule and budget of one's trip. The overall lower prices and the amazing culture and scenery of these two nations tends to attract visitors. If you're deciding between the two, the following information should help.
Cambodia, perhaps most famous for the temples at Angkor, is one of the poorest countries in the world. But this small nation is rich in culture, history, and cuisine. Extremely inexpensive for travelers, Cambodia offers an authentic glimpse into a rural and agricultural way of life alongside ancient and recent history.
Laos is one of the cheapest places in the world to visit, and is known for adventure travel, ecotourism, and its laid back atmosphere. For all of these reasons, and the low cost, it is very popular with the backpacking crowd. However, in recent years it has seen more of an influx of a few higher-end tourists looking for ecological wonders in the mostly untouched jungles of this tropical nation. This has led to better infrastructure all around for locals and tourists.
When is the best time to visit Cambodia and Laos?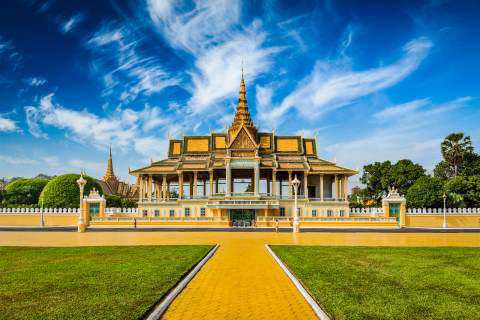 The climate in both Laos and Cambodia is quite similar. Various wind patterns bring rains at different times of the year, but otherwise they are accessible year-round.
Cambodia is generally warm, with a wet season from May to October (summer in the northern hemisphere). While it may rain every day, the rain tends to come in bursts, so travelers need not worry so much about activities being rained out or having their trip ruined. However, sometimes the rains can wash out roads, making transportation difficult or more expensive in some regions. Otherwise, one can visit Cambodia year-round.
Laos is warm year-round. The dry season is from October to April, and the wet season is in the summer months. However, like Cambodia, don't expect the wet season to dump continuous rain on you, meaning that even in the rainier months travelers don't need to worry about the weather so much. Even still, the "high season" tends to be the dryer times of the year.
What are prices like in Cambodia and Laos?
Laos and Cambodia are similar in price. Both nations, being two of the poorest countries in the world, have lower prices due to overall poor economies, low wages, and low costs of living. They are cheaper in price for generally everything in the tourism industry compared to their Southeast Asian neighbors. Both countries have a heavy reliance on backpackers in the tourism industry, and a large number of hostels and budget hotels, are available adding even more competition to already low prices. Food is also fairly cheap. In some places, transportation can get a little pricey, but overall, Laos and Cambodia are some of the cheapest places to visit in the entire world.
What are the most expensive and cheapest cities and regions in Cambodia and Laos?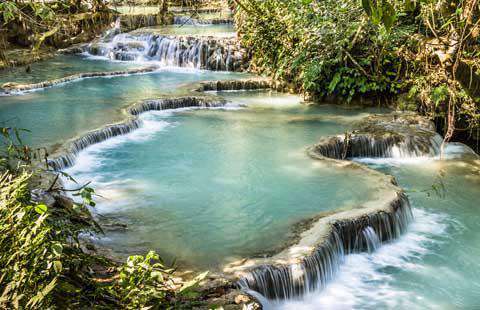 The Angkor (Siem Reap) region is by far the most visited, and therefore the most expensive area of Cambodia. These ancient temples are, after all, why you and millions of others are visiting Cambodia. Here, hotel prices are high if you want to travel in luxury. But heavy competition in the budget and mid-range market has left plenty of cheap options for those wishing to stay in a basic room or hostel. In fact, even basic hotel rooms can be somewhat nice and modern if you shop around. The entrance ticket to the temple complex itself is quite hefty, and rises almost every year. Also, expect to pay for some sort of transportation or tour around the complex, as it is too massive to merely walk around in. Plenty of tuk-tuks are available, which double as taxis and tour guides if you don't want to pay for a professional grade historical tour. If you're on a seriously low budget, rent a bike, pack your lunch, and expect to get a lot of exercise. But do not underestimate the size of the temple complex, or you'll end up paying for a taxi or tuk-tuk at the end of the day.
Phnom Penh can also have some higher prices for hotels and food, but is also large enough to support plenty of budget options, too. The same is true for the beach areas.
Laos is fairly consistent in prices all over the country, as everything is cheap. However, if you plan to do a lot of activities or tours, this can add to your budget. Tours into the countryside to visit the jungle or nearby wilderness areas tend to add more to the budget of travelers.
The cities and towns of Laos tend to be cheap due to the readily available food and accommodation options, as well as more variety and competition.
If you're looking for more luxury, such as a nicer hotel or high-end restaurant, then expect to pay significantly more than the budget or mid-range options.
One of the largest expenses for travelers to both counties is alcohol. Both destinations have their "party" areas, where locals charge high prices for beer and drinks to make money from tourists.
How you can save money when visiting Cambodia and Laos?
Stay local. Locally owned hotels, restaurants, and shops are always cheaper than the larger chains, most of which cater to high-spending tourists.
Use local transportation whenever possible.
Eat where the locals eat. This is not just good for your budget, but the Cambodian cuisine is terrific. It's similar to Thai food, but often less spicy.
Get off the beaten path. Angkor is amazing and you shouldn't miss it, but there are plenty of other great places in Cambodia. Likewise, Laos has a few specific destinations where visitors congregate, but look elsewhere. The beaches, the capital city, and the beautiful countryside are all good options.
Travel slow. Transportation is one of the highest expenses, so picking a destination and maximizing all activities while there will keep prices down.
Negotiate for prices, as locals often try to hike up the prices of food and services for tourists. Shop around and know what things should really cost before you commit to purchasing something.