Should you visit Malaysia or Cambodia?
Cambodia and Malaysia are two of Southeast Asia's most visited countries, and the reasons are clear. They both have beautiful landscapes, a rich culture, and amazing sights.
From gorgeous beaches with crystal clear water, to inland jungles full of wildlife, Malaysia has some amazing natural attractions in addition to a fun, friendly culture. It's known for snorkeling and scuba diving enthusiasts, but visitors also enjoy visiting Malaysia's exotic rain forest jungles, the cooler highland areas with agricultural landscapes such as tea plantations, and its delicious seafood cuisine.
Cambodia, best known for the temples of Angkor Wat, is a developing nation with a fairly high occurance of poverty plus overall low costs for goods and services. Don't let this turn you away, though, as Cambodia is wealthy in culture, deep in history, and rich with amazing cuisine. As it is extremely inexpensive for travelers, Cambodia offers a real view into a rural way of life that has existed for centuries alongside ancient and recent historical sites.
Also, Malaysia's economy is less focused on tourism than some of it's other Southeast Asian neighbors, which means that it is easier to have a more "authentic" experience in Malaysia. Here it is possible to mingle with the locals to see how they live and work, as well as relax and tour the country along side them.
When is the best time to visit Malaysia and Cambodia?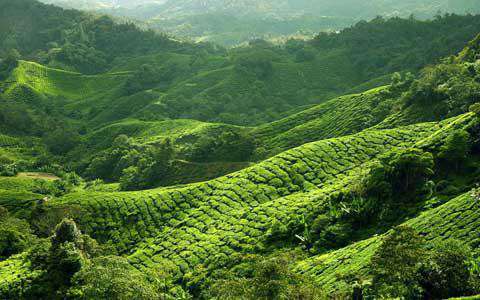 Both Malaysia and Cambodia are warm throughout the year, being tropical countries in Southeast Asia. From the perspective of weather, it is important to look at the dry season vs. the wet season.
In Peninsular Malaysia (the area attached to southern Thailand), due to shifting seasonal/monsoon winds, the wetter season on the eastern coasts is from November to February, while the wet and rainy months on the west coasts are from April to October. These wet seasons are usually not to be of any concern, as the rain will not be constant, but really only for an hour or so at a time. However, those traveling for the purpose of water sports and scuba diving enthusiasts should take note because the
water visibility is dramatically affected during the rainy seasons
.
On Borneo, the rains tend to come from April to October along the western coast. Further inland, rains can come at other times, more sporadically.
Cambodia, being a little further north and with a coastline along it's southern edge, has a slightly different schedule of weather. The wet season is from May to October. Again, while it may rain every day, the rain tends to come in bursts, so travelers need not worry about activities being rained out or having their trip ruined. However, sometimes the rains can wash out roads, making transportation difficult or more expensive in some regions.
Why is Malaysia more expensive than Cambodia?
The prospering economy of Malaysia means that prices are rising, and this is one of the main reasons why it is more expensive than some of the other nations in the region. As the Malaysian people become wealthier, and the middle class grows, more domestic tourists are visiting other locations within Malaysia, resulting in higher prices than some of the neighboring countries.
Cambodia is still a rural and agricultural nation with a small handful of tourist areas. Competition among the locals for money from tourism, in addition to the overall low wages, has lowered prices for all tourist-related services including hotels and food, especially as the smaller, locally-owned businesses compete for customers. Public transportation in Cambodia, while not the best, is still easy and reliable. Thus, budget travelers can get to many places in Cambodia for a very low cost. In a sense, many tour companies are also competing with the local transportation system, as travelers on a budget are willing to forgo the cost of a guide in favor of cheap transportation while in the country.
If you desire more luxury in both Malaysia and Cambodia, then you'll usuallly need to pay more for it. But by paying more, you can stay in better hotels, eat at nicer restaurants, and move around in more comfortable transport. However, the price of these luxuries is still quite reasonable compared to the rest of the region.
What are the most expensive and cheapest cities and regions in Malaysia and Cambodia?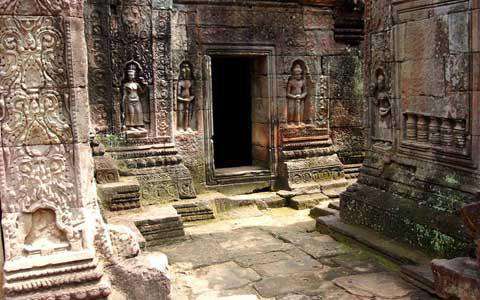 Prices in Malaysia and Cambodia are relatively cheap throughout. In Malaysia, prices in Kuala Lumpur (the capital) can sometimes be a little more expensive than in the rural areas, but plenty of budget options for food and accommodation are still available. Phnom Penh, Cambodia's capital, can also have some higher priced hotels and restaurants. However, it is also large enough to support plenty of budget establishments, too. The same is true for the beach areas, especially in Malaysia where world-class scuba diving and sandy beaches draw large crowds. Generally speaking, something is available for everyone's budget range.
In Cambodia, the Siem Reap and Angkor region is by far the most visited, and therefore the most expensive area in the country. These ancient temples are, after all, why everyone initially makes the effort to visit Cambodia. In Siem Reap, hotel prices can get quite high if you want to travel in luxury. However, plenty of competition in the budget hotel market has created a large number of cheaper hotels and hostels for travelers wishing to stay in a basic room. Surprisingly, the options for budget accommodation in Siem Reap can be more luxurious than expected.
The entrance tickets to the temple complex of Angkor itself can be quite expensive, and increases in price every year. As this is the main source of revenue for the area, it is to be expected. Also, travelers will need to pay for some fashion of transportation or tour around the temple complex, as it is very large. It's just not possible to walk in and stroll around, as many of the temples are separated by kilometers of undeveloped jungle. Plenty of tuk-tuks are available - they double as a combination taxi and tour guide if you don't want to pay for a full service tour company. However, if you're really on a budget, it's possible to rent a bicycle and pedal your way around the complex.
Compared to peninsular Malaysia, Borneo can be much more expensive. Although more affordable accommodation options and cheap food are available, most people in Borneo choose to do a variety of activities, which is what can drive up the travel costs. Depending on what you choose to do, Borneo can quickly become one of the more expensive places to visit in the area.
How you can save money when visiting Malaysia and Cambodia?
Locally owned hotels, restaurants, and shops are always cheaper than the larger chains, most of which cater to more luxurious tourists. By staying local, you can save money.
Use local transportation whenever possible. In Malaysia it is almost everywhere, and Cambodia has a decent bus system between major destinations.
Eating where the locals eat will not just be good for your budget, but the Cambodian and Malaysian cuisines are terrific, too. Their cuisines are similar to Thai food, but often less spicy.
If you want to save some money, get off the beaten path. The major attractions such as Angkor Wat and the beautiful beaches of Malaysia are amazing, but plenty of other great places are amazing, too. Other beaches, the capital cities, and the rural countryside are all good options.
Slow down and travel more slowly. If you're rushing through the area you're going to spend more money. Transportation costs can be expensive so the more places you visit, the more money you will end up spending.