Should you visit Germany or Slovenia?
Germany and Slovenia are both fascinating countries with a variety of interesting places to visit. Germany is a much larger country with diverse landscapes, cosmopolitan cities, and charming towns. Despite its large size, it is a very efficient country to visit. Trains and buses are reliable and run like clockwork. The cities are very clean and modern and the facilities are comfortable. If you hope to explore Germany in great depth, it's worth having more time. There are so many places worth visiting, even with the efficient transportation, you'll need a lot to time to really soak up the country.
Slovenia is a much smaller country. It's also a less popular tourist destination, although it has been growing in popularity in recent years. The capital of Ljubljana is smaller than most European capital cities, but it packs a lot of character into its small size. The landscape of Slovenia is also striking and beautiful. Triglav National Park and the area around Lake Bled is a beautiful area to visit.
Because Slovenia is a much smaller country to visit than Germany, if you're short on time it might be the better option. It's also more affordable than Germany for food, accommodation, and transportation. If you're looking for someplace a little different and still a bit off the beaten path, then Slovenia might be a good option.
When is the best time to visit Germany and Slovenia?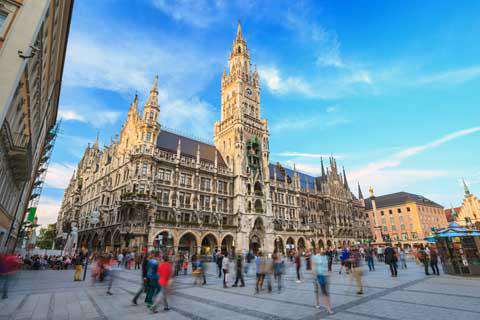 Germany is a beautiful country to visit year around, but temperatures are most comfortable and crowds less intense during the spring and fall seasons. These shoulder seasons are good options if you don't want to pay peak prices and wish to avoid the heaviest crowds. If you do plan to visit during the summer months, Germany has several destinations with slightly cooler climates that might be more pleasant.
Winter is also a beautiful time to visit Germany. In general, prices tend to be a bit cheaper during this season, but it has become a bit more difficult to get off season discounts in recent years. Even during the coldest winter months, many hotels have become popular with business travelers or tour groups, which drives the prices up. Deals on airline tickets can still be found during these low times. The holiday season around Christmas can also be a more expensive time to visit as vacationers head to the area.
Like much of Europe, Slovenia is usually most crowded during the warmer summer months. This is when the prices are highest, but it's also when there are the most festivals and activities to enjoy throughout the country. The spring and fall seasons are a pleasant time to visit with slightly lower prices. Spring and fall weekends can still be quite crowded in the popular Lake Bled area. By November, the weather can be cold and damp, without any real snow, but Christmas brings an enjoyable season to visit.
Why is Germany more expensive than Slovenia?
In general, Germany is the more expensive country to visit. It has a higher cost of living which makes accommodation, food, and entertainment more expensive. Germany is also a significantly larger country, so transportation costs can be significantly higher.
Slovenia is more affordable because of it's lower cost of living. It's also a less frequently visited country, so demand is lower, keeping prices down. The smaller size of the country also means you can travel shorter distances to see the major sights, keeping transportation costs less.
What are the most expensive and cheapest cities and regions in Germany and Slovenia?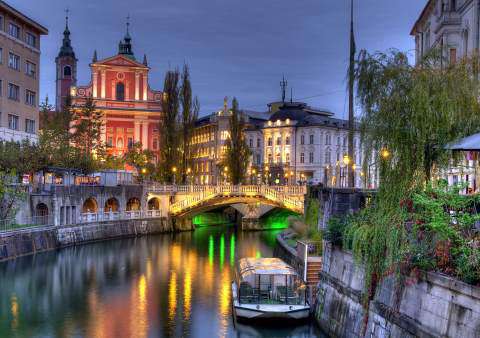 In Germany, cities like Berlin can be a bit more expensive than the countryside. In some cases though, there may only be one hostel and a few small hotels in a town. This lack of competition may mean you end up paying more than you'd expect for a room.
Slovenia is relatively affordable by Western European standards, both in the capital city and in the countryside. Ljubljana is a smaller capital city but it packs a lot into its small area. There are a wide variety of accommodation options with everything from hostels to high end hotels to choose from. In the countryside, your options might be more limited, but in the major touristy areas you'll usually find a few hostels as well as quality hotels or guesthouses to stay at.
How you can save money when visiting Germany and Slovenia?
Travel during the shoulder season. Prices inevitably climb during the peak summer months so make sure you visit when the crowds are less and the prices are more reasonable.
Eat where the locals eat. Restaurants that are geared toward tourists will inevitably be more expensive. Try to find a local eatery and you're sure to save a good bit of money. Alternatively, find a street vendor that sells bratwurst or a local dish. Then you can find a great place to sit and people watch while you enjoy your quick and cheap meal.
Buses are almost always cheaper than trains, so look into all of your transportation options before buying tickets.
Slow down. It's easy for transportation costs to soak up a large part of your budget. If you slow down and spend more time in just a few places, then your money will take you a lot farther.
Stay at a locally owned hostel or hotel. Local accommodation options are often more affordable and more interesting places to stay.