Munich On a Budget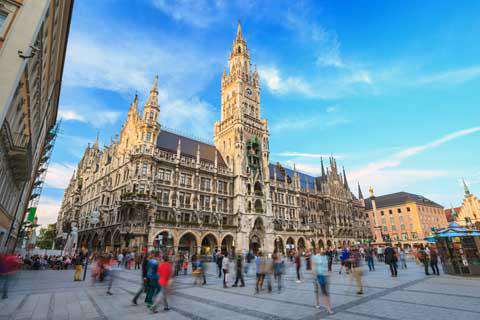 Munich is the capital city of Bavaria and a top travel destination within Germany. It has stunning architecture and a cultural scene that rivals Berlin. It has some of the country's top museums, festivals, and concerts. Munich is most famous for its Oktoberfest, which is easily the busiest time of year in the city. The architecture is what surprises most travelers. It's quite impressive and truly adds to the character of the city. Although much of Munich was destroyed during World War II, the city has successfully rebuilt most of the buildings in their previous style. Much of the city remains as it was in the 1800s. There are two major research universities in Munich, helping to make it a center for engineering, business, and the sciences.
Munich's climate is influenced by the nearby Alps. It gets a significant amount of rain, which can come on suddenly and violently. Winters can be cold, but this is when you see the least amount of precipitation. Snow is common for at least a few weeks. Summers are warm and comfortable and the temperature usually hovers around 23 degrees Celsius.
Sights
Munich is a historic, large city with something for everyone. There are four grand avenues that are lined with impressive architecture. These are Briennerstrabe, Ludwigstrabe, Maximilianstrabe and Prinzregentenstrabe. Other notable sights include Schloss Nymphenburg, Residenze, Schloss Schleibheim, Schloss Dachau, Frauenkirche, Neues Rathaus, among many others. Munich also has many museums, parks and art galleries worth checking out.
Neighborhoods
There are several districts worth visiting in Munich, including the city center with its pedestrian shopping area and much of the impressive architecture. Also take some time to explore the university area, Schwabing, with its charming neighborhood and many restaurants and cafes. It's also worth heading over to the Olympic area, which is the site of the 1972 Olympics. Maxvorstadt is a high end academic and arts district and Au-Haidhausen is where you should go if you want to go clubbing.
Activities
Oktoberfest is the obvious go-to event in Munich, but the city also hosts many other interesting festivals. These include Maibaumaufstellen on the first of May and Tollwood during the summer and winter. During Maibaumaufstellen many parts of Bavaria are filled with people wearing Lederhosn and Dirndln. They bring long poles and gather in the central square where there is an oompah band playing. You can buy food and drinks and take in this traditional event. Tollwood is an alternative festival that is held for three weeks in Olympic Park during the summer and Theresienwiese during the winter. Don't be surprised, but
Munich in winter
is fantastic. It's a great place to enjoy some ethnic food, see local crafts and take in some performances.
Food and Dining
Munich has some of the best Bavarian cuisine you can find. In particular you'll want to try Weibwurst which is a breakfast sausage served with a Weissbier, or white beer. Another cheap and delicious option is the leberkassemmeln, or roll that is filled with veal, pork, and spices. Also check out some of the great international restaurants in Munich which can range in price from budget to expensive.
Even if you're not in town for Oktoberfest, you definitely must check out a beer garden. They usually are situated under the shade of a tree with casual tables and folding chairs. They are most often self service, and most let you bring your own food. Some also offer food for sell. Snacks available often include pretzels and cured fish. It's a great way to pass an afternoon with a group of friends.
Transportation
Public transportation is the obvious way to get around Munich, as it's easy, convenient, and cheap in cost. The
system
consists of the Tram, S-Bahn, and U-Bahn, as well as buses. All modes of transportation are on a one ticket system, called MVV. It's possible to purchase tickets as individual, group, day or week tickets. Taxis are easy to find as well and they have the same beige color with a yellow and black sign, similar to that found elsewhere in Germany. Fairs are reasonable, but not cheap.
Munich also offers over 200 kilometers of bike trails and this is a great way to explore the city. There are guided tours available, but going it alone is a fun too. It's easy to find bike rentals and maps at Hauptbahnof as well as throughout the city. Call-A-Bike is a great system that is run by Deutsche Bahn. Just call the number on the bike from your cell phone and you can register the bike on the spot. This is most economical if you're only taking a single trip, otherwise you should rent a bike for the entire day.
Related
Looking for a party in
Berlin
or
Munich
?
Are you a
student or backpacker
traveling
alone through Germany
?
Find a
Contiki tour
to Europe.
Train and Bus Prices
The best prices for buses and trains in Germany
can be found on Omio
(formerly
GoEuro
). They let you search across all train, bus, and plane routes throughout the region.