Hamburg On a Budget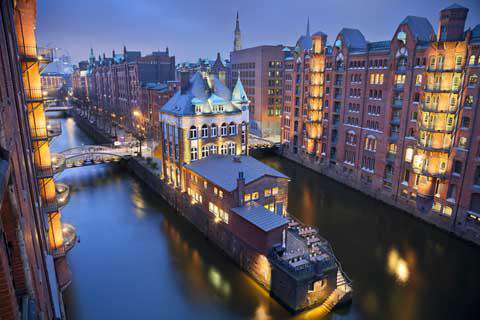 Hamburg is most noted for its port, which is the largest in Germany and the second busiest in Europe. Despite it's size, it is actually located about 100 kilometers from the North Sea on the River Elbe. The popularity of this port has given Hamburg the nickname as Germany's Gateway to the World. The city itself is the second largest in Germany and the metropolitan area has a population of over 4 million people.
Hamburg has an oceanic climate that is influenced by the nearby coast. It may snow once or twice a year and low temperatures usually hover around freezing during the winter months of December, January and February. The summer months have highs that stay around 20 degrees Celsius. This is a pleasant time to visit the city.
Sights
There are several neighborhoods in Hamburg that are worth exploring. Specifically, if you're interested in shopping you should head to Monckebergstrabe, west of the central train station. There are also some fascinating churches in the area that are worth visiting. The city hall is nearby and worth a visit as well. In HafenCity there are several interesting museums such as the International Maritime Museum, Speicherstadtmuseum, the Spice Museum, and Automuseum Prototyp. Other attractions include the "Hamburg Dungeon" and the "Miniatur Wunderland". In the harbour area there are a variety of boat tours or ferries that offer a scenic view of the city. Popular parks include Planten un Blomen and Alter Botanischer Garten.
Neighborhoods
Hamburg is made up of seven boroughts and 104 quarters. The seven boroughs are Altona, Bergedorf, Eimsbuttel, Hamburg-Mitte, Hamburg-Nord, Harburg and Wandsbek. Hamburg-Mitte is "Hamburg Centre" and it includes the urban center of the city. The quarters in this area are Billbrook, Billstdt, Borgfelde, Finkenwerder, HafenCity, Hamm, Hammerbrook, Horn, Kleiner Grasbrook, Neuwerk, Rothenburgsort, St. Georg, St. Pauli, Steinwerder, Veddel, Waltershof and Wilhelmsburg. Perhaps among the more interesting to tourists are Hamburg-Altstadt and Neustadt, which are the "old town" and "new town" areas.
Activities
If you want to get out on the river you can take either a ferry or tour boat. There are a handful of boat tours that last upwards of an hour or can be as along as three hours. You can pick these up at Jungfernstieg on the Inner Alster Lake. The cheapest and shortest tours cost roughly 15 euros. If you're interested in seeing some of the art and culture that Hamburg has to offer, then there are plenty of opportunities to see theatre, opera or musicals around town. You can also visit the Laeiszhalle, which is the main classical music hall in Hamburg.
Food and Dining
There are many local dishes in Hamburg. Popular specialties include Bohnen und Speck, which is a dish of green runner beans that are cooked with pears and bacon, Aalsuppe, which is a soup made from almost anything and everything, Bratkartoffeln, which are pan-fried potatoes, and Rote Grutze, which is a summer pudding that is made with berries and served with cream. Open faced sandwiches are also popular. They are often topped with smoked or pickled fish. The American Hamburger is also said to have originated here from Frikadelle, which is a pan fried patty that is made with ground beef, bread, egg, chopped onion, salt and pepper. It is served with potatoes and vegetables instead of on a bun.
Transportation
Public transportation is well established in Hamburg. Buses run through the night and the S-Bahn (commuter rail) and U-Bahn (subway) train services run until after midnight in the city center. The system can become overcrowded during rush hour so, if possible, it is best to avoid it during these times. There are six S-Bahn lines and four U-Bahn lines.
In addition to the buses and trains there are six ferries that operate in the harbour and along the River Elbe. Line 62 offers a scenic route between Landungsbrucken and Finkenwerder. There is also a ferry boat on the two Alster lakes that runs from Jungfernstieg in the city center to Winterhuder Fahrhaus. These are more expensive as they are not part of the general ticketing system.
There are plenty of taxis available in Hamburg and you can catch them at a taxi stand, or anywhere along the street. Prices are reasonable and in general this is an efficient way to get around.
Related:
Looking for a party in
Berlin
or
Munich
?
Are you a
student or backpacker
traveling
alone through Germany
?
Find a
Contiki tour
to Europe.