Should you visit Hong Kong or China?
Hong Kong is significantly more expensive than the rest of China. While technically it's part of China, from a tourist's perspective they are treated as separate countries due to visas and entrance rules.
Hong Kong is an interesting mix of old and new. While it has its own government, it is also looked over by the mainland Chinese government. This means that, as far as tourism goes, you can visit China while not really visiting China. So, Hong Kong is a good opportunity to experience the Chinese culture mixed in with a high-tech, modern city full of culture and history. And to add to that, many people visit Hong Kong just for the food alone!
China is massive, diverse, enigmatic, beautiful, and chaotic. And you should definitely go! But it's hard to summarize the price of everything in a country as large as this. From sprawling metropolises to sparsely populated countryside, the price of travel in China is as diverse as its attractions. Large cities are generally higher in price than the countryside, but overall China is surprisingly affordable.
When is the best time to visit Hong Kong and China?

Hong Kong's southern location means that it is warm year-round with a tropical climate. Winters (in the northern hemisphere) are cooler, while summers are hot and wet with a decent amount of rain. Most people consider the winter months the best time to visit for this reason. However, much of Hong Kong's sights and infrastructure are in the urban core, so the weather is not as cumbersome as it could be in other nearby destinations.
As China is geographically large, the weather varies by region. The northeast experiences four seasons, while the south is fairly mild and tropical. The west can be cold in the winter as well, and sometimes harsh in the high plateaus and mountains.
In northeastern China, winters can be very cold and less tourists visit during this time. However, some areas have winter festivals (such as Harbin) which bring in large crowds despite the chill. Summers in the northeast can be warm, and sometimes hot and humid. This is still the peak season in this region, especially in Beijing. Traveling in the shoulder season will usually give you lower prices and good weather.
In the south, from Shanghai down and across to southwest China, expect warm weather almost all year. While winters do get a little cooler, it's not much to worry about. For this reason, travelers visit southern China year-round. Some even avoid the warmer summers in favor of the cooler winters.
In the west, the mountains make everything a little more complicated. Even in the usually warm southwest, higher elevations equate to colder weather. As you venture into the northwest, expect frigid winters but mild summers.
Other than weather, the only thing to look out for are the Chinese national holidays. During these times, which usually last a weekend or a whole week, many local Chinese people will be traveling to experience their own country's grand beauty. Expect hotels to be full and transportation to be crowded. You may wish to avoid the country during these times, or hunker down in a smaller city. Make reservations in advance if you can.
Why is Hong Kong more expensive than China?
Being a very modern city in a compact geographical area, Hong Kong has a high cost of living, high real estate prices, and a large population density. This leads to an overall increase in prices for everything from food to hotels to activities. As much of the food and other goods are imported from mainland China or around the world, prices become higher. Modern conveniences and luxuries are everywhere, but visitors have to pay more for them than in nearby China.
China is still a fairly affordable country to visit for a number of reasons. Although the economy is growing and the Chinese middle class is traveling more, competition for tourists and low wages is keeping the overall price of travel lower than most developed nations.
A pro-business economy means that there are more hotels, restaurants, taxis, and attractions for you to visit, and all of the locals are essentially fighting for your attention and money. Budget hotels in China are growing by leaps and bounds, as local families and large companies open independent and chain hotels and restaurants. Generally, prices for hotels in China are cheaper due to the huge number of hostels and budget-friendly hotels throughout the country. While major cities have many hostels, even smaller cities and small towns are starting to jump on the hostel bandwagon, providing both dorms and private rooms for everyone from students to backpackers to families with kids
What are the most expensive and cheapest cities and regions in Hong Kong and China?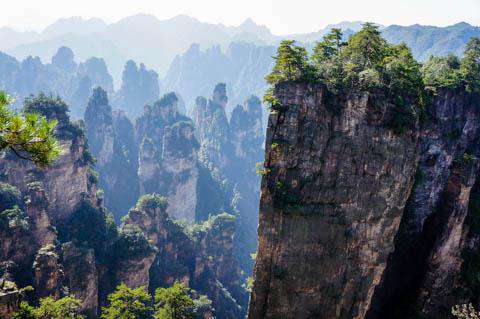 The central downtown area of Hong Kong is the most expensive area by far. Here, the sky-rise hotels and apartments can have some of the most expensive prices in the region. Restaurants and shops in this part of the city reflects those prices as well.
Kowloon, just over the bay to the north, is somewhat cheaper. Here you can find less expensive accommodation options and hostels, as well as more locally owned and inexpensive restaurants and shops.
Further away from the central downtown area, such as the neighborhoods to the east and west of downtown, are a little cheaper. Leaving the main island of Hong Kong will save you even more money, so head further north of Kowloon, or to the western island of Lantau near the airport. The area around the Disney attractions will have higher prices, though.
Like large cities in any part of the world, with more people comes more diversity in prices. Some of the most expensive hotels and restaurants in China can be found in Beijing and Shanghai, as well as other touristy areas. But at the same time, these crowded cities also offer cheaper options.
Western China can be an expensive region due to its remote location. Here, transportation is pricey, food is more scarce and thus more expensive, and hotels are less frequent. But this enigmatic region can be worth the visit, and isn't too much more expensive than the more populated eastern regions.
Otherwise, some of the most expensive places in China are those that require more activities. A cruise through the famous three gorges, for example, is a must-see, but not so cheap. Hiking in the mountains or visiting famous parks that require entrance tickets, while worth the visit, can add to your travel budget.
Tibet is also relatively expensive due to travel restrictions, remote locations, and a lack of infrastructure.
How you can save money when visiting Hong Kong and China?
Eat at small, locally owned restaurants in Hong Kong. Not only is the food amazing, but the prices are, too!
Use public transportation. The public transportation in Hong Kong is fabulous, but taxis can be expensive. China's network of trains between cities has grown lately, and high speed rail lines connect every major city in the east, as well as some in the west. Not only is it fast, but it's also affordable. And most cities in China have good inner-city systems, too.
Be careful about where you shop, as many of the high-end malls can have cheaper imported goods from the mainland, but at higher prices. The same goods can often be found elsewhere for less.
In Hong Kong, look for small hotels or hostels online. Many accommodation options might take up a single floor of a larger building, and can be hard to find from the street. Hunt them down virtually or physically to save cash.
Look into the price of flights. The Chinese government subsidizes many flights and airlines, leaving you with plenty of ways to get around this huge country fairly quickly.