Tianjin On a Budget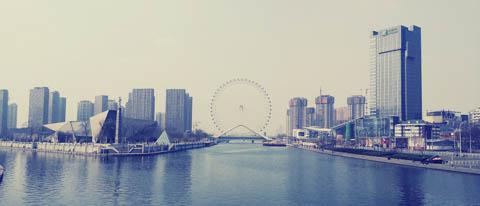 Tianjin is a large metropolis on the north east coast of China. This ancient city, which dates back to prehistoric times, is one of five National Central Cities of China and is rich in culture and history. Tianjin is most famous for its beautiful walking streets and history of European concession territories.
Tianjin experiences hot and humid summers, with temperatures reaching 90 degrees Fahrenheit. Winters are cool and dry with temperatures around 15&deg (F). Spring and Autumn tend to be the best times to visit as weather is a little more mild, although Spring has a tendency to be a little rainy.
Sights
Tianjin is well known for their walking streets, especially The Five Avenues. This walking street is a popular tourist destination as has the largest colonial architecture collection in China. Along this street, you'll find buildings inspired by countries who had concession territory in Tianjin including Britain, France, Italy, Germany, and Spain. From here, head to the Tianjin Ancient Culture Street which boasts folk style architecture from the Qing Dynasty. The Culture Street is famous for their various galleries, sculptures, jade goods, and artisan goods.
A must see is Beining Park, the most famous park in the city. The park is home to stunning ponds and pavilions connected by 29 bridges and beautiful blooming flowers and trees. Inside the park you'll find the Zhiyuan Pagoda, a 244-foot-high pagoda with carvings and murals on the inside walls and beautiful views from the top.
Neighborhoods
Tianjin is a very large city with 13 districts in total, although only 7 are located within the urban center and are considered interesting to tourists:
Heping: The center of the urban area and home to the famous Five Avenue walking street.
Hedong: Lies along the east side of the Hai River and is home to a music conservatory.
Hexi: Lies on the west side of the Hai River and acts as another major part of the urban center.
Nankai: A district full of tourist destinations, from the Tianjin Radio and Television Tower to the Tianjin Zoo and Olympic Center Stadium.
Hebei: Located on the north shore of the Hai River, it is most famous for Zhongshan Park.
Hongqiao: An urban area beset known for the Dahong Bridge, the large red bridge on the Ziya River.
Binhai New Area: The newest part of the city which lies on the coast. You'll find many modern buildings, popular restaurants, and a lot of shopping here.
Activities
If you're a fan of heights, take a ride on the Tianjin Eye, a 394-foot-tall Ferris wheel built above the Yongle Bridge. The ride offers 360 degree views of the city from its transparent carriages. Or, spend the day touring one of the many walking streets, such as Italian Town. This area was built in 1902 as a part of Italy's concession in the city and acted as their military camp. Over the decades, the area has become a popular destination for celebrity residences, high end bars, and western art deco buildings. After Italian Town, get lost wandering through Jiefang Road North, a street filled with old colonial bank buildings. This area is a little more off the beaten path but worth a visit. Most of the buildings belong to local banks now but most allow you to wander through to enjoy the mostly original interiors including their gorgeous stained glass windows.
Food and Dining
Tianjin has a lot of seafood incorporated into their dishes, often using squid, oysters, and locally caught fish. Tianjin is also known for Goubuli Baozi, a famous brand of steamed stuffed buns, and for Guifaxiang Muhua, a brand of fried twisted dough. When looking for restaurants, you'll find a huge range of options with everything from traditional Tianjin Cuisine to international fare like Japanese and French.
Transportation
Tianjin has an international airport with shuttle buses that can take you right downtown. You can also easily get into Tianjin via train, bus, or car.
Getting around Tianjin is fairly easy, especially thanks to the cheap, clean, and comfortable buses. Taxis are abundant, although it's best to have the address written down in Mandarin. Taxis can also be hired for just a few hours or for the whole day at reasonable rates.
Related:
Looking for a
hostel in China
?
Traveling alone to
Beijing
or
Hong Kong
or want to party in
Shanghai
?