Should you visit Uruguay or Argentina?
Uruguay is generally more expensive than Argentina, due to many factors. Both countries offer a lot for visitors, but Argentina is not only cheaper, but much larger and more diverse in its attractions.
Uruguay is much smaller than the rest of the Spanish speaking countries in South America. Many travellers ignore it and prefer to visit more popular destinations. Yet after two centuries living in the shadow of its neighbors, Uruguay is finally getting a little well-deserved recognition. Whether it is in Punta del Este or other satellite towns such as La Barra, Manantiales and Jose Ignacio, Uruguay's summer scene is about the beach. The beach destinations along the country's Atlantic coast are simply marvelous. However Uruguay also offers many other outdoors activities in its underpopulated landscape. From taking on the waves at Punta del Diablo, trekking with gauchos in Tacuarembo to kitesurfing at Laguna Garzon or hot air ballooning over vineyards, Uruguay's outdoor is opened to you and you might even end up being the only one there!
Thanks to Uruguayans' relaxed attitude toward life, Montevideo is a very chilled-out capital. Montevideo is a combination of colonial architecture, low-rise skyscrapers and 15 miles of beach-side rambla. Still wonder why it is home to about half the country's population? Even though the walkable city has a very sedated pace, it contains many great attractions to keep you busy, including picturesque Ciudad Vieja and Barrio Sur neighborhoods and the fun if sometimes overrun Mercado del Puerto market. As a prime beef exporter and consumer, Uruguayans take barbecues just as seriously as their Argentine neighbors. Expect to eat enormous amounts of tasty meat! Uruguay's Carnaval is also great fun! The two-month celebration, which starts mid-January, is largely based on candombe, dance and rhythms devised by African slaves in the 19th century. Drumming and energetic dancing are at the heart of every street party, a more grassroots affair than its Brazilian cousin. Visit Colonia del Sacramento and its Havana-esque ambiance that will take you back to the 1680's when it was founded by the Portuguese. This sleepy riverside town is one of Uruguay's oldest and has managed to preserve its 17th-century convent, lighthouse and drawbridge in the UNESCO-protected Barrio Historico. Another of the many laid-back town of Uruguay is Carmelo, which takes relaxing to a heightened level of chic. Located upriver and surrounded by vineyards and olive groves, visitors are entertained by water sports, golf, horse racing and polo.
The top three destinations in Argentina are even more diverse as they include the romantic capital of Buenos Aires, the majestic Iguazu Falls on the border with Brazil and Los Glaciares National Park in Patagonia for the colossal Perito Moreno. In terms of spectacular scenery, Argentina perhaps has the edge here, being home to the Iguazu Falls, one of the world's most spectacular waterfalls and the Perito Moreno, one of the nation's top tourist attractions and a truly humbling sight. Argentina is perhaps a better destination for wildlife lovers, being home to one of the most celebrated spots. The Peninsula Valdes on coastal Patagonia provides habitats for a great variety of amazing creatures; a truly magical sight. Whales, elephant seals, sea lions and let's not forget the Punta Tombo Reserve, where the world's biggest colony of penguins resides.
When is the best time to visit Uruguay and Argentina?
The best time to travel to Uruguay, especially if you plan to visit its coastal areas is during its summer months between November and February. While, travel is possible year-round, many of the beach resorts are closed for much of the year as soon as summer slips into autumn. If you decide to travel outside of summer, focus your trip on more cultural sites and cities. January and February are the warmest and driest time of the year to visit Uruguay so make sure to book very early to get the best choice of hotels on the beach without paying an astronomical amount. By March, most of the crowd has left Uruguay's beaches and much of the coastal infrastructure remains open, giving travellers access to vast quiet stretches of sand and ocean. Although autumn has started, the sea around Uruguay is generally at its warmest in April and May, making this a good time to visit the beaches and go snorkeling offshore. There are very few visitors in winter, from June to September, which doesn't necessarily make it a bad times to travel; particularly if the focus of a trip is more cultural or if you want to spot southern right whales. Visiting Montevideo and some of the small surrounding towns can be enjoyable experiences year-round. As Spring arrives towards the end of October, so does visitors on some of the country's beaches. Visiting Uruguay in November is particularly lovely. Montevideo is pleasantly warm and the beaches are quieter than in December, when holidaying Brazilians and Argentinians fill up Uruguay's beaches and hotel prices shoot up; particularly over Christmas and New Year.
If you are planning to hike through Patagonia and visit the natural wonders, then prioritize mid-seasons. Either go around September to November or from March to May. Both are low seasons, but the spring landscape, September to November, is the nicest of the two. If you do not handle the cold very well, avoid going to Patagonia before mid-October and after April. On the other hand if you love the snow, winter landscapes, skiing and travelling during low season with few tourists and lower prices, you should definitely visit Patagonia during end of autumn or beginning of spring. While you will get all the advantages of travelling during low season, you will also be able to enjoy a sunny weather, still quite cold but manageable. While a few activities (hikes, excursions) will begin to close (end of autumn) or still be closed (towards spring), you will definitely be able to do most of the essential activities and to fully enjoy some of them as you might find that you have a hiking path all to yourself! The differences in prices between low and high season are not tremendous but you will probably be able to save some money on deals with accommodation and a few other fees.
Why is Uruguay more expensive than Argentina?
The trendy resorts on the Uruguayan Atlantic coast, such as Punta del Este and Jose Ignacio are stunning but the prices are eye-wateringly high. These places are aimed at the local and international celebrities who vacation there, not backpackers on a tight budget. Make no mistake; prices in Uruguay are close to 'Western' prices and you should budget accordingly.
The last decade in Argentina has seen prices and currency exchange rates fluctuate greatly. Because of this, travel prices have generally risen as the overall economy is growing but economic uncertainty remains. It is best to plan ahead, do research into all options for accommodation, tours, and meals, and have a good understanding of the prices that lay ahead for your trip. But keep in mind that when travelling in Argentina, it's easy to be laid back about buying transportation tickets on the day of travel and it often makes no difference at all to do so, as prices are held steady usually by the overall price of fuel.
What are the most expensive and cheapest cities and regions in Uruguay and Argentina?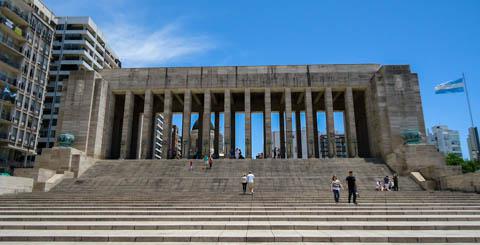 Uruguay's capital city Montevideo and Atlantic coast beach towns Punta del Este, Atlantida, Piriapolis and La Paloma are relatively expensive due to a high cost of living and tourism. Inland locations are cheaper, but not necessarily where most international visitors would visit. Salto, located in northwest Uruguay, is an exception, as it is an affordable large city, with enough attractions in and around the city to make your travel interesting.
Buenos Aires, in Argentina, is one of the world's most recognizable tourist destinations. It's the birthplace of the tango, has stunningly preserved colonial architecture, a buzzing nightlife scene, and one of the world's trendiest neighborhoods. Buenos Aires but also other northern large cities such as Cordoba, Rosario and Mendoza are known to be rather expensive cities in Latin America. If you decide to visit the wine region, you can buy your own groceries and do your own bike tours in Mendoza to save a considerable amount of money but consider Mendoza as one of your splurge cities.
Southern Patagonia tends to be cheaper than the North. However, travelling through this large piece of land requires a certain budget and certain cities are surprisingly expensive. In the small towns of Patagonia, costs tend to be cheap due to competition. However, sometimes transportation can get pricey and the more frequently visited a destination by tourists, the higher the prices can get. The time of year and festivals can also dramatically affect cost.
How you can save money when visiting Uruguay and Argentina?
In Uruguay, save money on your food budget by shopping in the supermarkets. Also, water is sometimes as expensive as beer, or beer is often as cheap as water. In Uruguay, it pays to shop around as prices for items vary greatly. Prices can vary greatly from store to store even if they are right next to each other.
Cash is King. You will get the best deals if you are carrying US dollars. Prices can easily be negotiated when a Uruguayan shop owner knows you are dealing with US dollars.
Don't use your hotel's laundry service. The cost can easily work out to USD$35, which is sometimes as much as the actual hotel room itself. Check with the concierge before you send your laundry away or you might be in for a costly surprise.
Tips and gratuities aren't usually included in your food bill and an average tip should be about ten percent of the food bill. However if you give them a little more, even an insignificant amount to you, which probably means a lot to the people who work in Uruguay, you will make a local friend which will save you plenty of money and time when trying to figure out local customs, as well as finding reasonably priced accommodations and other special deals.
Don't fly domestically, as a two-hour flight can cost a lot. Unless you are in a rush, consider taking long distance buses.