Delphi is one of the most famous archaeological sites of mainland Greece. Proclaimed to be the center of the world by the ancient Greeks, Delphi and its ruins exist on the sloping mountainside of Mount Parnassus. With breathtaking views just over the cliffs, one cannot help but marvel at the sweeping valley dotted with olive trees all the way down to the sea. Home to the legendary Oracle of Delphi and sanctuary to the god Apollo, the worn stone and marble of the site was once a hub of civilization and cultural activity.
While a sampling of Delphi can certainly be had in a day trip, there is also plenty to see and do in the surrounding area to extend that day into a longer visit. This guide offers everything you need to know for the day trip, as well as some suggestions should you choose to stay and explore this beautiful mountainous region for a bit longer.
Getting There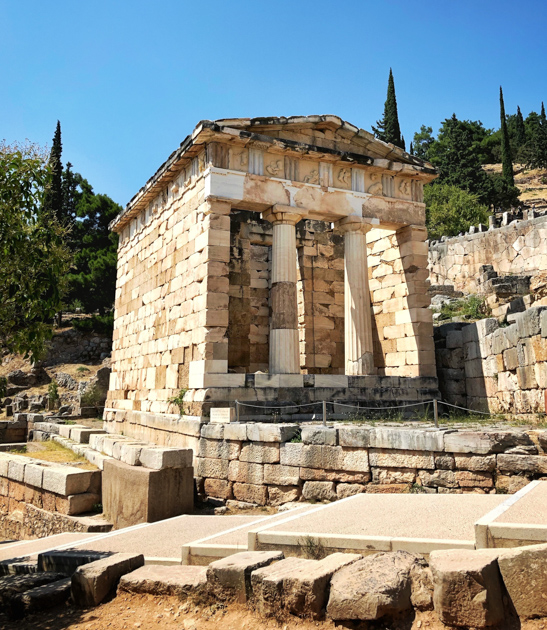 Bus
: The cheapest way to visit Delphi is by KTEL bus from Athens, which takes about three hours depending on traffic conditions and costs about 10 euros. The trip is doable in one day, but it will be a busy one! Tickets for buses in Delphi are available in some of shops near the bus pick up/drop off site, though you can also buy your ticket from an attendant once you have boarded the bus. Do make sure to have cash on you if you choose this method. Visit the
KTEL Fokidas Bus website
for a full bus schedule between Athens and Delphi.
Taxi
: If you have a large enough group to fill a taxi, this is also an affordable way to travel to Delphi as the taxis in Greece charge by trip and not by number of people. This option also gives you the chance to get some local insights from your driver. Make sure you discuss the trip with your driver before departing.
Tour
: Many Greek travel agencies offer group tours between Athens and Delphi, which can be nice if you prefer a more guided experience. However, this way of travel is also tied to a schedule, so there is less room to explore on your own.
This tour leaving from Athens
, organized by Get Your Guide, is a great option.
Car Rental
: If you would like to travel with the most freedom and have the extra funds, it is also very easy to rent a car in Greece. We recommend
this website
where you can compare the costs of the different rental companies.
Where to Stay
Delphi
: The modern town of Delphi is located just west of the archaeological site. The town was once located right on top of the archaeological site until 1893 when archaeologists discovered that the actual site of ancient Delphi lay beneath. The village was then moved to the west where it has developed and stands today. The streets are very narrow and often one-way, with many hotels and guesthouses as well as taverns and bars to accommodate tourists. A few gift shops are located at the edge of town closer to the archaeological site for the convenience of bus visitors.
If you choose to stay longer than the day, there are a number of good overnight options to accommodate all preferences and budgets.
To get the most for your budget,
HostelWorld lists a few hostels in Delphi
, all with very high ratings, free WiFi, and rooms with views of the stunning mountain scenery.
Plenty of hotels are available, too. Check out
Hotels.com's Delphi page
for options. Sibylla Hotel offers 8 rooms - all with private bathrooms and daily room cleaning, Olympic Hotel includes breakfast and rooms with balconies, and Athina Hotel is family-friendly with options for private or shared bathrooms. Hotels are generally priced from 40 to 150 euros per night.
Arachova
: Another option for overnight stay is the nearby village of Arachova, known mainly as a skiing destination. At this mountainside retreat, you can find plenty of hotels and guesthouses, which are listed on
Hotels.com's Arachova page
. Prices range as low as 30 and as high as 150 euros per night, depending on your preferences and budget. Additional details on this town can be found below under the "sights" section.
Food
As with anywhere in Greece, Delphi is home to some of the best traditional tavernas featuring classic Greek cuisine. Local fresh vegetables, as well as expertly-seasoned meat dishes can be found in the TripAdvisor-recommended Taverna Dion, Taverna Vakhos, Taverna to Patrikomas, and Telescope Cafe.
These are just a few of the many highly-rated options available in Delphi. Most tavernas offer spectacular views of the valley while you enjoy your meal; however, there are also the quicker gyro options if you are looking to spend most of the day sight-seeing.
While gyros are considered to be fast food in Greece, the fresh cooked meat with veggies and tzatziki on pita is refreshing and filling to keep you going throughout the day. There are also a few bakeries and gyro shops located closer to the archaeological sites, convenient for tourists to grab a quick coffee and spinach pie, ice cream, or cold drink.
Sights
Ruins
: As far as ruins go, the entire
Ancient city of Delphi
has been exposed and can be explored on foot along a switchback path up the mountainside. As you climb, you'll walk in the footsteps of the ancients. Imagine a thriving city, the center of the world to the ancient Greeks, important enough to cradle the Treasury of Athens standing next to Sibyl Rock where the famous oracle gave her prophecies. You will meander past the Temple of Apollo where so many came to worship, as well as a theatre that could seat 5,000 spectators with a stunning backdrop of the valley below.
If you reach the top of your walk through time, you will end your climb at Delphi's Ancient Stadium. This site was another center for entertainment, hosting the Pythian and Panhellenic games. On your way back down, be sure to look for the Omphalos of Delphi, the "naval of the earth," that marked Delphi as the center of the earth in the form of a stone thrown down by Zeus himself.
On the opposite side of Highway 48, located just southeast of the ancient city, don't forget to explore the ruins at the
Temple of Athena Pronaia
. The iconic circular Tholos of Delphi is the centerpiece of this site, once a beautifully decorated domed temple.
All of the above ruins are a part of the greater Delphi UNESCO World Heritage Site.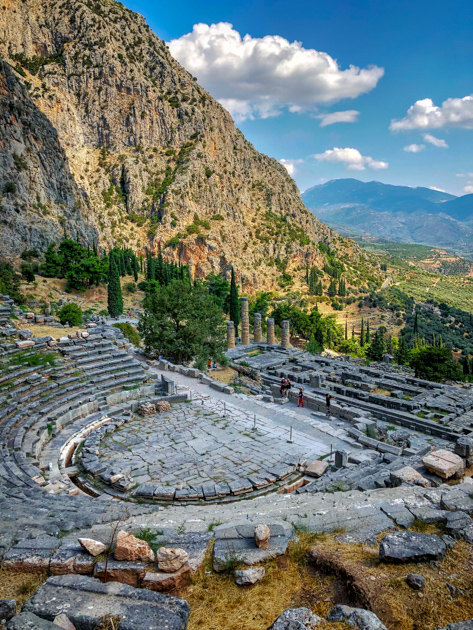 Museum
: Once you have discovered the Delphi's ruins, a visit to the
Archaeological Museum of Delphi
will open your eyes to the extensive artifacts unearthed during excavations at Delphi and its vicinity. The museum is located just adjacent to the archaeological site, and it is one of the top museums in Greece, due to the breadth and quality of the artifacts it shelters. The permanent collection covers over one-thousand years of history, from the Mycenaean era to the Greco-Roman times, and is operated by the Greek Ministry of Culture.
Mountains
: The next nearest town to Delphi is the mountain village of Arachova. Nestled into the base of Mount Parnassus, Arachova is most popular as a wintertime skiing destination; however, it is a charming place to visit year-round with expansive views of the valley, quaint cobbled streets, iconic bell tower, and a maze of interesting alleyways and architecture. It also has a bustling nightlife, many beautiful Byzantine churches, and is well-known for its colorful hand-woven carpets and rugs. Since it is only about 15 minutes from Delphi, the village can be easily seen on the way from Athens.
Monastery
: Also near Delphi, you might consider a visit to the famous
Hosios Loukas Monastery
. Designated as one of UNESCO's World Heritage Sites for its Byzantine art and architecture, the monastery is located just about 40 minutes from Delphi. Here you will discover stunning examples of frescoes and mosaics and a unique insight into the largest of only three monasteries surviving from the Middle Byzantine period in Greece.
If you get an early start, all of the above sights can be sampled in a day trip from Athens, though it is definitely worth a longer stay for deeper exploration and a more leisurely experience. Once you've discovered all that Delphi has to offer, you can also consider some of the itineraries below. Again, they can all be seen in day trips from Delphi, but each one has a unique character and culture that you might want a few days to really experience.
Day Trips from Delphi
Meteora
: If Hosios Loukas impresses, you may want to take a trip to the Monasteries of Meteora, towering over the village of Kalambaka. Located just over 3 hours northwest of Delphi, many visitors couple Delphi and Meteora in a visit to Greece. In fact, if you prefer a more guided experience, Get Your Guide offers
tours that combine the two locations
. These famous monasteries sit at the tops of gigantic natural sandstone pillars of rock, jutting of the landscape like meteors from the sky. While only 6 of the original 24 monasteries still remain, each have areas open to the public to be explored and admired by visitors. The Meteora monasteries have been included in the UNESCO World Heritage List, offering spectacular views in addition to the rich history, geological wonder, and culture that exists in the monasteries today.
Peloponnese
: Travel about 3 hours in the opposite direction, and you can experience some of the most sought after sights in the Eastern Peloponnese:
Corinth
, Mycenae,
Nafplio
, and Epidaurus.
These places are best seen during a trip of a few days to best experience each location. In Corinth you can see the famous Corinth Canal, the ruins of the ancient city (about 7 kilometers southwest of the modern city), a museum, and spectacular views from the fortress of Acrocorinth. In Mycenae, explore a Bronze Age archaeological site known for the tomb of Agamemnon and the citadel ruins, including its famous lion gate. In Nafplio, climb a thousand steps to the top of its famed fortress overlooking the sea and enjoy the shopping, dining, hotels, and museums of the historic seaport. And finally, in Epidaurus, have the chance to experience the 4th Century BC theatre, considered to be the most perfect ancient Greek theatre in acoustics and aesthetics. These sights are definitely worth a mini road trip during any visit to Greece.
Pelion
: 2-3 hours northeast of Delphi you will find another mountainous retreat on the Pelion peninsula of Greece, mythical home of the centaurs. On one side of the mountain you will find the coastal port city of
Volos
. A walk around the city will reveal urban mansions towards the city center, charming residential neighborhoods dotted throughout, and of course the glittering port lined with shops and ouzeries and a replica of Jason and the Argonauts' famed ship, the Argo. Should you choose to venture into the winding mountain roads of Pelion, take 34A out of Volos and explore some remote villages in the wilderness of the centaurs. If you reach the other side of the mountain, you will be rewarded with a coast of
pristine beaches
, which are some of the locals' best kept secrets. With little to no boat traffic and the treacherous drive to get there, the beaches are pristine, lined with pearly white pebbles leading into a calm and glittering sea. You will most likely want to spend a few days here, so make sure to
book a guest house
or bungalow in advance.
Enjoy your trip!
That's all you need to get your trip to Delphi started, plus some recommendations should you choose to extend your stay. Greece is a beautiful country touched by ancient allure, graced with stunning landscapes, and alive with vibrant culture. Museums, ruins, mountains, or monasteries - around every turn is a new treasure to explore!
Further reading:
-
Typical travel costs for Delphi
and
Greece
-
Hostels in Delphi
for budget travelers
-
Hotels in Delphi
-
Tours and tickets for Delphi
If you have a limited amount of time for your journey, see our advice about how much time to spend here: Should I spend 1, 2, or 3 days in Delphi?, Should I spend 3, 4, or 5 days in Delphi?, Should I spend 1 or 2 weeks in Delphi? and Is Delphi Worth Visiting?