Bandung On a Budget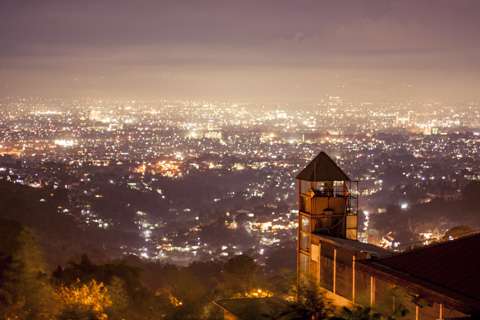 Bandung is the capital city of West Java, and the third largest city in Indonesia after Jakarta and Surabaya. Nicknamed Parijs van Java (Paris of Java) by the Dutch for its resemblance to Paris and European atmosphere back in colonial times, Bandung also earned another nickname as Kota Kembang, literally meaning the Flower City since Bandung used to have a lot of flowers. Nowadays, Bandung has become a very popular weekend escape for Jakartans, who crowd the city on weekends and national holidays. It's known for colonial and art deco architecture, a lively, university-town feel and relatively cool tropical weather. Bandung is also a shopping destination, with fashion outlets clustered along Jalan Setiabudi and Jalan Riau in the Dago district. The city also make a good base for day trips to the surrounding countryside - high volcanic peaks, hot springs, and tea plantations are all within reach.
Sights
Bandung had many classic Dutch colonial style buildings built during the late 18th and early 19th century. The locals referred to this time as the old Bandung era. The art-deco style was very popular throughout the earlier half of the 20th century and the city and its suburbs retain many fine examples of these architectural styles. Many of the historical buildings have conservation orders and there are some very well preserved and maintained examples of the colonial era architecture to be seen.
The Villa Isola, built in 1932 for an Italian millionaire D.W. Berretty, lies in the northern part of Bandung, overlooking the city to the south and the Tangkuban Perahu mountain to the north. Villa Isola and its 2 gardens have a magnificent architectural design, combining the unique landscape and the Indo-European styles. This monumental art was later used for a hotel, named Hotel de Luxe. Now it serves as UPI's (Indonesia University of Education) headmastership building.
The Gedung Merdeka, built in 1895 for a club house, named the Concordia Society. In 1955, this building was famous as the first Asian-African conference venue. Now it is a museum for that conference.
The Savoy Homann Hotel was built in 1880 and renovated in 1938 by a Dutch architect with an art-deco style. It still serves as a hotel. The King and Queen of Siam, The Prince and Queen of Belgium, The Governor General of Indo-China, The Duchess of Westminster and even Charles Chaplin have stayed in this spectacular destination.
The Gedung Sate, built in 1921, was designed according to a neoclassical design incorporating native Indonesian elements by Dutch architect J. Gerber to be the seat of the Dutch East Indies department of Transport, Public Works and Water Management. Today, the building serves as the seat of the governor of the province of West Java. Its common name, Gedung sate, is a nickname that translates literally from Indonesian to 'satay building', which is a reference to the shape of the building's central pinnacle - which resemble the shape of one of the Indonesian traditional dish called satay. Interestingly, this building mixes different architectural styles: Spanish Moorish style for the windows, Italian renaissance for the overall building, and between Balinese Pura and Thai's pagoda for the roof. The facade faces directly to the Mt. Tangkubanperahu. The building is open for public, and at the end of the journey inside, you can sip a nice hot bajigur drink while watching the city view from the top floor.
The Cipaganti Mosque, built in 1933, was the only mosque that was built in the European residential area in the northern part of Bandung. The central facade still has the original design, but the mosque has been expanded on both sides.
Neighborhoods
Dago Area
In the colonial era, this was the favorite upscale residential area. Today, you will find row of factory outlets, restaurants, and hotel along Jalan Dago. This part of the city is undergoing a tremendous change in the process of renovation. You can find the Bandung Institute of Technology and Bandung Zoo here. The area is nice to explore, possible on foot but preferable by car.
Upper Dago Area
An upscale residential area in the hilly part of the city. It boasts many restaurants that overlooking Bandung basin and you can see the city lights in the evening. Some nice cafes and an art gallery can also be found here.
Riau/Gedung Sate Area
Part of the historical colonial government complex which is popular for tourists and is a nice area to explore on foot. You can find many restaurants, cafes, and factory outlets in this area. This is also where you will find Gedung Sate, the architectural heritage in Bandung.
Upper Central Area
This is an important business area in Bandung. It contains Bandung's railway station, Paskal Hypersquare, and Istana Plaza Mall.
City Hall Area
Part of the historical colonial government complex. This area has many building that still functional as government / military buildings. Broad roads and big government complexes mark the area. This is where you'll find Bandung's city hall, the central bank office, Bandung's cathedral, and many more historical building. This area has many architectural sights. The famous Braga street is also located here.
Activities
There are many activities that you can do in or near the city, as Bandung's highland is surrounded by a string of mountains. Activities in the outskirts of the city are centered around the mountain resorts, adventure activities, and outdoor sports. In the city, you can enjoy culinary activities as there are so many food varieties, shopping in the many clothing outlets, or just hanging around.
Every Saturday night at Jalan Dago, the street is crowded with modified cars playing loud music. Walk around and watch this weekly event and take in the atmosphere and enthusiasm. There are some cafes and chic restaurants in the street that you can sit in. The party usually lasts until midnight.
Spend Sunday morning at the park. Sunday morning at Gasibu Park in front of the Gedung Sate complex, a variety of food stalls are ready and waiting for your culinary adventure through the park. People's favorites are dim sum ceker (a chicken foot cooked like a dim sum) and nasi liwet (rice cooked with coconut milk and served with chicken and other vegetables).
Take a trip north to Lembang, an uphill resort city. Go to Mt. Tangkuban Perahu where you can explore around Kawah Ratu (Queen's crater) to see the volcanic activity up close. There are two other craters available as well: Kawah Upas and Kawah Domas. Another top attraction in the resort area is the Sari Ater, a hot water spring complex with natural hot water spring pools, some recreation parks and healthy spas. This hot spring has shallow pools- some with lukewarm and some with hot spring water-for you to soak.
Go to a Ram fight. Villages around Bandung host ram fights on alternate Sundays. It's a big event for locals who turn out in their hundreds to watch 5-minute bouts between prize fighter male sheep. Tournaments are held in purpose-built rings in outlying villages.
Go for a Tea Plantation walk. You can drive to the plantation from Kawah Putih in about 5 min. The walk around the plantation is very scenic. On the way you can also visit one of many strawberry farms and drink strawberry milk shakes.
Food and Dining
Bandung is a heaven for food lovers who enjoy new experiences. There are a lot of varieties, not only local cuisine but international ones as well. Everybody has their own favorites. There are numerous food stalls, food courts, restaurants, and cafes in Bandung to choose from. A few local dishes include: Bakso Tahu / Siomay, a steamed meat with or without tofu served with peanut paste, sweet soy sauce and a lime, Basreng, a spicy snack made from fried meatballs, with the addition of the spicy and savory seasonings, Martabak, a fried stuffed pancake in either sweet or savory options, Soto Bandung, a soup with beef meat, soy beans and some vegetables, and Lotek, a mixed boiled vegetables, served with peanut paste and some chilies.
Transportation
Bandung does have an airport, but it is difficult to access and is not serviced by many airlines. Flying into Jakarta would be the best option. Bandung is located in the central highlands. It can be reached from Jakarta either via the toll road or railway by train. When using the road, there are many small buses connecting Jakarta and Bandung. Bus services connect Bandung and smaller surrounding cities. Several long-route buses are also available from major big cities. Shuttle bus is another popular option. With 6-12 seater minivans leaving every fifteen minutes up to every 1 to 2 hours depends on the providers, the shuttle bus market between Jakarta and Bandung is fiercely competitive. Bandung is two hours away from Jakarta by car, thanks to the new Cipularang toll road that completes the inter-city highway between Jakarta and Bandung. It is now faster to travel to Bandung by car than by train from Jakarta. Travelling around in Bandung is quite complex and frustrating, especially to newcomers. There is no mass rapid transit system, metro nor tram in Bandung. Locals travel using small public minibuses, known as angkot. In Bandung, taxis are less common waiting on roadsides, due to the multitude of small roads and lack of space to wait. For this reason, ordering a taxi by phone is usually the simplest and safest bet. Using your own car or renting a car is probably the easiest and the most convenient way to travel around Bandung and surrounds.