Lombok On a Budget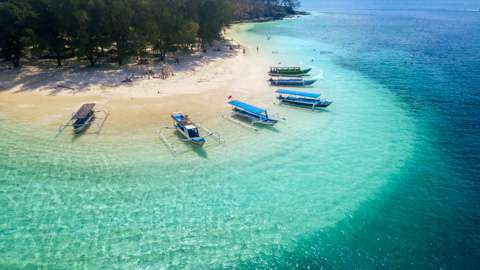 Lombok is an island east of the well-tread Bali and west of lesser-developed Sumbawa. While Lombok is not as popular as its neighbor to the west, it is a great place to visit for that very reason. Less popularity means lower prices for accommodations, food, activities, and less-inundated tourist spots. Nonetheless, Lombok is rapidly developing in tourism, and the government is naming it and Sumbawa the number two tourism spots, following Bali.
The most comfortable time to visit Lombok is from May through to September, which is dry season. However, Lombok's wet season is still much drier than that of Bali's, from October through to April.
If you visit during off season, consider that the biggest religious event of the year, Bau Nyale Festival, takes place in Kuta every February and is dedicated to catching a rare type of sea worms which spawn during the full moon. In addition to catching sea worms, the festival highlights include Presean, which is traditional stick fighting, and Adu Pantun, a form of traditional poetry recited by young people in competition, with intentions of flirting and possibly leading to courtships in local villages.
Sights
Lombok isn't a large island, which makes it easy to navigate and visit, especially if you're limited on time.
Senggigi Beach is the main tourist attraction of Lombok, where visitors flock for beautiful beaches on the west side of the island. Go to the center if you're looking for bars, restaurants and nightlife. Be sure to check out a map of Senggigi before you book accommodations, as it is divided into several areas and it may be hard to get from one to another without a taxi or using public transport.
The center of Senggigi is also a common takeoff point to visit the Gili Islands, nearby villages and temples, and Sendang Gile and Tiu Kelep waterfalls, where you can take an easy trek to view the beautiful falls.
For a cultural experience, visit
Mayura Park
, built in the mid 1700s by King A.A Made Karangasem. Within the park, you can visit the four Hindu temples, Mount Rinjani, Ngelurah, Padmasana, and Gedong temple.
Take a stroll along with a history lesson in Narmada Park, the king of Bali's summer palace, which is a peaceful and lush green space believed to contain the fountain of youth among wooden pavilions and clean pools.
Activities
While Gili Air, Gili Meno and Gili Trawangan are popular with tourists and locals alike on the west side of Lombok, if you're looking for something more off-the-beaten-track, explore the secret and mostly deserted (and sometimes submerged) east islands of Gili Bidara, Gili Kapal and Gili Lampu. Here, you can take a day trip tour to explore all the islands to snorkel and experience your own Shangri-La without the tourism that comes with the more popular west gilis. Gili Kondo is the most known and visited of the east Gilis, especially because locals like to visit on weekends.
On the south of the island, Kuta beach, not to be confused with its namesake in Bali, has beautiful, white sand beaches for relaxing as well as some of the best surfing in the world. Some travelers have had
problems in Kuta Lombok
as this small town is often caught up in the general problems associated with tourism development.
Lombok also has world-class diving spots in the southwest of the island in Sekotong.
Take a hike up to
Mount Rinjani
, the second-highest, not to mention active volcano in Indonesia at 12,224 feet in elevation.
Don't forget to visit the hot springs and Segara Anak, a heated crater lake in the caldera. Tour companies such as HaLoMi Trekker and Green Rinjani Trekking will take you to see beautiful views of all of the above on a challenging trek including delicious cooked meals.
Food and Dining
Some regional specialties of Lombok island include Taliwang chicken, which is seasoned with spices and served with a dried red chili, onion, garlic, tomatoes, fried shrimp, aromatic ginger, Java sugar, and salt, alongside Plecing kangkung, a spicy water spinach dish. You can try this at Asmara Restaurant and Bar in Senggigi, which also offers gluten-free and halal options in their Indonesian and international fare, including coconut chicken and Sasak Rijsttafel.
Satay Rembiga, is another popular dish, consisting of grilled seasoned sweet and spicy beef skewers served with rice or rice cakes. If you're feeling adventurous and visiting during Bau Nyale Festival, try Pepes Nyale, a popular seasonal and local specialty of Nyale mixed with coconut and spices, wrapped in a banana leaf and roasted over fire.
Kuta's El Bazar Cafe & Restaurant serves Mediterranean cuisine at reasonable prices, featuring an eclectic menu of shakshuka, fish tacos, eggs benedict and beef kabobs.
You can find Indonesia staples in Kuta at Bau Nyale Restaurant, which offers Asian, Indonesian, vegetarian and European food, including Gado Gado, oxtail soup, and chicken soto.
Visit Warung Paradiso, named a hidden gem in Senggigi known for fresh seafood and cheap Indonesian fare, not to mention excellent cocktails and beautiful sunset views.
Transportation
Lombok has its own, newly-built international airport, Bandara Internasional Lombok (BIL), with daily flights to Jakarta,
Surabaya
,
Yogyakarta
, and Denpasar daily, and also direct flights to
Bangkok
,
Seoul
,
Taipei
,
Kuala Lumpur
, and
Singapore
, among other major cities.
Take a ferry from Padang Bai in Southeast Bali and Lembar in Southwest Lombok to travel to and from
Bali
.
Senggigi Beach is just about an hour away from the airport and you can easily get there via public transport, but keep in mind that public transport in Lombok is unreliable. An alternative means of transport is to take an airport taksi, but only if you are arriving at the airport and heading into a city. Airport taksis cannot take you to the airport for departure.
Though you can easily hire a driver or car at a reasonable price, renting a motorcycle is an alternative, more adventurous way to see the island. Roads are in good condition, making for a safe ride and the widest part of the island is just 80 km, so you won't have to ride to too long, no matter where you go. Don't forget your helmet - it's illegal to ride without one. You can easily find rental shops all over the island.
Stand on the street and hail a bemo, which is a small covered pick-up truck with benches for seating in the truck bed, available for short to medium-distance rides. Cidomos, or horse carts, are also another means of transport for short distances. Be sure to agree upon a price before you get in.
For a leisurely and more cultural experience, you can also rent a bicycle, available for rental at hotels.
To get from one beach to another, you can also hire a traditional fishing boat, also known as a perahu. You can either rent them directly from an owner (speaking Bahasa Indonesian or Bahasa Sasak will definitely help in this case), or if you're willing to pay more, from a travel agent.
Related
Looking for a
hostel in Malaysia
or
Indonesia
?
Traveling alone to
Kuala Lumpur
or
Penang
?
Looking for a
party in Singapore
or
Bali
?