Malang On a Budget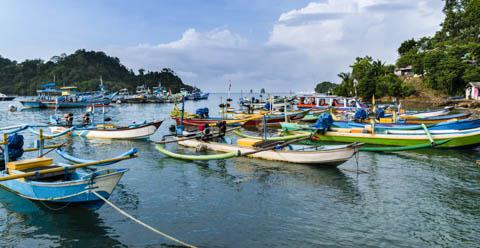 Malang is a city in East Java, Indonesia. It's a cultured city with several important universities, and is home to a large student population. Prized by the Dutch for its mild highland climate, the city retains much of its colonial architecture. Established by the Dutch in the closing decades of the 18th century, Malang earned its first fortunes from coffee, which flourished on the surrounding hillsides. Today, the city's colonial grandeur is quickly disappearing behind the homogenous facades of more modern developments, but there's still much to admire. The Balai Kota building blends Indonesian and Dutch styles, and grand mansions line the main boulevard, Jalan Besar Ijen. To the east is Mt. Bromo, a volcano with hiking trails. The central area is not too large and quite walkable. And with a number of Hindu temples and sights outside the city, Malang makes an ideal base to explore this intriguing corner of east Java.
Sights
In a city of such great cultural and historical significance there are lots of attractions and any visitor to Malang should dedicate some time to exploring these. There are also a number of beautiful sights in the rural areas surrounding the city.
Explore Balekambang Beach, south of Malang. There are actually three beaches here: Balekambang, Ngliyep and Sendang Biru. All three are quite beautiful, are close to each other, and locals most often refer to all 3 as just Balekambang. It is not safe to swim here, but these are great relaxation beaches which offer some stunning coastal scenery. There is an offshore island called Pulau Sempu which can be visited by chartering a boat from Sedang Biru beach. At Balekambang beach there are three little islets just offshore which are attached to the beach by walkways. Of the three beaches, Balekambang itself is perhaps the most attractive but all three are worth visiting.
Ijen Boulevard, Malang. This is a beautiful street in the city, lined with well-tended bougainvillea against a backdrop of old colonial structures. The street houses a number of interesting buildings including the Brawijaya Army Museum, Catholic Church, and the city library. This area is great for a walking tour of the historic downtown area.
See the Purwodadi Botanical Gardens, opened in 1941. This is one of the four official botanical gardens in Indonesia. The 85 hectares of gardens house an impressive collection and the splendid Baung waterfall.
See the Singosari Temple near Malang. This well preserved Hindu temple dates from 1300AD and is a reminder of the great Hindu kingdoms that ruled East Java before the arrival of Islam. A visit to the nearby bathing pools at Ken Dedes combines perfectly with Singosari Temple. The whole area has some other fine relics from the early Hindu kingdoms including Candi Jago and Candi Kidal.
Neighborhoods
Kampung Warna Warni Jodipan
An interesting destination you must visit in Malang. Just like its name, it's literally warna-warni or colorful. A house in that kampung has at least three different colors painted on its walls and roof. Around 107 houses in this village were painted with vibrant colors like green, yellow, pink, and purple. Some mural communities in Malang also painted the northern part of this village with 3D arts. There is also one alley in the village that is decorated with colorful umbrellas. Once a slum, now Kampung Jodipan has become a vibrant tourist destination in Malang.
Pujon Kidul
This village is located on a beautiful plateau, surrounded by the cool air and breathtaking, well-preserved nature. You will find beautiful rural panoramas and friendly villagers. This village's attractions range from outbound activities, paintball, horse riding, vegetable picking, to cow milking. In addition to all the delightful activities, you can also enjoy a hot cup of java on cafes around Pujon Kidul; combine it with the cool air and you will get an exceptional sensation. Though, undeniably, the primary atmosphere that surrounds this village is truly the limitless view of paddy fields scattered around the mountains.
Historic Center
Malang's historical downtown is best explored by foot. Ijen Boulevard is lined with lovely examples of Dutch colonial architecture, and a whole day could be spent visiting the Brawijaya Army Museum, Immanual Catholic Church, and the city library found along here. Balai Kota (City Hall) is another historical building with an interesting blend of Dutch and Indonesian architectural styles.
Activities
Get lost in a labyrinth at Coban Rondo Maze. This is one of the more unique places to visit in Malang, located at Coban Rondo Leisure Park. Ever since its soft opening early last year, it is now one of the most popular spots to visit. Apart from the maze, the park is also home to Coban Rondo Waterfall which stands at almost 90 meters. Regular outbound activities are also available in the premises, including ziplines and even a 3 on 3 paintball arena.
Visit Jawa Timur Park. Dubbed as East Java's most iconic amusement park, and possibly one of the best in the country as of now - Jawa Timur Park ranks up to international standards in attractions and maintenance. First of the many destinations under the Jawa Timur Park Group, Jawa Timur Park 1 offers 55 attractions ranging from the usual stomach-churning rides, to science and history exhibitions that are fully interactive. For even more educational amusements, Jawa Timur Park 2 dedicates itself to increasing the public's awareness on ecology and protecting its inhabitants. Here you can see all sorts of wildlife and learn about their environments.
Have even more fun at the Batu Night Spectacular, a night carnival hosting 25 zones of attractions ranging from a Go-Kart track, to a haunted house, and even a trampoline playground. This fun fair in Oro Oro Ombo Village is designed to keep those nocturnal travelers occupied - at least until 11pm.
Soar with the eagles on a Paragliding adventure. Ever wondered how it feels to fly like a bird above mountains? To glide in the open air, and soar through the clouds? There are a variety of flight packages daily, ranging from first time beginner tandem sessions, to extreme expert levels. The only gear you will need is a set of snug clothes, and you are ready to fly.
Food and Dining
Malang is known as a place to enjoy fresh local cuisine, including some delectable dishes that are unique to the city. Some of the favorite dishes to sample at the local markets and warung (food stalls) include fried village chicken (ayam goreng kampung), Malang-style meat balls (bakso malang), grilled corn on the cob (jaung bakar), and fresh apples picked from the surrounding highlands, particularly the green manalagi variety. Malang's most famous night market is on Jalan Merdeka, open every Saturday. Another busy night market is Jalan Agus Salim, where you'll find fantastic beef onion rice soup (nasi rawon) and bakso malang. Some other top spots for great local fare include Bakmi Gajah Mada for East Javanese noodle dishes, Ingill's with a range of Javanese cuisine, Warung Pojok for spicy peanut-sauce salad (rujak) and Warung Subuh for a variety of cheap, tasty meals. The Martabak Cairo cafe features kopi jahe, a local brew infused with cloves. Toko Oen restaurant has a range of western and Indonesian dishes to enjoy in a historic setting. For a special evening out try L'Amour Fou at the Hotel Tugu Malang, with French and Italian dishes, live music nightly and cocktails in a chic, candlelit setting.
Transportation
Malang's Abdul Rachman Saleh Airport is a small airport with a few flights every day from Jakarta. Unfortunately, there is no public transport connecting the airport with the city and the only way to get there is by taxi. A taxi can be arranged from a booth in the arrival hall, for fixed prices according to their list. In addition to MLG Airport, Malang can also be reached through Surabaya Juanda Airport, from which you can take a train or bus service to Malang. There isn't much as far as public transportation within the city. Becaks (pedicabs) are a great way to see the city and are easy to find around the city center. While not particularly visible, metered taxis are also available in the city. Unlike many other cities in Indonesia, taxis do not drive around looking for passengers but sit in ranks waiting for phone orders. Local mini van in Malang which is called "mikrolet" or "angkot" by locals tend can also be hailed at random. Renting a car and driver for a day is also possible.