Jakarta On a Budget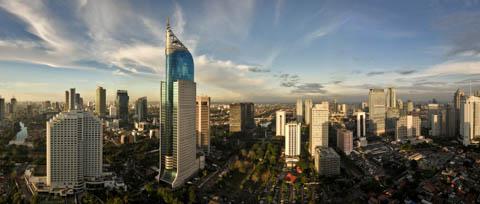 As Indonesia's capital and largest city, Jakarta rests on the northwest coast of the island of Java. It is the country's economic, cultural, and political center with plenty of opportunities for sightseeing, nightlife, shopping, and entertainment.
Sights
For those interested in landmarks, there are a few iconic monuments that are unique to Jakarta. In the city's main square there is the Monas (or National Monument), a tower from which visitors can view the entire city. The Presidential Palace just North of the monument is also worth a visit, free and open to the public on weekends.
Additionally, there is a long list of museums dedicated to the history, art, and culture of the nation. Some of these include the
Gedung Kesenian Jakarta
(or Jakarta Arts Theater),
National Gallery of Indonesia
featuring work from both Indonesian and foreign artists, Textile Museum dedicated to the religious and social significance of textile-making on the islands, and
Museum Wayang
which showcases the traditional art form of puppetry in Indonesia.
Religious sites like mosques and cathedrals are also well-visited. Istiqlal Mosque, for example, is the biggest mosque in Southeast Asia with a capacity of 120,000, located near the Monas Square. Visitors must remove their shoes and tours in English are available. Jakarta Cathedral is also well-known - a Dutch colonial Neo-Gothic Roman Catholic cathedral, and the seat of the Bishop of Jakarta. There is a museum attached to the Cathedral on the top floor.
Other attractions include theme parks like Ancol Dream Park located on the coast, and a zoo called Regunan Zoo which features some 3,600 species of wildlife from throughout Indonesia.
Neighborhoods
Jakarta is divided into several districts, which include Central Jakarta, West Jakarta, South Jakarta, East Jakarta, North Jakarta, and Thousand Islands. Central Jakarta is the administrative and financial heart of the city as well as the location of the world's largest city square "Lapangan Merdeka," the presidential palace, Istiqal Mosque, Jakarta Cathedral, the National Museum of Indonesia, and the iconic Hotel Indonesia traffic circle (Bundaran HI) around which the top malls are located. West Jakarta is considered to be the old town area with Dutch colonial buildings, street food, craft vendors, a few museums, and Jakarta's Chinatown known as Glodok. South Jakarta encompasses upper-middle class and elite residences as well as businesses including shopping centers, restaurants, hotels, nightclubs, and boutique shops. East Jakarta is the industrial quarter, while North Jakarta is the harbor as well as the gateway to the final district - the Thousand Islands. Located right on the coast, North Jakarta is a destination known for its seafood and beachside entertainment, while the Thousand Islands just offshore includes islands that are a part of a Marine National Park as well as excellent diving sites. There are also several satellite cities important to the area such as Bogor, Tangerang, Bekasi, and Depok.
If you're not sure about accommodations, check out this
guide to where to stay in Jakarta
which covers plenty of good hotels. Or, check out our article on the
best hostels in Jakarta
.
Activities
Sightseeing the historical, cultural, and religious landmarks of the city can occupy one's time in the city, as well as the many opportunities for shopping. Historical markets like the Pasar Baru dot the city for a unique trading experience, while there are plenty of malls, especially around Bandaran HI for all shopping needs. Visitors often experience the city's theme parks and frequent the movie theaters, while there are also a number of sporting events and musical festivals throughout the year, like the Jakarta International Java Jazz Festival.
Food and Dining
As a major city, Jakarta has a vast range of dining possibilities, from local fare to international options. Some of the more popular regional dishes include things like:
Sop iga sapi: beef spare rib soup with plenty of Indonesian spices
Soto Betawi: coconut milk broth with beef tendons, intestines, and tripe
Kerak telor: egg omelet cooked with rice and served with shredded coconut and a dried shrimp topping
Ketoprak: rice roll, tofu, bean sprout, and crackers in peanut sauce
Bubur Dingin: cold porridge with beef sweet soup
Nasi uduk: rice cooked in coconut milk, served with choices of toppings like fried chicken, beef, fried shallots, and sambal (a kind of chili sauce)
Nasi ulam: rice cooked in coconut milk served with fried minced beef, sweet fried tempeh (soybean cake), many other toppings, cucumber, and sambal
Street foods are also very common, with each district of Jakarta having its own unique flavors. Some of the best places for street food include Kelapa Gading, Muara Karang in Pluit, Kebon Kacang in Central Jakarta, and Blok S in South Jakarta.
Transportation
The nearest major airport is Soekarno Hatta International Airport, located 20 kilometers (12 miles) northwest of the city at Tangerang, Banten. In order to reach the city from here the best option is to arrange a pick-up from your hotel, as many hotels in Jakarta provide free airport transfers. Ride services like Uber, GoJek, and Grab are also frequently used. Transportation can be arranged with these companies on a mobile device using the airport's free WiFi. Taxis can be tricky, as many will try to scam visitors; however, Silver Bird, Blue Bird, and Express Taxi are among the more reliable taxi services in Jakarta. DAMRI shuttles buses are also available and connect to many Jakarta destinations. Trains and buses additionally connect Jakarta to outlying locations as well.