Surabaya On a Budget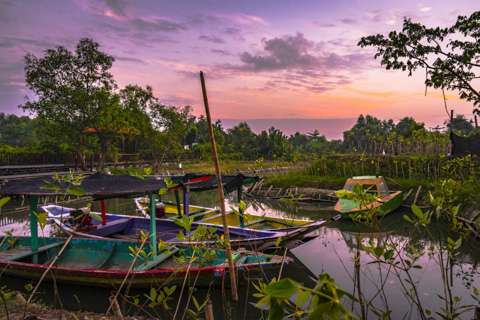 Surabaya, also known as the "city of heroes," is the capital of East Java and the second largest city in Indonesia, following Jakarta. While it doesn't highlight as many typical tourist monuments as other cities, Surabaya serves as a takeoff point or a landing base for travelers visiting Mount Bromo and
Bali
.
Surabaya is known moreso as an economic boom town, welcoming travelers and residents from all over the world with its laid-back ambiance.
The climate is consistently tropical, with little variation in temperatures, hovering in the mid 80s throughout the year. However, just because the weather is warm doesn't mean you can forget your umbrella. Be prepared for wet season, from November through April, when you can undoubtedly expect rain on the daily. As usual, pack light layers for the weather and be sure to bring long pants and shirts with sleeves if you plan to visit any religious sites.
Sights
Get acquainted with Surabaya by first visiting Tugu Pahlawan, or the Heroes Monument, which is dedicated to those who died in the Battle of Surabaya in 1945.
If you enjoy architecture, explore the Old City area where you'll see what's left of the neoclassical architecture of abandoned Dutch colonial buildings.
Nearby, the
Sampoerna Museum
gives you the chance to learn about the Sampoerna family and the history of Indonesia's iconic kretek clove cigarettes, including cigarette-rolling demonstrations.
Surabaya has a large Chinese population, so it only makes sense that it has its own Chinatown, where hundreds of businesses and shops are located.
Keep an eye on your belongings as you visit the Pasar Pabean, a dimly-lit market, to enter and immerse yourself in yet another culture in the Arab quarter.
Here, you can visit the mosque (which only Muslims are allowed to enter), shop at the souks, or covered open air markets, and visit the cemetery and grave site of Sunan Ampel, a saint who spread Islam in Java.
A mosque that welcomes visitors of all faiths is the Masjid Nasional Al Akbar Surabaya, the largest mosque in Surabaya with beautiful architecture. Observe religious customs by dressing modestly, covering shoulders and knees, and hair, for women.
Suramadu Bridge is the longest bridge in the country at about 5 km, connecting Surabaya with the island of Madura. The bridge is long enough to enjoy the scenic views of the beaches, boats and beautiful lights, not to be missed after dark. You can also take a ferry ride or a taxi to cross the bridge to the island of Madura, known especially for batik clothing and lovely beaches.
Activities
Cool down from the heat at the
Ciputra Waterpark
, which features slides, a lazy river and a wave pool, and is one of the largest water parks in Southeast Asia.
Culture buffs may also enjoy live performances, such as Reog Dance at the Balai Pemuda, an art center in the center of the city, near the City Hall.
If you're seeking a getaway, a day trip to Trowulan may be just the thing to get out of town, and take a step back into time to explore an ancient archaeological city about 60 km southwest of Surabaya.
Here you'll learn about the only Hindu-Buddhist site of the classical age known to the country, which is also believed to be the capital city of the Majapahit Empire. Explore royal tombs, ancient ruins, historic buildings and don't forget to buy a pair of inexpensive (not to mention popular) sandals as a practical souvenir before you go.
For a more modern retail experience, shop the Tunjungan Plaza, a huge high-end shopping mall, which contains a food court, an IMAX theater, and is connected to a Sheraton Hotel if you're seeking rest and relaxation at the doorstep of your retail therapy.
Surabaya is also a good launching point for many of the nearby islands and other regions of eastern Indonesia. Head to Bali or Lombok for the beaches and culture, or
go diving in Sulawesi
which has stunning marine life.
Food and Dining
The Citra Raya, one of the most lavish housing projects in the country, was originally planned to be a bustling recreational area. It quickly developed and fulfilled that dream as it is now home to the G-walk, a busy locale full of restaurants and shopping, also known as the "Singapore of Surabaya."
The G-Walk is a popular strip among locals and visitors for restos and markets on the west side of the city, where you'll also find nightlife and entertainment.
Yokoso serves excellent Japanese food in a simple setting at affordable prices at the G-Walk. Warung Bu Kris is another resto in the Citra Raya area which is popular for the best local sambal, a spicy condiment served on the side of any dish. If you don't mind a high-end price tag, try out Penyetan, a local specialty of the meat of your choice (besides pork) served with sambal and rice.
For another local dish, check out Nasi Empal Pengampon, known especially for empal, which is a fried and shredded beef marinated in coconut milk and spices, loved for its tender and simultaneously crisp textures and delicious flavors. If you drop in for breakfast, try the bubur, a rice porridge served with your choice of or a combination of different meats.
If you're seeking a budget-friendly meal, head back toward the Masjid Nasional Al Akbar Surabaya; the area is bustling and full of cheap street food.
Transportation
If you're flying in, the Surabaya airport is 25 km south of the city and about 45 minutes by taxi. You can also get in via either of the two rail stations, Gubeng or Pasar Turi Station, both within the city. The closest city from which to depart are Semarang and Yogyakarta, both between 4.5 and 5 hours by train.
Surabaya's main bus station, Purabaya, is located 13 kilometers south of town at Bungurasih. City buses also serve the station and cost less than a taxi to get to the center.
Minibuses are also available with the added benefits of a faster, more comfortable air-conditioned ride, though seats will cost more than the average bus.
Once you're in the center, taxis and becaks are the two main ways to get around. Taxis are more expensive, but comfortable, considering the air conditioning may just be worth it when you're ready for a break from the heat.
On the other hand, becaks, or rickshaws, provide an unforgettable way to get around and see the city like a local, at much lower prices.
Related
Looking for a
hostel in Malaysia
or
Indonesia
?
Traveling alone to
Kuala Lumpur
or
Penang
?
Looking for a
party in Singapore
or
Bali
?