Mount Bromo On a Budget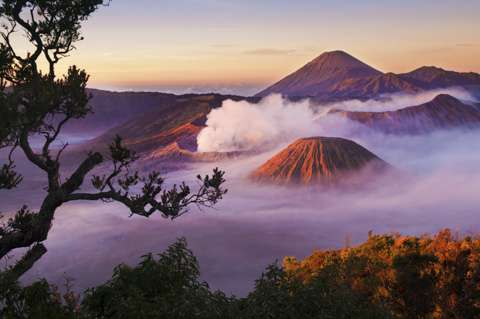 Mt. Bromo is the most famous active volcano in East Java at 2,329 meters high. Most visit Mt. Bromo to see the spectacular sunrise over the Tenggar-Caldera. Cemoro Lawang is the most popular town where tourists stay while visiting. Be prepared with cash ahead of time, as you'll have a hard time finding an ATM in town.
While you may be accustomed to warmer weather in other cities on the island, the highlands of Mt. Bromo will require that you dress warmly, if only for the night and early morning that you're there to see the sunrise, as temperatures may drop to freezing. There are many vendors selling hats and gloves if you need them.
Daytime temperatures, on the other hand, are much warmer in high 60s. Note that wet season takes place from November to March, and the months of January and February experience the heaviest rains and even flooding.
Sights
The sunrise is the most popular of activities and sights to take in and may likely require the most planning for your time in Mt. Bromo. Visitors usually wake up around 2-3 a.m. to take a Jeep or van tour to see the sunrise. Both can be arranged with your accommodation.
As much as you might love to take a lone, serene photo during the sunrise, expect to run into crowds around the volcano, which will make the experience anything but peaceful.
If you're ready for more adventure after the sunrise, horseriding in the sea of sand is sure to take your breath away. Head toward the Tenggerese Hindu temple, the Pura Luhur Poten, where the Yadnya Kasada festival is celebrated.
Those who are ready for a more intense hike can also do the two-day trek from Ranu Pane to Gunung Semeru, Java's highest peak.
Every year during the Kasada festival, which takes place in summer, Tenggerese Hindus cross the sea of sand and climb Mt. Bromo to throw offerings of food, flowers, and money into the crater of the volcano, believing that it will appease the gods. The festival, which lasts a month, originated in the 15th century, when a princess and her husband asked the gods for help to bear children.
According to the legend, the gods granted them 24 children, on the premise that the 25th would be thrown into the volcano as a sacrifice. Though they initially refused to do it, eventually, they gave in and sacrificed their 25th child, Kesuma, and thus, the festival continues today.
Meanwhile, non-believers use nets to catch the offerings from inside of the crater of the volcano. This is truly a sight to see if you're visiting in June to July. Check with locals to find out the dates of the festival.
Food and Dining
Most restaurants in Cemoro Lawang are connected to an accommodation. Cafe Lava offers budget rooms at moderate prices and also has decent food in their restaurant. You can also choose to dine at roadside warungs or the few independent restaurants in town, such as Bromo Corner Cafe, next to the national park office, or Waroeng Basuki, which serves local East Java and Peranakan Chinese food at affordable prices.
Around the caldera, there are also many shops, which are a popular place to visit for coffee in the morning time before or after the sunrise. Nearby are other shops which also sell hot tea, grilled corn, noodles, and other snacks and drinks.
Accommodation
There are plenty of places to stay in Mt. Bromo but if you're looking for luxury, you won't find it here without a price tag. Proximity to the volcano will cost you, but keep in mind that that farther away you stay, the earlier you'll need to wake up to get to the site of the sunrise.
Most budget hotels will come at a higher cost, especially during high travel season in the summer. Many rooms in Mt. Bromo, though advertised as moderate, may be basic with simple amenities. Budget rooms can simply consist of a small room that may fit just a bed and require that you share a bathroom. SM Bromo Hotel is considered expensive, considering its no-frills rooms, but it is clean and just a ten-minute drive to get to the viewpoint. Cafe Lava Hostel is another popular bed and breakfast within a close distance to the volcano but has a reputation of inconsistency with cleanliness. Homestays are also available in town.
Considering that most spend less than a day and sleep only a few hours in Mt. Bromo, many don't mind paying higher prices to be closer to the caldera. However, if you choose not to stay in Mt. Bromo, you also have the option stay in Surabaya or Malang and leave the city around midnight to arrive in Mt. Bromo early in the morning, in time to see the sunrise. This way, you can avoid budget hotels at expensive costs, but still enjoy the activities near the crater.
Transportation
There are two roads to Mt Bromo; you can enter from Probolinggo on the east or Malang on the west. You can take a bus or minivan up.
From the Bayuangga Bus Terminal in Probolinggo, take a small bus to Cemoro Lawang and request to be taken directly to your accommodation. Beware of your destination when heading toward the Bayuangga terminal, as it's not uncommon for drivers to take you to a travel agency instead, as they're driven by commission to bring new tourists in to book sunrise tours.
It will take approximately two hours to get to Mt. Bromo from Malang. Take an angkot, or city transport minibus to the Arjosari Bus Station, then another to Tumpang. From there, you can either take a motorbike taxi or a Jeep to Mt. Bromo, which will afford you some beautiful views of the savannah behind the caldera that you'd otherwise miss from the other route.
Once you're in Cemoro Lawang, you can either take a Jeep ride to the site of the sunrise, or you can hike between 1.5 to 2 hours independently.
Related:
Looking for a
hostel in Malaysia
or
Indonesia
?
Traveling alone to
Kuala Lumpur
or
Penang
?
Looking for a
party in Singapore
or
Bali
?