Tuscany On a Budget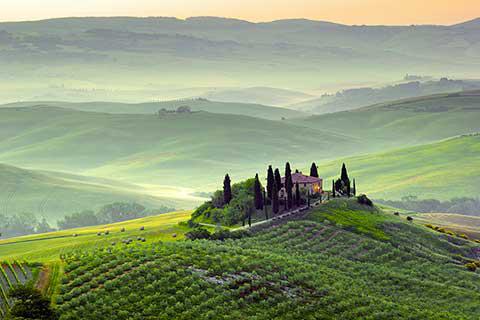 The art, the food, the land, the architecture! You can't go wrong with Tuscany. From the winding alleyways of Florence to the rolling hills of the Tuscan countryside, this dynamic and beautiful region of Italy has something to offer for everyone. After exploring the world class art and architecture in Florence, visitors should also experience Siena, Pisa, Montecatini, and more. The region is located on Italy's west coast bordering the Tyrrhenian sea. It is one of the most famed and popular parts of the country and it won't disappoint.
This region can divided into two personalities. There are the cities such as Florence, Siena, Lucca, and Pisa. Here you will find the art and architecture that the area is famed for. Alternatively, the countryside offers visitors unique small towns, villages, castles and vineyards. Whatever your style, you will find something that meets your needs in Tuscany.
Sights
Tuscany is noted for both its art and architecture as well as its landscape and beautiful villages. Sights are spread throughout the region and include the Leaning Tower of Pisa, the museums of Florence, and a large number of parks. For this reason, you should see this
road trip itinerary through Tuscany
to experience all of it.
The National Park of the Tusco-Emilian Apennines spreads through the mountains for 60 kilometers. The National Park of the Tuscan Archipelago covers both land and sea. Other notable parks include the
National Park of the Foreste Casentinesi
, Monte Falterona and Campigna, the Maremma Regional Park, and the Park of the Apuan Alps among others.
With so much to see and do, it can be hard to decide where to go. For advice and more information, check out this great
1 week in Tuscany itinerary
for suggestions, tips, and an efficient travel route.
Regions
Tuscany can be divided into a variety of regions. These include Arezzo, Florence, Grosseto, Livorno, Lucca, Massa-Carrara, Pisa, Pistoia, Prato, Sienna, Chianti and Casentino. Each has it's own unique character and beauty. If you're interested in experiencing the wines of Tuscany, then the wine growing region of Chianti has a lot to offer. For art and architecture, any of the cities, most notably, Florence, will have a lot to offer. Casentino is know as an ecogreen area and Pisa is where you will find the famous Leaning Tower of Pisa.
Activities
Tuscany is a region of activities. There are cities to wander through, countryside to get lost in, and food to experience.
Wine is very popular in the area and wine tours are a common way to explore this beautiful agricultural region. Often, wine tours focus on both wine and food and provide expert guides and a variety of unique experience. Chianti is one of the most common regions to take a wine tour. Another great option is to
visit Solara, an all-female Tuscan winery
with beautiful views, great wine, and a fun atmosphere.
Food and Dining
The cuisine of Tuscany is all about the ingredients. After all, many people come to Tuscany just to eat! The dishes themselves are quite simple, but the ingredients are fresh and of high quality. You can expect dishes to include things such as legumes, bread, cheese, vegetables, mushrooms, and fresh fruit. The region is also known for its game which includes wild boar, hare, fallow deer, roe deer, and pheasant. Pork and high quality beef are common as well.
One popular dish is
ribollita
, which has its origins as a peasant dish that is made from leftover minestrone soup that is reheated and prepared with additional ingredients. Pici is a regional pasta that is a thick spaghetti that is usually rolled by hand. Popular desserts include panforte, ricciarelli, and cavallucci.
Transportation
Tuscany can be reached by air or land. The most significant airports are in Florence and Pisa, but if you're arriving on an international flight then you will likely fly into either Milan or Rome, outside of the region. From there it's about a three hour drive to Tuscany. The most significant train stations are in Florence, Pisa and Grosseto. Florence actually has two major rail stations with Santa Maria Novella in the center of the city and Campo di Marte located farther out.
Traveling around Tuscany by public transportation is relatively easy. There are both trains and buses that travel the main routes, but if you want to get off the beaten path then a car may be beneficial. The central train station of Florence offers easy access to the rest of the region. You can reach Siena in about an hour and a half and Pisa in a little over an hour.
Buses also travel between the most popular towns. Blue buses offer intercity service while orange buses are local. You should buy your ticket before you board the bus and you can buy them in most Tabacchi shops as well as some news stands and bars. Weekends and holidays have less frequent buses so you should plan your schedule in advance if you hope to travel on these days.
Related
Looking for a party in
Rome
or
Florence
?
Traveling alone
Milan
or
Rome
?
Find a
Contiki tour
to Europe.
Train and Bus Prices
The best prices for buses and trains in Italy
can be found on Omio
(formerly
GoEuro
). They let you search across all train, bus, and plane routes throughout the region.