Milan On a Budget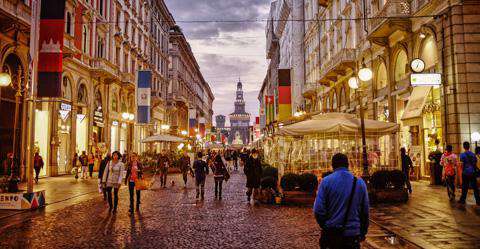 Milan, known to most of the world as the capital of fashion and style, is also the heart of Italian industry and economics. Between the stock exchange, cathedrals and boutiques, this metropolis is a city-lover's dream come true. It is an escape from the stresses of the real world, and provides a playground for all the world's most lavish luxuries.
While it's got centuries of history under its belt, Milan has still come to represent the
new
Italy. The city has preserved its history, but requires a bit of exploring. Most European cities shove their historical attractions in your face, but not Milan. There is something different about this city. It might be the grey architecture. It might be the high speed pace of the locals. Something about it makes you feel like you've left Italy for a bit, but don't worry, there are Italian gems sprinkled throughout Milan. While it doesn't often have the fame of other Italian cities such as Rome, Florence, or Venice, Milan still has plenty to offer.
Most people use public transportation to get around Milan. The system includes a tram, trolley-bus, and bus lines, as well as three different metro rail lines. The three subway lines include a red line that runs northeast and west. The green line runs northeast and southwest, and the yellow line runs north and south.
Milan has a major airport that some people may use as their entry point into Italy. Alternatively, it's possible to take the train or bus from most major cities throughout Italy. Trains are generally more comfortable and convenient, but buses are often cheaper and will save you some money.
Many people choose to skip Milan as a travel destination in Italy, but those that stop by are generally well rewarded. It's an easy stopover, particularly for travelers between Cinque Terra or the coastal areas in western Italy and Venice. If nothing else, it is recommended that you allow for a few hours layover in Milan. The restaurants are very cosmopolitan and delicious, the shopping is some of the best in the world, and the wine is delicious. The sights manage to mix history with modernism, and a visit to Milan allows you to see a whole new side of Italy.
Sights
Milan is full of amazing sights for any traveler. There are historic churches, ancient palaces, impressive museums and world-class theatres. Some even ask,
is Milan worth visiting?
Absolutely, say those who come. And you should definitely go!
If you're a fan of Renaissance and Baroque style art, you'll be happy in a number of Milan's beautiful museums. The Pinacoteca di Brera is home to one of Italy's most important art collections and one of the largest collection of Italian paintings. The Pinacoteca Ambrosiana houses world famous paintings, while the Civico Museo Archeologico is home to Roman antiques, statues and glasses.
As the former northern capital of the Roman Empire, Milan can claim the oldest churches in Italy. The Duomo in Duomo Square is Milan's main cathedral. It is, without a doubt, a must-see attraction in Milan. This massive gothic church was started in 1386, and built from white marble. Make sure you take a trip to the top to see stunning city views between ancient gothic spires.
But if sitting back with an espresso is all the sightseeing you want to do, make sure you relax in the Piazza del Duomo. It's the grandest square in all the city. This gathering spot is home to the Duomo, the
Royal Palace
and an enormous statue of King Victor making it the cultural and social heart of the city.
The nearby
Galleria Vittorio Emanuele II
is full of shops and restaurants set in a 19th century arcade-style building. Don't miss it!
For more travel information on Milan, check out our
Ultimate Guide to Milan
.
Neighborhoods
From the Duomo, the Galleria Vittorio Emanuele II spreads to the north. To the northwest of the Piazza runs the Via Dante up to the Castello and its surrounding park. In and around these sights and the nearby maze of streets are the main tourist areas with shopping and old, quaint architecture.
Activities
The first activity on your list should be to simply walk around and take in the sights and sounds of Milan. However, once you've done that, there's plenty more for an active traveler. But read this to learn
what to do with only 1 day in Milan
.
Catch a football (soccer) game at the famous Giuseppe Meazza Stadium, or attend one of the many exhibition fairs held throughout the year. Wander through any boutique for a taste of the famous Milan fashion world, or make your way to the top of the
Branca Tower
for stunning views of Milan.
Food and Dining
You will not go hungry in Milan. This city is known for its tradition of Italian cooking. You'll easily find a trattoria, enoteche or restaurant anywhere offering traditional Milanese and Italian dishes. Don't miss out on specialty dishes like osso bucco or risotto alla Milanese.
Transportation
You have several options when trying to travel a round Milan. The Azienda Transporti Milanesi (ATM) system operates a rather efficient public transport network. Single tickets (valid for 90 minutes) are cheap and available at newsstands, bars and automated ticket machines at each station. You can also buy 24 hour, 48 hour, or 10 ride tickets. Do not forget to validate your ticket before getting onboard! There will be a small box at the station that will stamp your ticket with a date and time showing when it was used. Do not forget to do this, or you will be fined onboard.
There is also a Metro system marked with a big, white "M" on a red background. There are four lines to take you around the city, and a new train runs every 1 -3 minutes. Be sure to watch out for aggressive pickpockets.
If you'd prefer to stay above ground, there are trams and buses available. Taxis are an expensive option. Note that if you book a taxi over the phone, they begin charging the moment they take the call and come to pick you up.
Renting a car is not recommended in Milan. Traffic is a considerable problem, and parking is nearly impossible. Walking is a definite possibility as most of the main attractions are a short walk to one another.
Related
Looking for a party in
Rome
or
Florence
?
Traveling alone
Milan
or
Rome
?
Find a
Contiki tour
to Europe.