Naples On a Budget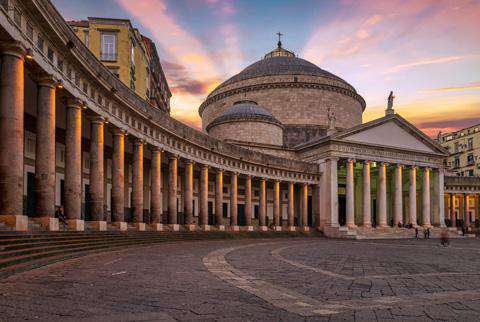 Naples is the most populous city in southern Italy. The city sits against the Bay of Naples, and is in close proximity to Mount Vesuvius, which is most famous for its eruption in 79 AD which destroyed the communities of Pompeii and Herculaneum.
Naples has a wonderfully sunny, Mediterranean climate, some great beaches, and beautiful architecture. The historic city center is a UNESCO World Heritage Site and because city officials have established strict building codes there is almost no condo style development along the coast. This helps Naples to maintain its authentic and historic atmosphere.
Many people love Naples for its history and authenticity, while others complain that it is noisy, crowded, and dirty. You can visibly see that the poverty in Southern Italy is higher than in the northern part of the country. Traffic is also chaotic, but what some travelers consider flaws, others see as benefits. Nobody can deny that Naples is truly an authentic Italian city. It has some of the country's best food and wine, the weather is ideal, and the prices are far cheaper than the northern regions. It has a large number of attractions in the form of museums and galleries, and there are some of the world's best ruins in nearby Pompeii and Herculaneum.
Sights
Some visitors may complain about the state of some buildings and streets in Naples, while others claim that this is part of the city's character. It is not uncommon to find graffiti and disrepair in many areas of the city. Still, there are many sights and attractions that bring visitors from all over the world. Some of the most famous sights are Castel dell'Ovo at Porto Santa Lucia, Castelnuovo, Museo Nazionale di Capodimonte, Museo Archeologico Nazionale, Certosa di San Martino, Parco Virgiliano, Piazza del Gesu and Piazza S. Domenico Maggiore, Napoli Sotterranea, Castel Capuano, Castel Sant'Elmo, Catacombe Di San Gennaro and Teatro San Carlo, among many others.
Fore more information, see our
Ultimate Guide to Naples
or
Things to do in Naples
.
Neighborhoods
Naples is divided into 30 quartieri, or neighborhoods. There are also 10 municipalities that are part of Naples. The most central neighborhoods, and those that are of most interest to tourists include Centro Storico (the Historic Center), Agnano, Posillipo and Chiaia, Arenella and Vomero, and San Carlo all'Arena. The Historic Center is the primary area for tourists. There are many churches, underground ruins, museums, and pizzerias in this area. This is where most tourists spend the majority of their time. Agnano is where you'll find one of the largest sporting centers in Naples. It also has one of the city's largest discos, so if you're looking for entertainment, you'll likely end up here. Because it is the sight of a volcanic crater, it also has many thermal baths that you can visit. Posillipo and Chiaia have Roman ruins and a great view over Naples. Here you can walk by the sea or visit churches, palaces and gardens. Arenella and Vomera are pleasant neighborhoods that have many trees, churches, and castles. Finally, San Carlo all'Arena has a graveyard and the largest monumental palace in Naples.
Activities
Activities in Naples include walking tours, biking tours, going to a show in the theater or taking an excursion into the surrounding area.
Food and Dining
Naples is famously the birthplace of the pizza. Napolese pizza is traditionally a margarita style with tomatoes and cheese. The ingredients are simple but the flavor is rich. You really can't go wrong with choosing a pizzeria in Naples, but if you want the best, look for one without tourists. Pirzzeria Brandi is where the pizza margherita was born, but there are pizzerias that offer even better pizza for a cheaper price.
In general, the cuisine of the area includes lots of seafood, which is fresh and good given the city's large and functioning port. Sauces are often made with garlic, olive oil, tomatoes and red wine. If the sauce is fra diavolo, or Brother Devil, then it contains hot pepper. Food in Naples is excellent and unique. The dishes are different than you might find in northern Italy, so it can be a fun area to have a culinary experience.
Transportation
It's easy to take public transit from Rome to Naples and you can make the trip easily by either bus or train. There are frequent connections that are easily caught, and prices are actually quite reasonable. Do note that it is best not to linger in the train or bus stations longer than necessary as they tend to attract pickpockets. Keep an eye on your belongings and keep your wits about you and you should be fine.
For more information, see our guide to
getting around Naples
.
Public transit is probably the best way to get around Naples, although it is crowded and slow a lot of the time. Buses are easy to figure out, but they are infrequent and it can be frustrating to try and catch them. Other options include the subway, trams, funiculars and trolleybuses. Part of the challenge with Naples' public transportation is that there are different lines that are operated by different companies. Still, it is possible to buy a daily pass that is valid for all vehicles. There are also passes available that last for 1.5 hours. These passes are sold by Unico Campania.
Related
Looking for a party in
Rome
or
Florence
?
Traveling alone
Milan
or
Rome
?
Find a
Contiki tour
to Europe.