If you want to experience the famous Japanese hot springs or Onsen you will have to leave the big cities and visit so-called Onsen towns in Japan. There are countless towns famous for Onsen all over the country, from north to south.
Some of the most famous and best Onsen towns in Japan are Hakone, Kusatsu, Gero, Beppu, and Kinosaki. Find out what makes them so special and start planning your trip to one of the best Onsen towns in Japan today.
Hakone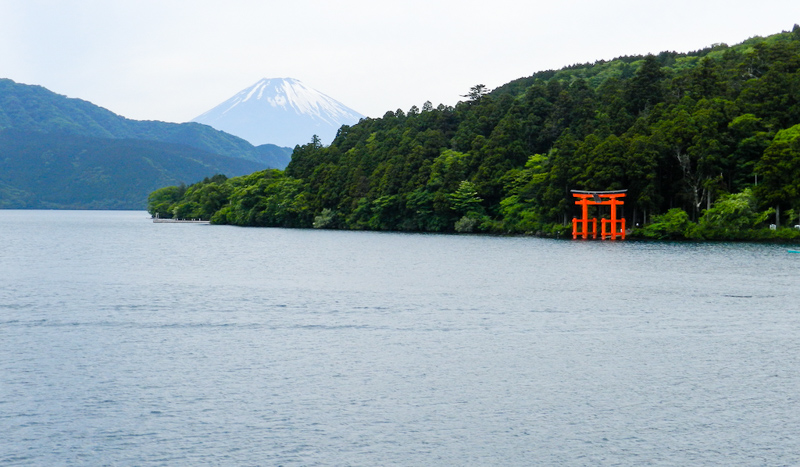 Tokyo was built on the biggest area of flat land found in a county otherwise defined by mountains. For this reason, you won't find naturally occurring hot springs in Japan's capital. Because the volcanic activity under the Japanese mountains is the source of the many hot springs.
But don't worry, just a short train ride from Tokyo you will find Hakone. One of the most popular Onsen towns in Japan.
Hakone is not only popular because of its proximity to Tokyo but also because of the amazing views of Mount Fuji, Japan's most important mountain.
If you want to enjoy the hot springs you can do so at countless public bathhouses as well as inns in the area. Yumoto a town at the entrance to the Hakone area has a particularly long history but you will also find great options along the shores of Lake Ashi.
Hakone is best explored by spending one or two nights there. For an unforgettable experience, you can choose
Hakone Onsen Ryokan
, a stunning ryokan (traditional Japanese inn) at the shore of Lake Ashi, or this
Hakone hotel
, the Prince Hakone Lake Ashinoko. Both have excellent hot spring facilities.
Aside from the hot springs themselves, Hakone has a lot to offer. Don't forget to ride across Lake Ashi for the stunning views of
Mount Fuji
. A visit to Hakone Shrine is also a must. Take the cable car up to Owakudani and try the black eggs made by the sulfurous vapors found here.
If you stay in Hakone, you will probably be served a delicious Kaiseki dinner at your Ryokan but if you are looking for a great lunch option try Soba noodles at one of the many restaurants in town. For some delicious bread head to one of the many bakeries in town. Hakone is famous for having delicious bread.
From Tokyo, the most comfortable way to get to Hakone is on the Odakyu Line. If you take the so-called Romancecar you will arrive at Hakone-Yumoto Station in one and a half hours. For Japan Rail Pass holders the best option is the Shinkansen to Odawara Station. From there take the Hakone Tozan Line to Hakone-Yumoto Station.
Kusatsu
Kusatsu Onsen in Gunma Prefecture is one of the most famous Onsen resorts in Japan. Not only because of the plentiful hot spring water which is said to heal many illnesses but also because of the nice atmosphere in town.
When you arrive in winter Kusatsu Ski Resort invites you to enjoy the snow before taking a bath at one of the many hot springs in town. During the rest of the year, you can enjoy nature by taking a walk around Sainokawara Park which has hot streams or hiking on Mount Shirane an active volcano.
Stay the night at Kusatsu and wear a traditional Japanese garment called a Yukata to explore the town. In the town center, you will find the Yubatake, the hot water field. This is the main source of hot spring water in town and from here it is distributed to the many surrounding inns.
Because the water is so hot when it reaches the surface it needs to be cooled down. Traditionally, rather than diluting it with cold water it is being cooled down by stirring the water with big wooden paddles. Visitors can view this practice which is performed by women clad in traditional clothing and accompanied by traditional songs.
Like at other Onsen towns in Japan,
Soba noodles
can be found at multiple restaurants. In Kusatsu, they are often served with Maitake Tempura, a kind of mushroom grown in the area.
From Tokyo, you can either take a direct bus to Kusatsu which takes around 4 hours or choose one of multiple train and bus combination options.
Gero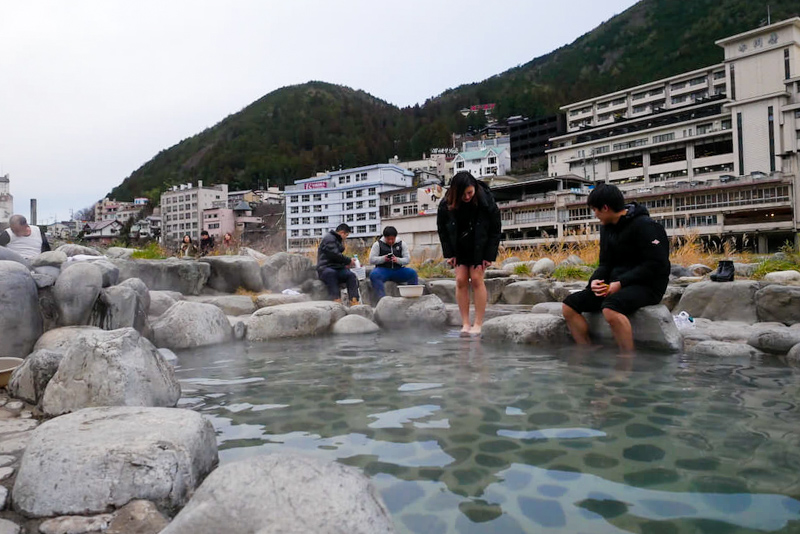 Gero Onsen
in Gifu Prefecture is a small hot spring town with great water quality. It is a great day trip option from nearby Takayama or Nagoya because you can enjoy the hot springs at one of three public baths in town and at the multiple free foot baths dotted around.
The town is small and easily walkable. Explore the small shrines and temples as well as the riverbank on a stroll and try one of the many delicious snacks such as Hida Beef Sushi and Onsen Pudding on offer at the shops.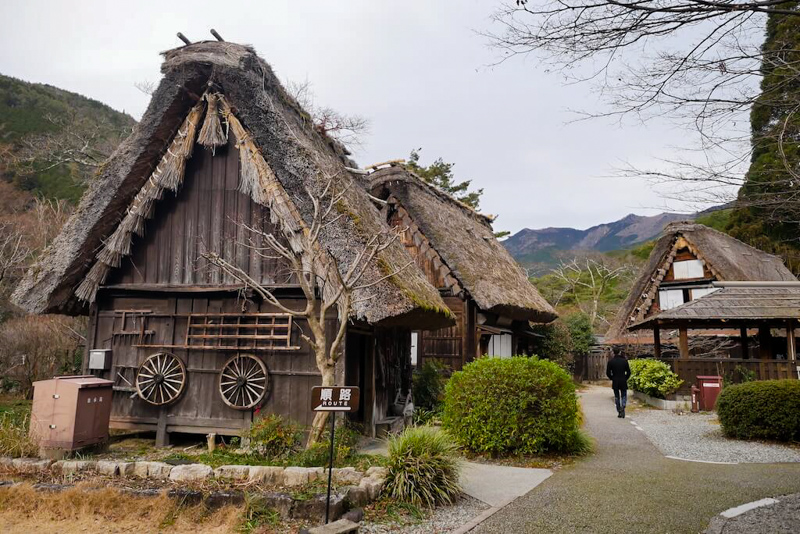 Just outside town, you will find the Gassho Zukuri Village, an open-air museum of traditional farmhouses from the region.
To visit Gero Onsen make your way to Nagoya (from Tokyo it's a 2-hour Shinkansen ride). Nagoya is directly connected with Gero Onsen on the Hida Line which takes 90 minutes.
Beppu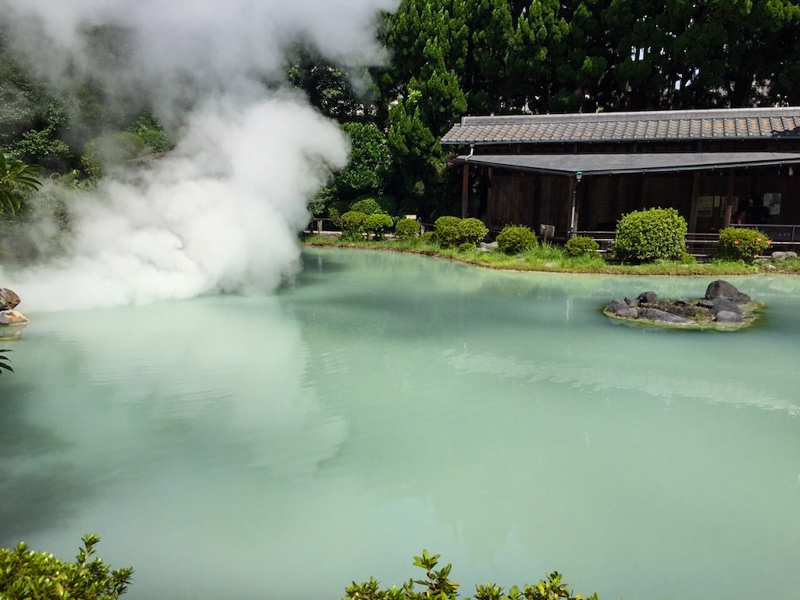 Beppu in Kyushu produces more hot spring water than any other hot spring town in Japan. The town is fed by eight different springs and for this reason, you have countless options to enjoy Onsen in Beppu. There are also different types of baths such as mud baths, steam baths, and sand baths.
One of the highlights of Beppu are the so-called Hells of Beppu. An array of hot spring pools to view rather than a bath in. These pools have varying colors and temperatures and are a lot of fun to explore.
To thoroughly enjoy the different bath options in Beppu it is recommended to spend the night and enjoy the hospitality at one of the many Ryokan (traditional Japanese inn) in town.
The Ryokan will probably provide you with a nice dinner where you can sample many of the local delicacies. For something, a little bit different try fish and vegetables steamed in the hot springs of Beppu.
From Tokyo, it's quite a journey to Beppu. Take the Shinkansen to Kokura Station and from there transfer to Sonic limited express. Even the fastest train and best connection will take around 6 hours. Fukuoka is Kyushu's most popular city and worth checking out. From Fukuoka, it is a two-hour train ride to Beppu.
Kinosaki
Kinosaki Onsen at the coast of the Sea of Japan in Hyogo Prefecture is a charmingly old-fashioned Onsen town and one of the most popular hot spring destinations from Osaka and Kyoto.
This town
is built along a willow tree-lined river which invites to take strolls clad in colorful Yukata in the evenings. For this reason, it is highly recommended to spend a night, or even two at Kinosaki Onsen.
The town has a total of 7 public baths as well as numerous beautiful foot baths and spring water drinking fountains. Visitors staying at a local Ryokan can use all of these public baths for free.
Kinosaki is a heaven for food lovers. You can find delicacies such as Kobe Beef and freshly caught seafood are just the tip of the iceberg. Try some delicious street foods and sweets while strolling the streets of Kinosaki.
Kinosaki Onsen is best accessed from
Osaka
or
Kyoto
on the JR line. It takes around 2.5 hours from either city.
A visit to one of the top hot spring towns in Japan is a highlight not to be missed on a trip to Japan. One of these 5 towns is a great way to experience traditional Japanese Onsen for the first time, but also for guests who have experienced Onsen before they all have something unique to offer.