Sendai On a Budget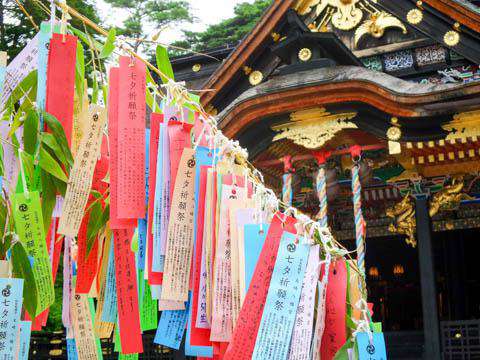 Sendai, Japan is located in the Toohoku region on the main Honshu island. It is often referred to as "Forest City" due to the large amount of green space throughout the city and the tree filled parks and public spaces. Sendai is a very pleasant city to visit; they are in close proximity to both mountains and the sea and have many large universities throughout the city, making it a popular college town.
Sendai sees a lot of rain throughout the year; primarily from winter through summer and into September when typhoon season hits. Although, the weather is not unbearable as temperatures tend to stay in the low 40's (Fahrenheit) during winter and the high 70's in the summer. If you'd prefer to stay out of the rain, October and November tend to be good times to visit as they provide sunnier, drier, days with temperatures staying in the mid to low 60's.
Sights
The best option for English speaking tourists is to take a free guided tour from Gozian Sendai Volunteer English Interpreter and Tour Guide Group who will take you around to all the major sights in Sendai. Some of which include the Sendai Castle Ruins which has a replica of the original castle gate and has even been the theme of a popular poem by Doi Bansui called "Kojo no Tsuuki"- "The Moon Over the Desolate Castle".
A must see is Zuihoden, the mausoleum of Date Maasamune, the founder of the city of Sendai. The mausoleum itself if ornately designed with beautiful woodwork in bright colors and the museum located on the grounds provides fantastic artifacts from the Date family. From there, head to Rinno-ji, an old temple with a large garden that becomes even more vibrant when the azaleas bloom.
Neighborhoods
Sendai is divided into five wards: Aoba-ku, Izumi-ku, Miyagino-ku, Taihaku-ku, and Wakabayashi-ku. In Aoba-ku, you'll find the poualr Ichibancho shopping district and the Jozenji-Dori, a famous walking path lined with statues situated between Kotodai and Nishikicho parks. Aoba is also home to the city center and the major tourist attractions. Izumi-ku is more residential and home to many of the college campuses in Sendai.
Miyagino-ku, Taihaku-ku, and Wakabayashi-ku are also more residential areas with smaller shops catering to locals. It is important to note that Wakabayashi is still rebuilding itself after the 2011 Tohoku earthquake and tsunami which nearly wiped out the entire ward.
Activities
Sendai is known for hosting the famous festival of Tanabata where the streets are adorned with large decorations and streamers. There are dances, parades, and plenty of vendors selling everything from handmade goods to ice cream! Sendai is also a great place for whisky and beer, as they are home to the Nikka Whisky Distillery and Kirin Brewery; you can tour both of them, receiving free samples at each one.
Sendai is also a popular site for sports fans and are home to the Vegalta Sendau pro soccer league, Tohoku Rakuten Golden Eagles pro baseball team, and the Sendai 8ers basketball team. Depending on the time you're there, you may be able to catch a game. Tickets can be bought at the stadiums.
Food and Dining
Sendai is famous for a few dishes, including: gyutan, grilled beef tongue; sasakamaboko, fish sausage; and zundamochi, sweet soybean paste eaten with rice balls. If you're a fan of sushi, head to Kameki Sushi which is often considered to be the the best sushi restaurant in all of Japan.
Sendai is home to a quite unqie night life, considered so because of their wide range of bars and clubs throughout the city. There's Ha'penny Bridge, a Guinness pub, and One More Time, which has all of the nostalgia of a 1950's bar in America, but is often filled more with locals than tourists. For night clubs, there's LUXS Sendai, a popular club with live DJs and occasional performances. There's also the Ceskoya, a pub that puts on a variety of performances, ranging from comedy shows to cultural nights.
Transportation
In Japan, trains are one of the fastest and lowest cost means of transportation. Getting a
Japan Rail Pass
can save you money if you plan to stay for several days or more. Regional and nation-wide passes are available, usually for the number of days of your choice.
Getting around Sendai is fairly easy; you can take the subway, use tourist buses, or simply walk. The subway connects the major shopping areas, which often means it'll also take you to, or near to, popular tourist attractions. The local buses can be hard to understand, which is why there's the Loople Sendai, a bus that loops around the city to various attractions. You can by day passes or single ride tickets directly on the bus. If you plan to stay in the city center, walking is the best option and allows you to better experience the city.
Related:
Looking for a
hostel in Japan
? In search of a
party in Tokyo
? Traveling alone to
Osaka
or
Tokyo
?