Osaka On a Budget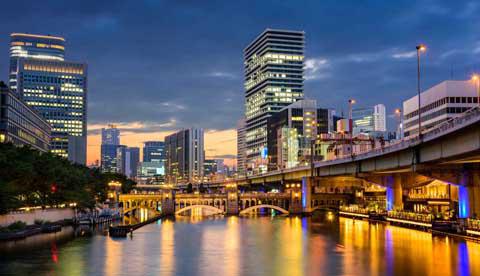 The third largest city in Japan, Osaka has a lot to offer travelers. It's at the center of the Kansai region, and is a wonderful place to spend a few days. The city sits at the mouth of the Yodo River on Osaka Bay and is a major commercial hub for the country.
Osaka has a humid subtropical climate with four seasons. The winters are mild with January temperatures having an average high of almost 50 degrees Fahrenheit. Snow is very rare. Springs start cool and become hot and humid. This is also the wettest season with the rainiest time being between May and early July. Summers are hot and humid with July temperatures climbing into the high 90s Fahrenheit. The fall season becomes cooler as winter approaches.
Sights
Osaka is a large city with many sights of interest to visitors. While many visitors don't come here, opting insead for larger destinations such as Tokyo and Kyoto, they are missing out on a great city. Osaka should absolutely be on your
Japan itinerary
.
Museums in the city include
Kamigata Ukiyoe Museum
, the Maritime Museum, the
Osaka Museum of History
, and Peace Osaka. Religious sights in the city include Shitennoji Temple, which was originally built by Emperor Suiko in 593 AD but was reconstructed following World War II, and Sumiyoshi Shrine, which is one of the country's oldest Shinto shrines with a history dating back 1800 years.
Osaka Castle
is the city's most famous sight. It's a reconstructed castle that holds a museum. It's particularly beautiful during the cherry blossom season when locals come to the castle park to picnic. Visiting the castle and viewing the cherry blossoms are definitely on the
list of things to do in Osaka
, so don't miss them.
There are plenty of off the beaten path places to explore and discover in Osaka as well, so be sure and allow yourself enough time to get lost in the city.
Neighborhoods
The city has a good number of districts and neighborhoods worth exploring, not least of which is Kita, which is the more modern section of the city center. It has plenty of shopping, theaters, restaurants, and much more. Minami is at the traditional and cultural heart of the city and is a great place to eat or shop, among other things. Tennoji has some amusement park areas as well as Tennoji Park and Zoo. Osaka Castle is a neighborhood in and of itself, and is the most popular attraction in the city.
Activities
As a large city, Osaka has many activities that you can enjoy. The National Bunraku Theater is one of the last places where you can see a form of puppet theater from the Edo period. Osaka Shiki Musical Theater is the home of the Shiki Theatre Company. The Sumo Spring Grand Tournament is held in mid-March at Osaka Prefectural Gymnasium and Kaiyukan is one of the world's largest aquariums.
There are also many shopping districts in Osaka. Some of the largest include Shinsaibashi, Nipponbashi, and Tenjinbashi-suji. Shinsaibashi is the most famous shopping area with western style department stores. Nipponbashi is the place to go for electronics and Tenjinbashi-suji is supposed to be the longest straight and covered shopping arcade in Japan.
A popular day trip from Osaka is to visit the
beautiful Nachi Falls
which is located in Nachikatsuura. The nearby Seigantoji temple adds to the stunning landscape as well. Don't miss it!
Food and Dining
Most of Osaka's restaurants are found in the entertainment districts, particularly in the Umeda and Dotonbori areas. Typical Osakan dishes include battera, which is a type of sushi made with mackerel, Okonomiyaki, which is a pancake made from fried cabbage, Takoyaki, which are octopus fried dumplings, and Kushikatsu, or skewered, deep-fried, meats.
Transportation
In Japan, trains are one of the fastest and lowest cost means of transportation. Getting a
Japan Rail Pass
can save you money if you plan to stay for several days or more. Regional and nation-wide passes are available, usually for the number of days of your choice.
Japan is an expensive country to visit, and if you're planning to spend any significant time in Osaka and the nearby areas, it is worth picking up a transit or entertainment pass at a discounted price. You actually have several options to choose from. ICOCA smart cards are useful on all rail, subway, and bus systems in the Kansai area. They carry a balance which you can refill at any time. For 3500 yen you can pick up the Unlimited Kintetsu Rail Pass. This will give you five consecutive days of unlimited travel within the Kansai Region. An upgraded version of that pass is the Wide Kintetsu Rail Pass for 6800 yen. It adds on round trip access to Kansai Airport among other things. The Osaka Unlimited Pass comes in a handful of entertainment and rail options for either one or two days. The Osaka One-day Pass is a one day travel pass for 850 yen.
Osaka's Subway is the obvious way to travel around the city. It is very comprehensive with the Midosuji Line being the main artery that connects to the city's main train stations as well as several large shopping areas.
Cycling is also a great way to get around the city. It's possible to rent or purchase a used bike. The city is flat and you are allowed to ride on the sidewalks, some of which even have bike lanes.
Related:
Looking for a
hostel in Japan
? In search of a
party in Tokyo
? Traveling alone to
Osaka
or
Tokyo
?