Yaeyama Islands On a Budget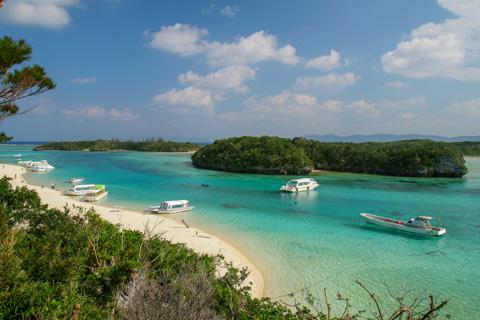 The Yaeyama Islands is a cluster of islands located in the southwestern part of Japan, close to Taiwan. There are nine different islands, varying from small islets to large holiday resort islands. The Yaeyama Islands are one of the most popular destination in Japan due to their beautiful beaches and underwater ruins. Yaeyama is also known for having their own language and writing system. For the most part, everyone on the Islands speak Japanese, but you'll often find the Yaeyama writing on T-shirts in souvenir shops or scattered around Yaeyama.
The Yaeyama Islands have a subtropical climate, meaning evening in winter, temperatures stay around 70 degrees Fahrenheit. There really are no bad times to visit the Islands in regard to weather, except for September, which is typhoon season. Summers are hot and humid but great for sunbathing, making it the Islands' peak season; October-November and March-April are great times to visit as the weather is still warm though the Islands tend to be less touristy.
Sights
Each island is home to unique sights that you really can't see anywhere else in Japan. For example, Iriomote Island is home to the only jungle in Japan and one of two Star Sand Beaches, named for the star shaped seashells that wash up on the beach. Ishiaki Island is known for their impeccable beaches, especially Sukuji Beach which provides views of the Uganazaki Lighthouse on clear days.
Head to Taketomi Island to immerse yourself in an extremely well preserved traditional Ryukyu village, complete with water buffalo pulling carts. Here, you'll also find the one of two (the other being on Iriomote) Star Sand Beaches as well as Kondoi Beach which is known for clear turquoise waters and long white sand beaches.
Neighborhoods
The Yaeyama Islands are comprised of nine smaller islands and islets, some with more attractions than others. Hatoma Island is a small island whose main attraction is that they have no attractions, simply because they are such a small island. Aragusuku and Kohama are two other islands that do not have many attractions, aside from the large tourist resort on Kohama.
Hateruma Island is known as Japan's southernmost point and even have a monument dedicated to this fact. This island has a more laid-back vibe and is home to some of the most beautiful turquoise waters on the island at Nishi Hama beach. Iriomote island is one of the more popular islands for tourists due to their large jungle and beautiful coral and sea life that can be seen when scuba diving off its coast.
Ishigaki Island is a little smaller and less frequented by tourists. But don't let that fool you, Ishigaki has some of the most stunning beaches in all of Japan, especially Sukuji Beach. Taketomi is a popular destination, primarily due to their impeccably preserved Ryukyu village and having one of two Star Sand beaches in Japan. Kuro Island is known as the cow island; the number of cows on the island actually outnumbers its inhabitants. Kuro is a a great spot to get away from it all, including modern life such as convenience stores and traffic lights! Then, there's Yonaguni Island, known for their natural rock formations including the Emerald Dove, Japanese Wood Pigeon and Ryuku Robin.
Activities
The Yaeyama Islands are a snorkeler's paradise, with coral reefs around many of the islands, including Yonaguni and Iriomote. Scuba diving is also popular off of Yonaguni due to the mysterious underwater ruins that are some 8000 years old and have been attributed to the lost Continent of Mu and even sometimes considered to be alien artifacts! Above water activities include exploring the caverns on Yonaguni Island, taking a boat cruise on the rivers on Iriomote Island, and touring Taketomi Island on water buffalo.
Food and Dining
Being a set of islands, you can correctly suspect that the majority of food will be seafood. Taketomi island is known for their shrimp, you'll find peach-pineapple on Iriomote island, and Ishigaki is famous for their melt-in-your-mouth beef. For the most part, the larger islands, Ishigaki, Iriomote, and Taketomi, will have the majority of food and bar options. The rest of the islands cater primarily to locals and therefore often don't keep much stock in regards to food and liquor.
Transportation
In Japan, trains are one of the fastest and lowest cost means of transportation. Getting a
Japan Rail Pass
can save you money if you plan to stay for several days or more. Regional and nation-wide passes are available, usually for the number of days of your choice.
The easiest way to get in is to take a flight into the main airport on Ishigaki Island then take an inter-island ferry ride to the island you need to go to, if it's not Ishigaki. There are a few larger cruise ships, such as Star Cruises, who can take you from mainland Japan to one of the islands, although this tends to be extensive and take quite a bit of time.
The majority of islands are small enough that you do not need transportation, although some people like to rent bikes in order to explore the island better. Larger islands do have small bus systems that make loops around the island, taking you to the most popular destinations. There are a few car rental services if you prefer to drive, just remember that you will have to ferry the car to and from other islands you visit.
Related:
Looking for a
hostel in Japan
? In search of a
party in Tokyo
? Traveling alone to
Osaka
or
Tokyo
?