Excellent stay! We stayed for three nights total. Clean rooms, clean beds, friendly staff, comfortable kitchen and common area. - Gerrick
What sets them apart?
This hostel's central location can't be beat. It's an affordable place to stay in a prime location near many shops and restaurants. It's also near the metro if you're hoping to travel a bit farther around Madrid.
Hostel Personality
Who's staying here?
This hostel is best for small groups of friends because the rooms are the perfect size. It can be a bit difficult for solo travelers to meet other guests here, but if you can organize a group to head up to the terrace, that's the nicest area to hang out.
Insider Tip
If your room gets a little loud, you can buy ear plugs at the reception area.
Barbieri Sol Hostel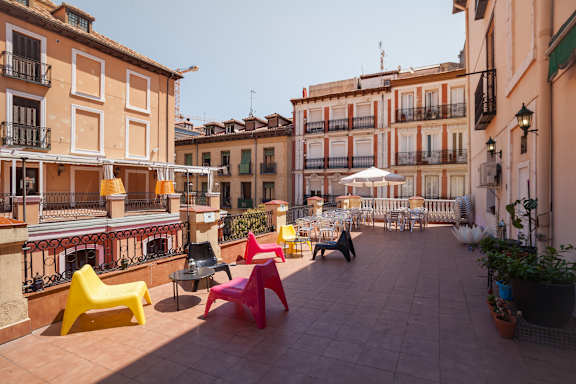 Located in central Madrid, this hostel couldn't be more convenient for budget travelers. Despite its affordable prices, it's location is near everything you'd want to see and do. The hostel offers simple dorm rooms and private rooms that are comfortable and clean. The staff is helpful and the terrace is a great place to hang out with friends and enjoy nice weather.
The Facilities
Dorms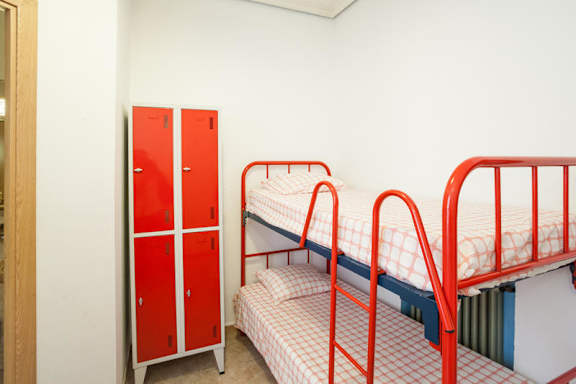 This hostel has 12 rooms in total including the private rooms, 4 bed dorms, and 6 bed dorms. The dorms are the perfect size for small groups of friends who want some space to themselves. The rooms are basic and a bit small but clean and all of the dorm rooms have en-suite bathrooms. There are lockers available for guests as well but you must bring your own locker.
Private Rooms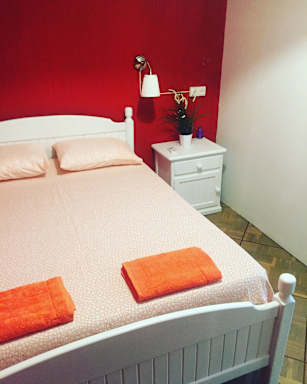 The private rooms are very reasonably priced at this hostel given its location. There are double and twin private rooms to choose from. The twin rooms have en-suite bathrooms and the double rooms have the choice of either en-suite or shared bathrooms. You'll pay significantly more if you choose a rooms with an en-suite bathroom, though.
Bathrooms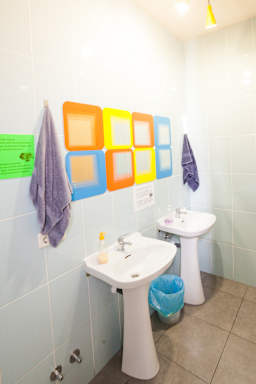 Many of the rooms have en-suite bathrooms, although a handful use the shared bathrooms. In general the bathrooms are a bit small and uncomfortable. They have the basic furnishings and the hot water is reliable. They are old and starting to show their age, but it is convenient to have them attached to the rooms.
Common Areas
The best place to hang out at this hostel is the outdoor terrace. If you've got a group of friends with you, head to the terrace and enjoy some cold drinks while you chat and relax. There are tables and chairs and plants that give the space a little character and charm. The atmosphere of the hostel is very chill and laid back, so there won't always be other guests on the terrace, but don't be afraid to invite some friends and surely other guests will follow.
The hostel also has an indoor lounge area with a television. The is the best place to use the wi-fi or read a good book. There are also public computers and a printer if you need to print a boarding pass. The shared kitchen is also convenient if you're planning to make any meals for yourself.
The Location
Centro
Centro, or downtown Madrid, offers visitors a central location, lively plazas, plenty of shopping, and no shortage of entertainment. The area is filled with people, both local and foreign, who are exploring the neighborhood's great restaurants, hitting up some of the most popular shopping streets, or simply soaking up the atmosphere of street performers and a colorful atmosphere.
What's Nearby?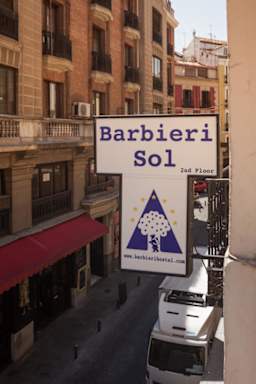 The biggest selling point for this hostel is its central location. It's just off of Puerta del Sol and is less than a mile from Reina Sofia Museum, Museo del Prado, Parque del Retiro, and the lively La Latina neighborhood. Make sure you head to La Latina on a Sunday for their famous market. Other interesting neighborhoods that you can walk to are Lavapies and Malasana.
In the area immediately around the hostel there are plenty of restaurants and shops. The hostel is located on Puerta de Sol, which is one of the city's best tapas bars streets. This is central Madrid, so it can be a bit noisy, but that is to be expected given the prime location. If you're craving a bit of familiar food, there's a KFC and McDonald's a couple of blocks away as well. Also nearby is a supermarket.
Nearby Transportation
The hostel's central location means it is accessible from almost anywhere in the city. The most popular metro station, "Sol", is just a couple minutes' walk away. This station is located on Puerta del Sol Square and is along Lines 1, 2, and 3. It is also one of the busiest stations in the city, but offers access to anywhere you might want to go.
Amenities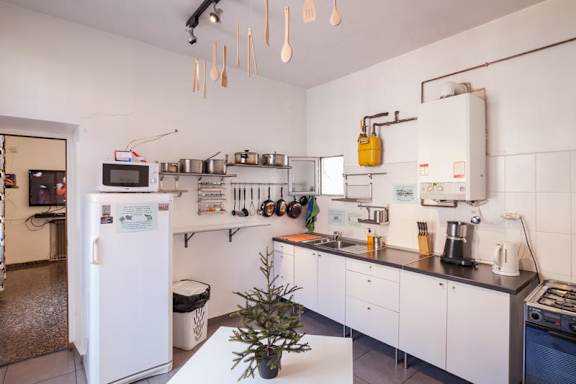 This hostel is in an older building but it does have some great amenities. There's wi-fi available to guests, air conditioning in the rooms, and security lockers (bring your own padlock). The staff also has travel information and maps if you need them. Luggage storage is also available. It's free if you arrive early, but you have to pay if you need them to hold your bags before your departure.
Staff
The staff here are available 24 hours a day. They can help you print your boarding passes if you need, and they have maps of the city available if you request them. Not every employee speaks English, though.
Heads Up
This hostel's location couldn't be better, but with a central location comes a noisy environment. The building is a bit older and some of the facilities could be upgraded, but much of this is to be expected at an affordable hostel in the heart of the city.
Barbieri Sol Hostel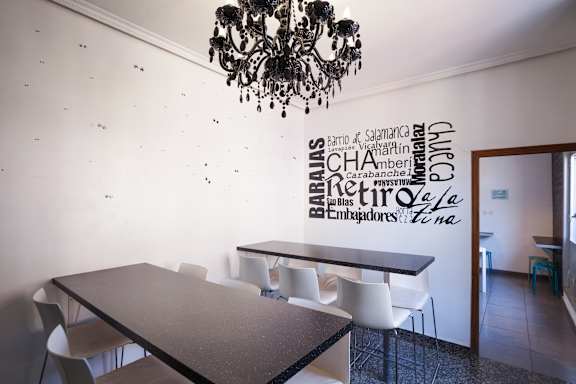 Do you have a favorite hostel that you would like to review? Let us know!