What sets them apart?
This is one of the best hostels in Madrid and it really does have something for everyone. If you're excited to explore Madrid, this hostel's central location and helpful staff will make sure your stay is as fun and efficient as possible. This isn't exactly a party hostel, but there are no shortage of social activities. With a roof top bar, and plenty of travelers to hang out with, both explorers and party-goers alike will by happy here.
Hostel Personality
Who's staying here?
This hostel appeals to all types of travelers. They require guests to be 18 years old, but otherwise it's a diverse crowd with a diverse range of interests. There are plenty of activities and opportunities to meet other guests, so solo travelers love this place, too. Private rooms are also offered for couples or small groups of friends. Whoever you are and whatever brings you to Madrid, this hostel will likely make you feel right at home.
Insider Tip
It's worth paying for the low price breakfast. It's a good meal and this is a surprisingly social time when you can meet other guests or get travel tips from the staff.
The Hat Madrid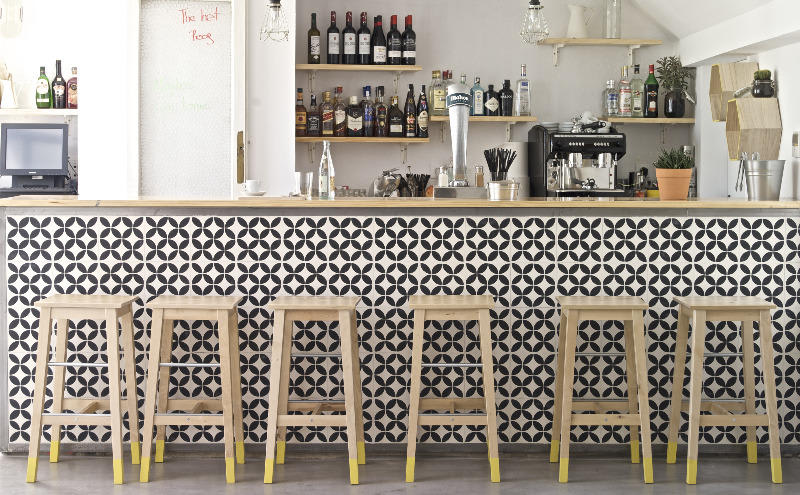 The Hat Madrid is one of the most popular and well liked hostels in Madrid. So much so that you should really make a reservation well in advance as they do fill up, particularly during the peak season.
The hostel is centrally located near anything a tourist, backpacker, or traveling professional may need. They have a wide diversity of room types and plenty of activities for guests to participate in. It's easy to meet other travelers, but if you want a quieter visit, that's also possible.
Whether you're a first time traveler staying in a hostel, or a long term traveler who's looking for a comfortable place to unwind, this hostel won't disappoint.
The Facilities
Dorms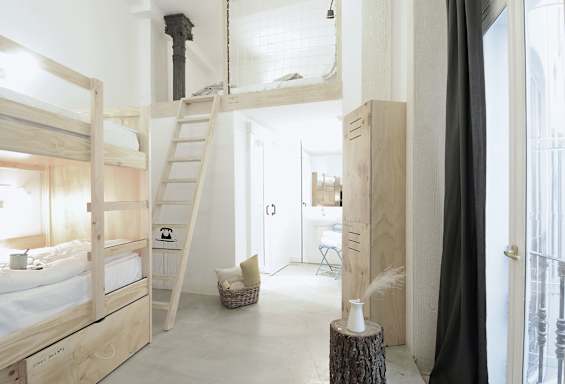 This hostel has dorm rooms that sleep either 4, 8, or ten people in co-ed or female only rooms. The larger rooms with more beds are a bit cheaper and more social, but they also come with the hassles of having a large number of roommates.
The rooms have custom built bunks with curtains, reading lights, and security lockers for guests (bring your own locks). Rooms are air conditioned and relatively quiet. Ask to stay above the ground floor if you want the quietest experience.
Private Rooms
Each private room is a bit different with it's own style and furnishings. There are twin and four bed private rooms with either ensuite bathrooms or shared bathrooms (priced accordingly). The rooms are air conditioned and some have a very small balcony overlooking the street. The furnishings are simple but comfortable and the rooms are quiet. Some rooms have a small fridge and sink. Some have a sofa that converts to a bed.
Bathrooms
The bathrooms here are clean and modern. The showers have good water pressure with reliable hot water. They use a button system for conservation purposes so you'll likely find yourself pushing a button to restart the water frequently. It's a bit annoying but not uncommon in hostels throughout Spain. Depending on your room, you may find yourself walking pretty far to get to the nearest bathroom.
Bar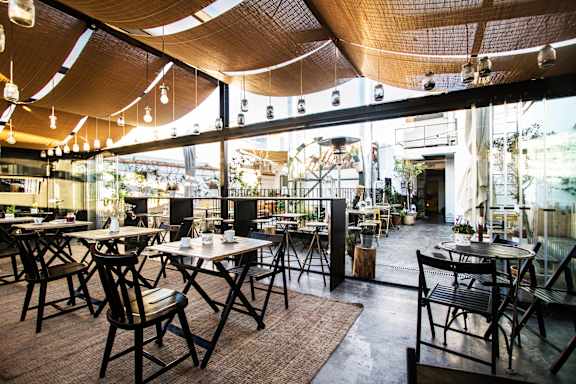 Guests love this hostel's rooftop bar. It's the perfect place to unwind from a busy day of sightseeing. Sip a glass of wine and enjoy watching the sunset over this majestic city while you chat with other guests and unwind (or get the night started if you're planning to head out partying).
Do note that the prices for food at the bar are a bit high by Madrid standards, but the drink prices are reasonable.
Common Areas
Most of the guests gather at the rooftop bar to hang out and socialize. Inside there are some dining areas and common space as well where you can enjoy a drink, meal, or breakfast. This hostel is so popular that you can be assured there are always other guests hanging around. It won't be long before you've made some friends.
The Location
Centro
Centro, or downtown Madrid, offers visitors a central location, lively plazas, plenty of shopping, and no shortage of entertainment. The area is filled with people, both local and foreign, who are exploring the neighborhood's great restaurants, hitting up some of the most popular shopping streets, or simply soaking up the atmosphere of street performers and a colorful atmosphere.
What's Nearby?
This hostels central location in downtown Madrid is one of its biggest selling points. It's just 500 feet from Plaza Mayor Square and is just a short walk from countless restaurants, cafes, and bars. The lively nightlife district of La Latina is also less than a ten minute walk away.
If you're hoping to grab some snacks for food to cook, there's a grocery store right next door. Craving a little American food? Head to the Five Guys down the street. Other nearby sights include Puerta del Sol (5 minute walk), Gran Via (5 minute walk), the Royal Palace of Madrid (10 minute walk), and Prado Museum (12 minute walk).
Nearby Transportation
Being in Central Madrid means you'll have easy access to all forms of transportation. The closest metro stations are La Latina Metro Station, Tirso de Molina Metro Station, and Sol Metro Station. All three of these stations are just a couple minutes' walk away. La Latina is part of Line 5 and Tirso de Molina is along Line 1. Sol is along Lines 1, 2, and 3 and is one of the busiest stations of the metro system.
Atocha Train Station is about a mile away, but also easily accessible along the metro.
Activities
This hostel hosts nightly free Sangria and Tapas nights, which are popular and fun. If you're hoping to meet other guests then this is the place to be. There is also breakfast served every morning (for a small price) and many guests enjoy hanging out together during this time.
Amenities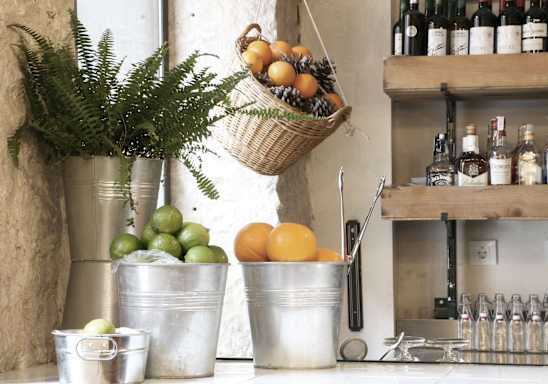 This hostel has excellent amenities for guests, including Wi-Fi, laundry facilities, security lockers, and all kinds of travel information. The breakfast is excellent and highly recommended, although you do have to pay an additional price for it. The hostel itself is very secure with keycard access and there's an elevator to help you haul your luggage up to your floor.
Staff
The staff here are knowledgeable and friendly so don't hesitate to ask if you have any questions about the city, how to get around, what to see, and where to eat. The hostel refers to them as "ambassadors" and while the name may sound a little cheesy or pretentious, the staff themselves are down to earth and easy to talk to.
Heads Up
There really are very few complaints about this hostel. But the food prices at the bar could be a bit cheaper and the bathrooms could be a bit cleaner (but they're really not bad) or more conveniently located.
The Hat Madrid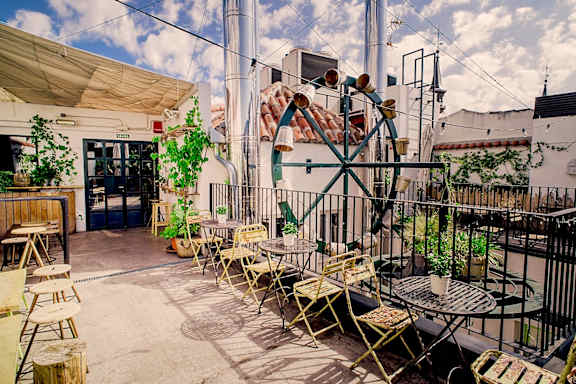 Do you have a favorite hostel that you would like to review? Let us know!