Very nice hostel with an extremely friendly staff. The location is great and every place can be walked to. The staff are all very helpful and a lot of fun as well! It was a perfect stay and I would love to come back. - Sheryl
What sets them apart?
This truly is one of the best hostels in Madrid. It offers the perfect combination of a fun and social community and hotel quality facilities. The staff are professional but fun and there are tons of activities that make it easy to meet other guests. The hostel rooms are clean and modern and kept to a very high standard.
Hostel Personality
Who's staying here?
This hostel appeals to all types of budget travelers, but the activities and social atmosphere make it ideal for solo travelers who want to meet other guests. It's affordable price and central location also make it popular with couples or small groups of friends who are excited to explore the city.
Insider Tip
If you're in town on a Sunday, make sure you head to the outdoor flea market nearby. It's the perfect place to pick up some souvenirs and gifts!
Ok Hostel Madrid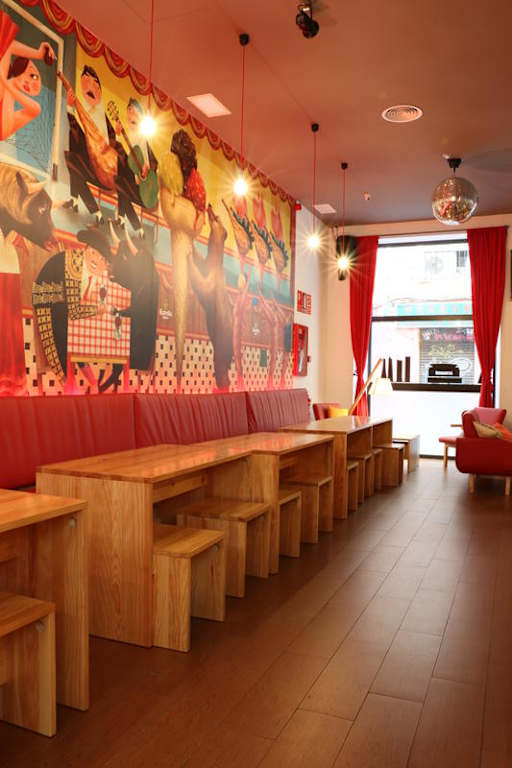 This hostel is owned by the same group that owns the Yes! Hostels and they have the same high quality facilities and reliable service. The staff members are professional and friendly. The rooms are on par with hotel-quality rooms, and the hostel community is fun, social, and welcoming. There are daily activities that keep things lively and social, but if you want a more mellow experience, there's no pressure to participate if you don't want to. The hostel is also centrally located near many of Madrid's top tourist attractions as well as the metro and other forms of transportation.
The Facilities
Dorms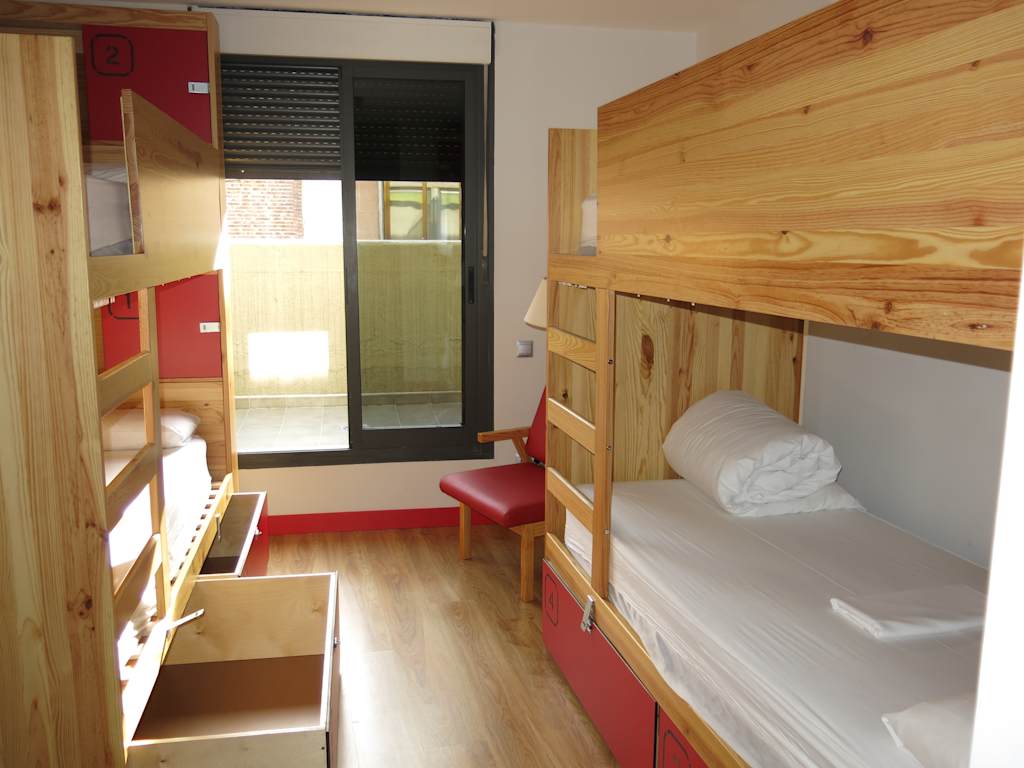 This hostel has four and six bed dorms with comfortable, custom built bunks and a decent amount of space. Each person is given an individual security locker, a shelf, a reading light, and a privacy curtain. There are both four and six bed female only rooms as well as co-ed rooms to choose from. The bunk beds are sturdy with a rustic look and the rooms all have ensuite bathrooms.
Private Rooms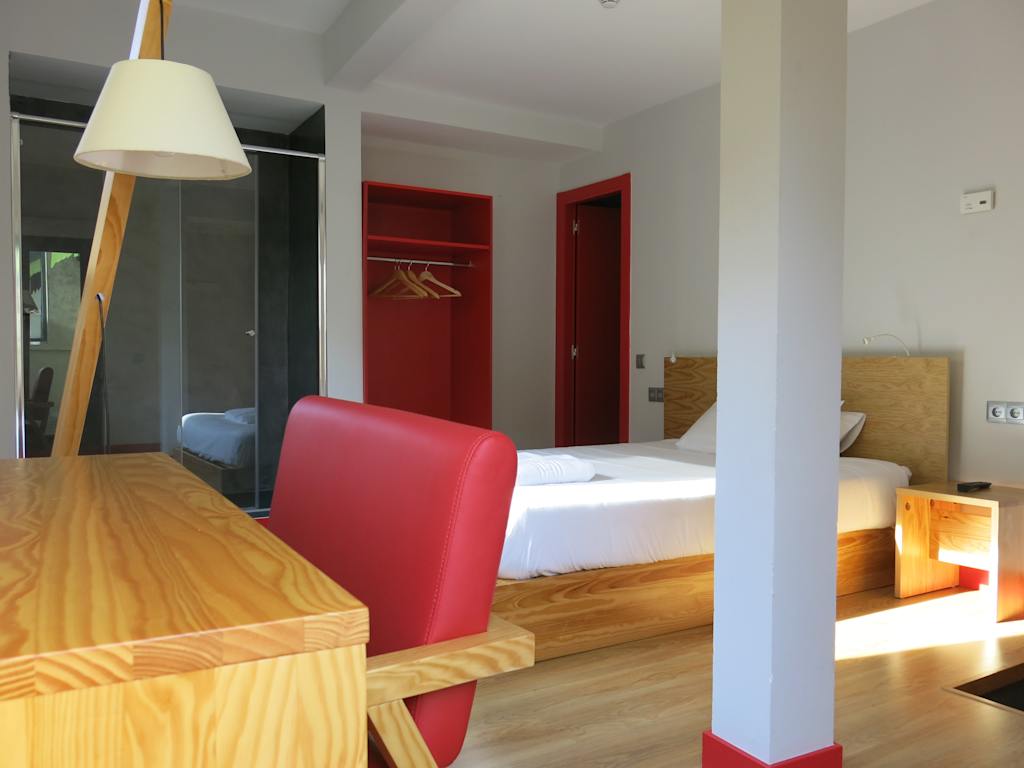 The hostel also has private double and single rooms. The double rooms are either standard, with ensuite bathroom, a double bed, Wi-Fi, and air conditioning, or "superior", which means they also have a small balcony.
The private rooms are a great option if you want the community and convenience of a hostel without the crowded chaos of a dorm room.
Bathrooms
All rooms have ensuite bathrooms at this hostel with sinks, toilets, and showers. The showers have excellent water pressure and nice hot water. The bathrooms are kept clean, but the floor can get very slippery, so bring shower shoes if possible.
Common Areas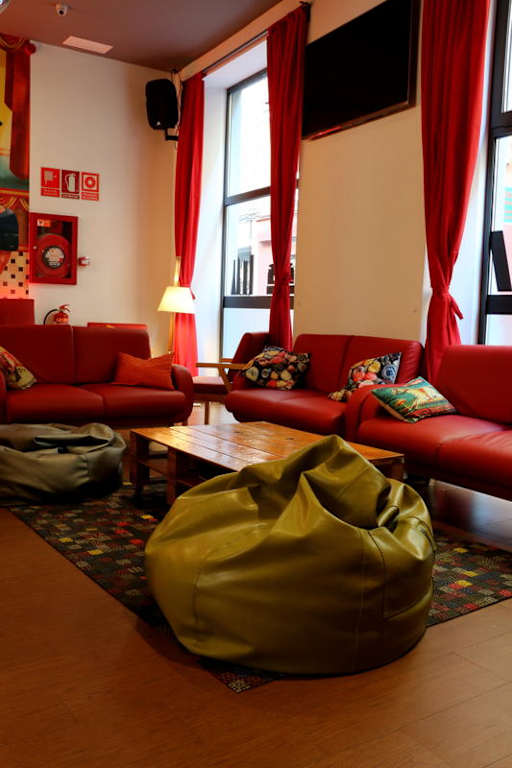 This hostel has some great common areas, including the large common room which they refer to as "Comedor". You'll find sofas, bean bag chairs, and plenty of places to lounge and relax. The hostel also has a shared kitchen where many guests enjoy cooking their own meals together and chatting about their day. Tables are available where you can enjoy any food you prepare. Public computers are also available if you'd like to catch up with some friends back home.
The Location
La Latina
La Latina is a charming neighborhood. In many areas it holds on to its old world charm with narrow streets that weave through brightly colored stone buildings. In other parts of the neighborhood, there's been an upswing in bars and shops that bring a bohemian vibe. The area has become popular with younger locals who gather to drink, work, or dine. The neighborhood is also a popular area for tapas restaurants, which is a long time tradition with restaurants that have been around for generations.
On Sundays, head to the area south of La Latina metro station for a large outdoor market that is popular with locals and tourists alike.
What's Nearby?
This hostel is in the fun and centrally located neighborhood of La Latina. Nearby you'll find many terrific and well-established tapas restaurants as well as interesting shops, bars, and markets. The neighborhood is known for its Sunday outdoor market, which is well worth a visit if you're in town over the weekend. You're also less than half a mile from Plaza Mayor and Puerta del Sol. The Royal Palace of Madrid is a little over half a mile away as is Gran Via and the Prado Museum. The Museum Triangle is less than a mile away.
Nearby Transportation
This hostel is well connected with public transportation. La Latina Metro Station is just a couple minutes' away and part of Line 5. Tirso de Molina Metro Station is a slightly longer walk and on Line 1. Atocha Train Station is less than a mile away and accessible on Line 1, just get off at Atocha Renfe Station. Adolfo Suarez Madrid-Barajas Airport is 8.7 mi from the property and is not accessible by public transportation.
Activities
This is a very social hostel with daily activities for guests. There are nightly group dinners for an additional price that include all you can drink sangria and beer. There are pub crawls and on-site parties with beer pong and other games. During the day they offer walking tours that are a fun way to learn about the city and meet some new people. This is a fun hostel with an enthusiastic staff and always has something going on.
Amenities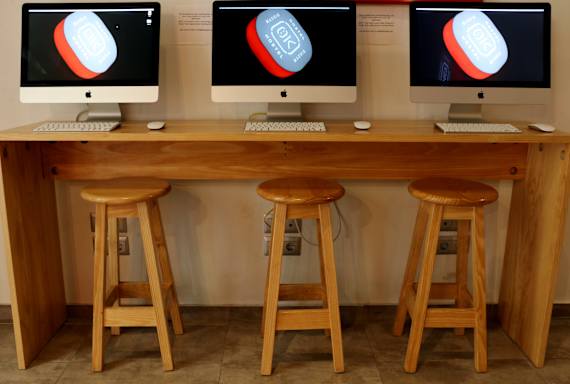 As this is a large and well established hostel, they provide all kinds of amenities for guests. There is a shared kitchen where you can prepare your own meals, Wi-Fi throughout the facilities, PlayStation, public computers, and board games. It's also a secure hostel with key card access and 24 hour reception service.
Staff
This hostel has a relaxed vibe with very professional staff. It's a large hostel and the staff work hard to make sure everything runs smoothly and the atmosphere stays fun and social. They organize the social activities and keep things inclusive and lively, but they are also available to address any concerns you might have with your room. Don't hesitate to ask if you have any questions about where to eat, what to see, or how to get around, as they know Madrid very well, too.
Heads Up
This is a large hostel with all of the perks and amenities that comes with it, but for some people the large size means it feels a bit impersonal.
Ok Hostel Madrid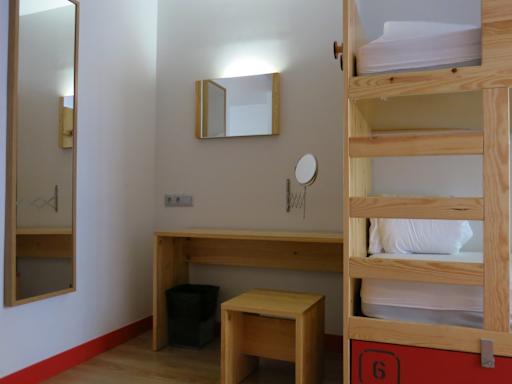 Do you have a favorite hostel that you would like to review? Let us know!