Great place for brand new solo travelers. Lots of events focused around getting people together and the bar is great place to start up a conversation. The bathrooms were big with lots of shower and toilet stalls which made getting ready easily. Short walk away from plaza mayor and close to the metro. - Hattie
What sets them apart?
This hostel is a party hostel with an on-site bar and a number of activities for guests to enjoy. If you're hoping to meet other travelers, then this hostel is the place to be. They host everything from pub crawls to walking tours and you'll likely meet other fun backpackers to hang out with during your time here.
Hostel Personality
Who's staying here?
This hostel has a social vibe that appeals to young travelers who want to go out and party. It's popular with young solo travelers and groups of friends who want to take advantage of the city's night life.
Insider Tip
Ask at the reception desk for the air conditioning to be turned on in your room. Otherwise you're in for a hot night.
Cats Hostel Madrid Sol
This hostel is perfectly located to head out on the town and see everything that Madrid has to offer. The staff organize a number of activities for guests to keep things active. They also have an on-site bar with plenty of drinks and a lively environment. The best time to stay at this hostel is during peak travel periods as that's when it's most active with many people hanging around. With 166 beds in total, there is usually a crowd, but during the most popular months you'll find the atmosphere at its best.
The Facilities
Dorms
This hostel has a large range of dorms to choose from. There is everything from 4 to 14 bed dorms (and everything in between) that are priced by size. There are also both co-ed and female only rooms available. If you're looking to meet a bunch of new people and don't mind a crowded room, then the 14 bed dorm is by far the cheapest. If you want a little bit more peace and quiet then the 4 bed dorm is worth the money.
The rooms are basic but have decent sized lockers and air conditioning. Make sure you request the AC be turned on at the reception area. The rooms can feel a bit cramped when they're full. Also try to grab a lower bunk as the top bunks feel a bit shaky.
Private Rooms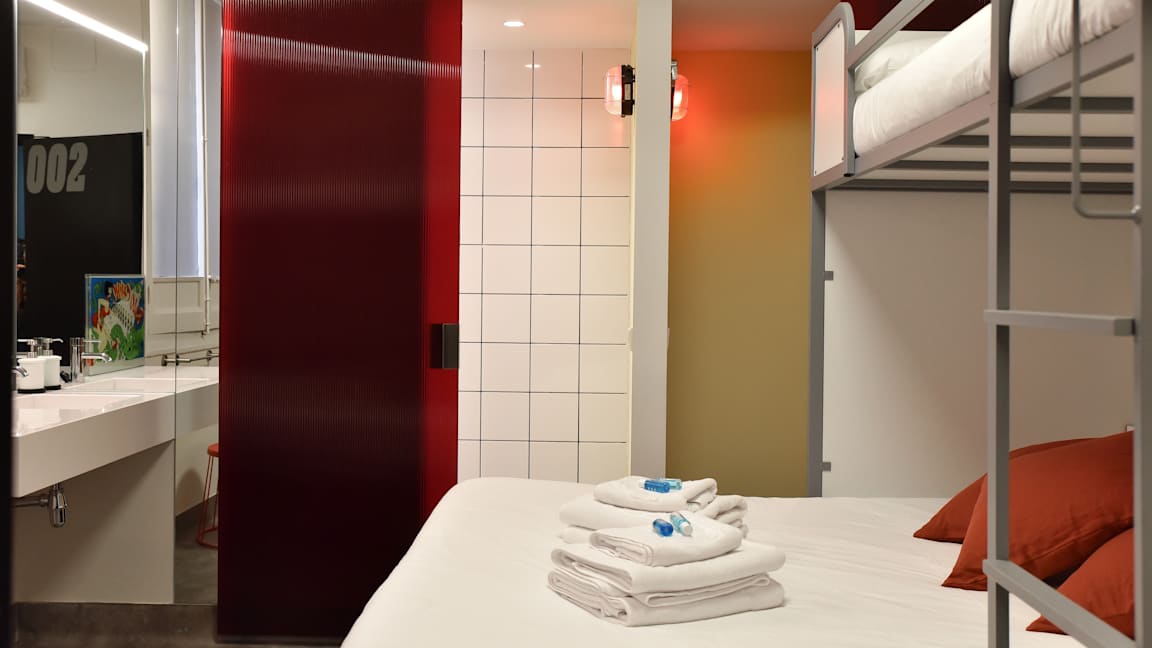 If you want a little more personal space and don't mind paying a bit more, then the private rooms are a good option. There are 3 bed private rooms that have a double bed and a single bunk. There are also twin rooms with two single beds available. The rooms have en-suite bathrooms, air conditioning, and a decent amount of space.
Bathrooms
The bathrooms at this hostel are decent with warm showers. If you're staying in a dorm you may have a bit of a walk to get to the nearest bathroom but there are plenty of toilets and showers available so it's not hard to get ready in the morning. The bathrooms are also relatively large.
Bar
The on-site bar sets this hostel apart in Madrid. It's a popular hangout spot for guests and it has a fun and lively atmosphere. It isn't the largest bar, but it does have a lot going on. You're sure to make some great friends while you're here. Just a heads up that the drinks can be pricey, but they have good sangria and beer in a fun atmosphere.
Common Areas
This hostel has great common areas where guests hang out and staff organize lots of activities. There an impressive courtyard patio at the heart of the hostel that reflects the building's 17th century Arab-Andalusian architectural style. It can be a peaceful oasis or a party center depending on the time of day.
If you're looking for a slightly edgier experience, head to "the cave". At night, this area turns into a club with concerts, flamenco shows, and other social activities or parties. This is where you go to kick off the pub crawl, too.
Inside, the "Red Room" serves a variety of purposes. Here you can lounge and watch a movie, play games, or read a good book. There's also a computer area where you can catch up on work or chat with friends back home.
The Location
Centro
Centro, or downtown Madrid, offers visitors a central location, lively plazas, plenty of shopping, and no shortage of entertainment. The area is filled with people, both local and foreign, who are exploring the neighborhood's great restaurants, hitting up some of the most popular shopping streets, or simply soaking up the atmosphere of street performers and a colorful atmosphere.
What's Nearby?
This hostel's location is great for anybody who wants to take advantage of Madrid's nightlife or see the most popular sights and attractions. It's located in central Madrid and is just steps from the fun Santa Ana Square. San Sebastian Church is also very close by, and in about a five minute walk you can reach the famous Puerta del Sol Square. Plaza Mayor and the Prado museum are also walking distance away.
Nearby Transportation
Anton Martin Metro Station is just a short walk away and on Line 1. From here you can get to many places in the city within minutes.
Activities
This hostel is all about the activities. Particularly during the peak seasons, there is always something going on. The pub crawls here are legendary, but you'll also enjoy the group dinners, live music, and parties on the patio or in "the cave." During the day there are walking tours and in the evening there are tapas tours that are not to be missed.
Amenities
This is a large and well established hostel with all of the standard amenities available to guests. There's wi-fi throughout, vending machines, an elevator, and any travel information you might need. There's also laundry facilities and a buffet breakfast you can purchase for a small price.
Staff
The staff at this hostel are friendly and helpful, and they organize a wide range of activities for guests. The reception area will work with you to address any problems or concerns you have, but do remember this is a party hostel and they prioritize having fun and keeping things light and vibrant.
Heads Up
The atmosphere at this hostel can vary a lot depending on the crowd who happens to be staying here. It can be a bit loud for some travelers at night but a large crowd keeps the atmosphere social. When it's crowded it can be hard for the staff to keep things clean all the time as well.
Cats Hostel Madrid Sol
Do you have a favorite hostel that you would like to review? Let us know!