Amsterdam is a city made for wandering the canals and taking in the sights, which doesn't cost anything. Your trip to Amsterdam can be very budget-friendly if you stick to free or cheap activities like walking the canals.
Of course, like any big city, Amsterdam has its share of expensive activities, and you could easily blow your budget in its rooftop bars, on expensive sightseeing tickets and more. However, you can also enjoy this beautiful city without spending a cent (or at least, very few of them). And if you're looking for a cheap place to stay, check out our
overview of the best hostels in Amsterdam
.
If you need some inspiration for your trip, here are the best cheap things to do in Amsterdam.
Try Dutch delicacies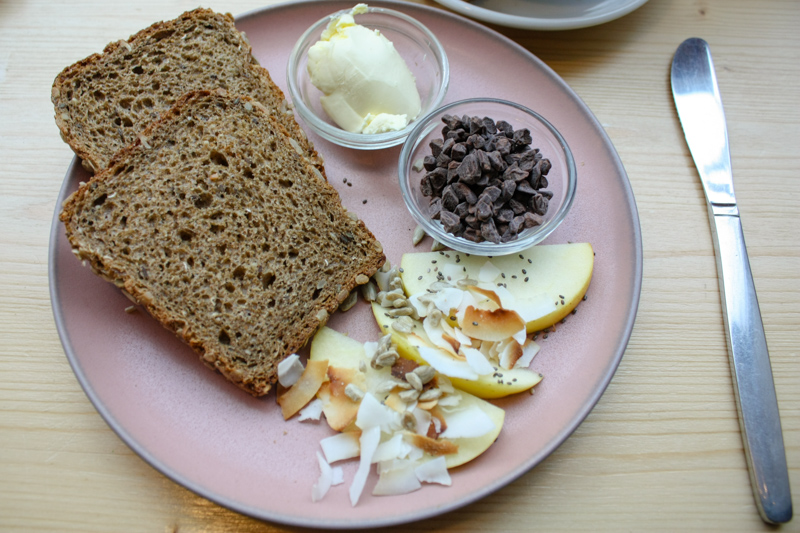 You could easily spend a small fortune in Amsterdam's high-end restaurants, but you can also easily find Dutch food for far less.
One little-known fact about the Netherlands is that it's the world's largest consumer of sprinkles in the entire world! The Dutch eat 14 million kg of sprinkles per year. The traditional way to eat sprinkles is on toast. If you venture into a grocery store, you'll likely notice that Dutch supermarkets have entire sections devoted to sprinkles!
While it's a popular breakfast to eat at home, few restaurants serve it. However, you can try a version with delicious dark chocolate shavings at Beter & Leuk in Amsterdam, along with other
traditional Dutch foods
, like roze koek, which translates to pink cake (a cake covered in pink fondant icing).
Hop on a free ferry
Amsterdam is a city set on the water. The canals, with their numerous footbridges, are easily traversed on foot. Plus, the historic centre of the city is easily explored by walking, without ever needing to set foot on a tram or the metro! However, if you want to cross Amsterdam's largest body of the water, the IJ, which divides North Amsterdam from the rest of the city, you can take a free ferry.
Just hop on a ferry behind Amsterdam Centraal station - no tickets needed - and you'll be transported to North Amsterdam in just a few minutes across the water. Free water views included.
Admire the view from The Eye Film Institute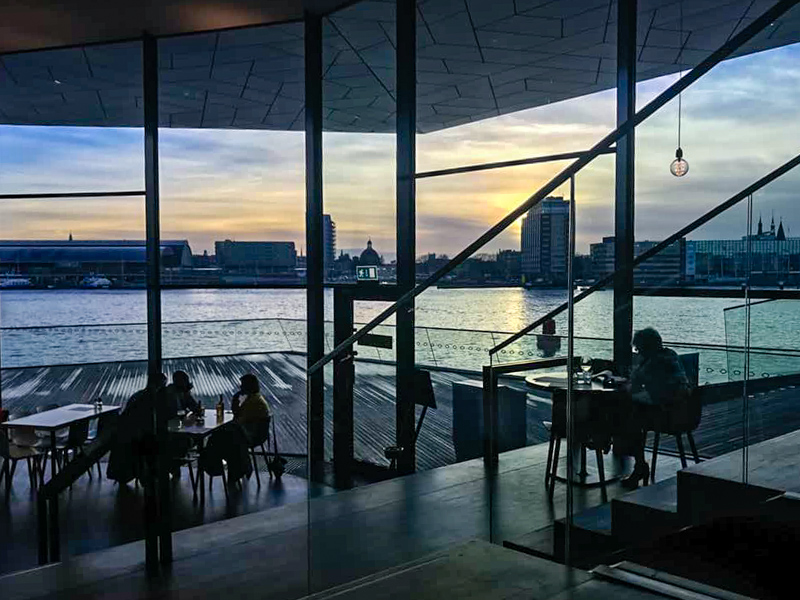 After getting a free ferry to North Amsterdam, head to the
Eye Film Institute museum
, which is about a 5-minute walk away. Entry to the museum isn't free, but you can get into the cafe without paying, and for the price of a drink or coffee, admire the views of the city and the water. The cafe has 180 degree views with floor-to-ceiling windows, overlooking the water and central Amsterdam. I highly recommend visiting just before sunset, so you can watch the sun set over the city and the river.
Wander the city's canals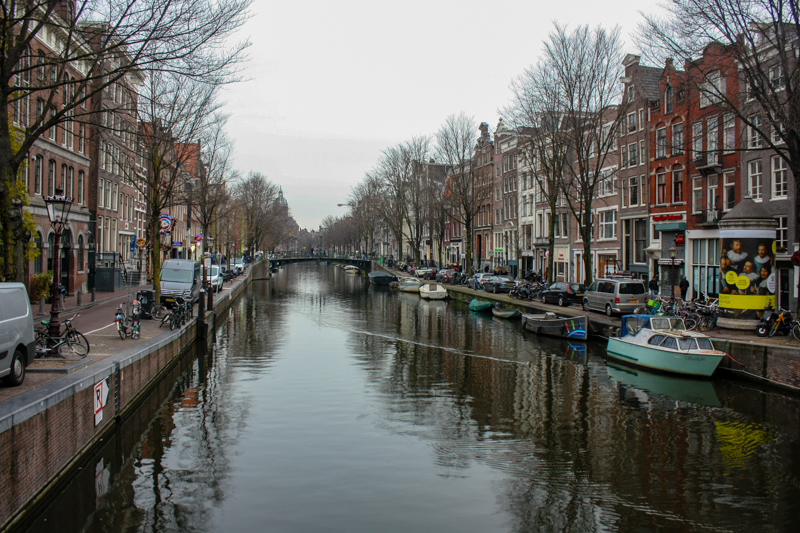 The quintessential Amsterdam activity is completely free - soaking up the atmosphere of the city by wandering its canals. Amsterdam has 165 canals, and many are packed into its historic centre, which is the perfect size for walking.
You can easily see some of Amsterdam's most famous sights by walking on foot - from the Red Light District to Anne Frank's house, the canals are home to many well-known sights, and some lesser-known but interesting ones. For example, the narrowest house in the world is located on Amsterdam's canals, at Singel, number 7. It looks just like any of Amsterdam's many narrow brick canalside buildings, except to an extreme. At only one meter (3 feet) wide, it's incredibly narrow!
Amsterdam Light Festival
If you're visiting Amsterdam in December or January, I have the perfect free canal-side activity for you - the Amsterdam Light Festival. Each winter, the city's canals transform into an outdoor art gallery. Artist-designed light installations are set up along the city's canals, and everyone can enjoy it for free. You can find dates, maps and information about the art on the
Amsterdam Light Festival's website
. Thanks to the early winter nights, it's the perfect time to admire the lights reflected in the water, and the light-based artworks certainly brighten up dull December days.
Soak up the summer open air theatre
If, on the other hand, you're visiting in the summer rather than the winter, be sure not to miss the free summer open air theatre at
Vondelpark
. They always have a wide range of events, from music to children's theatre to dance and stand-up comedy. So be sure to check what's on before your visit!
Secret gig on a boat
Amsterdam is a culture-rich city with a creative heart, and you can find music for most tastes. If you want to experience something different, check out the
secret gigs on a boat
. Every month, they invite a different musician on board to perform, and drinks available on board on a donation basis.
The boat on which the gigs take place is incredibly unique, too. Rather than a boat on a canal, as you might imagine, the boat is on dry land, but looking at over the water. The boat is part of de Ceuvel, an environmental project taking disused canal boats and parking them on wasteland. They run a number of projects to improve land quality, as well as to build community.
Free jazz on Tuesdays
If you love jazz, Amsterdam's Bimhuis, a famous jazz music venue, is home to free jazz sessions every Tuesday night. At 8pm, there's an improv workshop for musicians (free to watch), and at 10pm, a jazz session and open mic night (also free for visitors).
Check out free museums
A combined ticket to all Amsterdam's museums (plus public transport) can cost from 60 Euros a day, making museum visits an expensive proposition, but some Amsterdam museums have free sections!
The Civic Guards Gallery, now officially part of the Amsterdam Museum, is free to visit and filled with portraits of Dutch elite. The Amsterdam Treasures collection (in the Amsterdam City Archives) is free and contains fascinating items drawn from the Archives' collection.
Free walking tour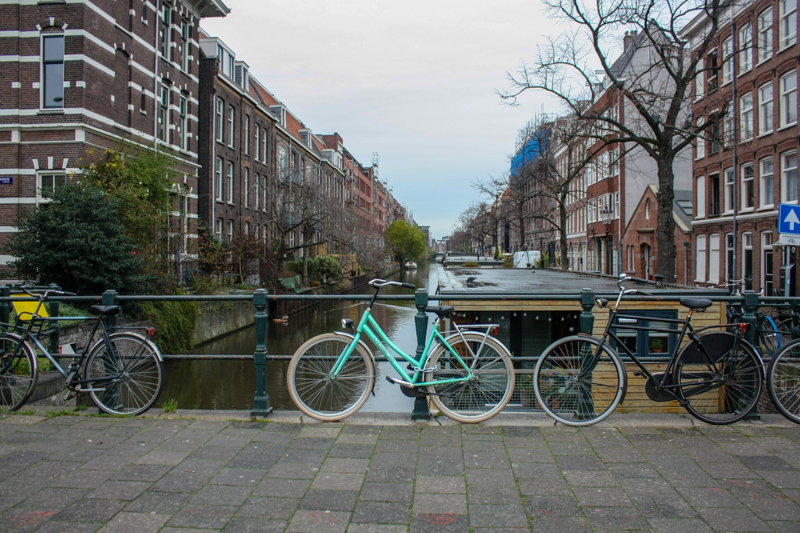 Like many cities, Amsterdam has free walking tours you can join (but tips are appreciated), to explore the city and learn more about its history. I love going to free walking tours when I first arrive in a city as a way of orienting myself to the city and getting a quick introduction to it before exploring it more in-depth on my own. These free walking tours are actually one of the best
free things to do in Amsterdam
.
There are a number of different walking tours that cover different areas and different topics in Amsterdam: the free classic tour, red light district or an alternative tour.
Check out the markets
To soak up a slice of traditional Amsterdam life, check out one of the city's markets. From a floating flower market to secondhand market and markets selling books, clothing and more, there are a number of markets around the city. Albert Cuyp market is a traditional neighbourhood market where you find many different items. Waterlooplein is a secondhand market, and the flower market is a unique floating market set over houseboats. Foodhallen is a trendy, popular food market popular with young Amsterdam residents and visitors alike. It has a number of international food stalls set in an indoor market. In the same building you'll find trendy shops and a cinema.
Amsterdam is a city with a wide variety of activities for all interests and budgets. It's possible to enjoy the city no matter what your budget. From canal walks to free outdoor concerts, museums, markets and more, Amsterdam is yours to explore, whatever your pocketbook allows! And for more ideas, check out Budget Your Trip's
guide to free things to do in Amsterdam
.