Napier On a Budget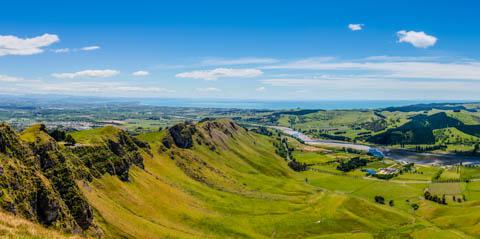 Napier is city on the eastern coast of the North Island of New Zealand. It is part of the Hawke's Bay Region, a famous area for wine vineyards. Napier has a population of 61,000 people and is known for its Art Deco architecture and of course, wine.
Sights
The National Aquarium of New Zealand is located in Napier, just south of the city center. At the aquarium, you can experience the likes of a true underwater exploration on the "travelator" beneath the Oceanarium. You can see everything from sharks to stingrays and hundreds of fish species in between. Admission is $20 NZD for adults.
Make sure to check out one of the most photographed landmarks in New Zealand, Pania of the Reef. Pania is a mythical Maori figure and she is located just north of the city center.
New Zealand's oldest prison is also located in Napier and although it shut down in 1993, you can still tour it during the day (or the night if you are up for the scare). The site was once an insane asylum and is believed to still be haunted.
Neighborhoods
Napier is part of the Hawke's Bay region on the North Island. It was colonized by British settlers in the 19th century and was developed for farming. These days, the climate in this region makes it the ideal place for wine vineyards, which has been vastly developed in recent years.
Other cities in the region are Hastings and Wairoa. Hastings is larger than Napier population-wise and also portrays similar Art Deco architecture that Napier does. Wairoa is the northernmost town in the Hawke's Bay region. This town is the gateway to Te Urewera National Park and often serves as a great place to stock up on supplies before venturing into the park.
Activities
Take an Art Deco tour while visiting Napier. Back in 1931, an earthquake destroyed many buildings in the downtown area of Napier. It was reconstructed in an Art Deco style and has become the Art Deco capital of the world since then. This architecture style is what brings a lot of tourism to the city. You can embark on a self-led tour or take a guided tour. More information on this can be found at the visitor center.
If you are visiting Napier for something other than the architecture, then it is likely you will want to take a food and wine tour. Learn about why the region is ideal for wine making, taste the world-renowned wine, and pair it with some delicious cheese throughout.
Just thirty minutes south of Napier are the beaches of Waimarama and Ocean Beach. These beaches are perfect for surfing, fishing, or just walking along the golden sand.
Food and Dining
Inside the Masonic Hotel is the Emporium Eatery and Bar, where you can order gourmet food, local wine, and delicious desserts. The hotel represents the Art Deco style architecture as well, which really adds to the full Napier experience. The Puketapu restaurant and bar is a great place to stop if you are cycling on the Hawke's Bay bike tracks. It is an award winning country pub originally built in the 1800's. MINT Restaurant is another Napier must do. It is housed in one of the very few surviving buildings pre-earthquake. Be sure to try the famous New Zealand greenlip mussels. If you are looking for something other than traditional Kiwi cuisine, try Restaurant Indonesia. The Dutch colonization of Indonesia is very apparent at this restaurant, as the name of the famous dish here is called Rijsttafel (Dutch word for 'rice table').
Transportation
Get to Napier by car, plane, or bus! If you are driving, you will take State Highway 2 as it passes right through the town center. Hawke's Bay Airport is north of Napier if you choose to fly. InterCity buses have daily services that can take you to or from Napier. These routes connect you all over the North Island. See the InterCity website for timetables and fares.
Once in the city, you can access most sights and activities by foot as most things are no more than a fifteen-minute walk apart. There are public buses in Napier, however, they are not very frequent. It is best to have a timetable in advance so you can plan to be there when the bus arrives instead of waiting around until one comes (it will probably be awhile). Of course, you can always call a taxi to get you from point A to point B!
Related:
Looking for a party in
Auckland
or somewhere else in
New Zealand
?
Traveling
alone or with a group
?