Nelson On a Budget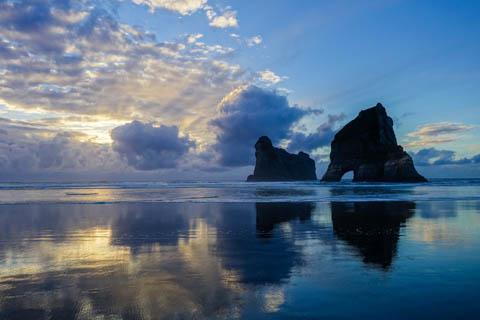 Nelson is a city that sits on Tasman Bay on the South Island of New Zealand. Travelers, especially ones that are heading to explore Abel Tasman National Park, frequently visit this town. Nelson has a population of about 46,000 people and, geographically speaking, it is the center of New Zealand as a whole.
Sights
Nelson is a town that is well known for its arts and crafting influences. There is a museum in Nelson called WOW The World of Wearable Art and Collectable Cars that's something worth seeing. The Miyazu Japanese Garden is a beautiful place to see as well; it was inspired by the Japanese city Miyazu, which is Nelsons sister city.
As mentioned above, Nelson is the geographical center of New Zealand, and there is a trigonometrical point and marker on a hill in the botanic gardens. This is a great place for photos and has beautiful views of the city below with the sea on the horizon.
One of the famous landmarks in Nelson is the Christ Church Cathedral. Granite steps lead you from Trafalgar Square up to the doors of the Cathedral. There are services on Sunday's if you wish to attend one of those.
Neighborhoods
There are many different neighborhoods and areas in the greater region of Nelson. Nelson and Richmond make up the urban centers of the region (Richmond is about 8 miles from Nelson). Heading west, the towns and bays off of the highways that surround Nelson are considered part of the region as well. Some of these towns are Mapua, Motueka, and Moutere. Mapua is a great place to explore if you're interested in wildlife, more specifically birds and whales. The ecological Waimea inlet is located here and is a great place to spot some of this wildlife. Other than that, Mapua has great wineries and cafes. As you continue along highway 60, you will pass the turn off for Ruby Bay. There is a campsite on the bay called McKee Memorial Reserve Camping Ground and it is well worth spending a night at. It costs no more than $10 to camp, and the view that you will wake up to in the morning is unreal. It is not far outside of Nelson either, so if you have the camping gear, I suggest checking out Ruby Bay!
The next town that is part of the Nelson region is Motueka. Here you will find many art galleries and studios that have many different types of art. Motueka is also known for beer; the best hops in the world are grown here and during harvest season you can even volunteer to help cut down vines for harvesting.
If you are aiming to get to the beautiful Abel Tasman National Park, you will pass through one more beach town worth visiting, which is Kaiteriteri. The sand at the beach is made of quartz and mica particles giving it a unique golden tint. This is a great beach for swimming, but keep in mind the water is pretty chilly, even in the summer! Just outside of Kaiteriteri is a geological point of interest called Split Apple Rock, which is a giant rock made of granite that is shaped like an apple cut in half. After Kaiteriteri, you will find yourself in Abel Tasman National Park, which is one of New Zealand's sunniest and most beautiful parks. Kayaking is very popular in the park, as well as hiking and other water activities.
Activities
Visit Tahanui Beach for a day full of activities while you are in Nelson. The beach is beautiful in itself, but you can also visit the skate park, children's playground, hydroslide, the public tennis courts, or even play a round of mini golf! The beach is about five kilometers from the city center.
Paragliding is a great activity while in Nelson as you can witness the beautiful views of the sea and land from above. Cumulus Paragliding offers tandem paragliding experiences.
Alternatively, it is really worth making a day (or more) trip to Abel Tasman National Park. There are tons of activities, but kayaking is one of the most popular.
Lastly, if you are visiting New Zealand, skydiving should be something on the cards for you. It is one of the most sought after activities in the country and Abel Tasman is one of the best places in the world to do it. You can see everything from snow-capped mountains to crystal clear ocean waters when you jump.
Food and Dining
Nelson is the largest fishing port in all of Australasia, which means the seafood here is pretty unbeatable. There is a market that sells fresh local produce, and most of the restaurants serve it as well. If you want something fast, grab a Turkish kebab from Akbabas Turkish Kebab House, which is Nelson's most popular takeaway restaurant.
Nelson is the craft brewing capital of New Zealand, so be sure to try some beer. It also has many boutique wineries that have won international competitions. The Free House is a bar that serves many of the local beers (sadly, the beers are not free).
Transportation
You can take a bus to Nelson on the InterCity Coachlines. There are buses running daily to Nelson from various parts of the South Island. Naked bus is another bus company but doesn't have as frequent of routes going to and from Nelson. You can also fly into Nelson if you are coming from the North Island. Many people take the ferry from the North Island as well, which brings you to a town called Picton, 100 kilometers away from Nelson. In Picton, you can take a bus to Nelson.
Renting a car is another great option, as you have the freedom to explore the Nelson region at your own time and pace. There is a company called Wicked Campers that rents cars with tents on the roof if you are looking to do some camping on your holiday! Another company is called New Zealand Rent a Car, and they allow you to pick up and drop off the car in different locations. Once you are in Nelson you can get around on foot, bus or taxi.
Related:
Looking for a party in
Auckland
or somewhere else in
New Zealand
?
Traveling
alone or with a group
?