Dunedin On a Budget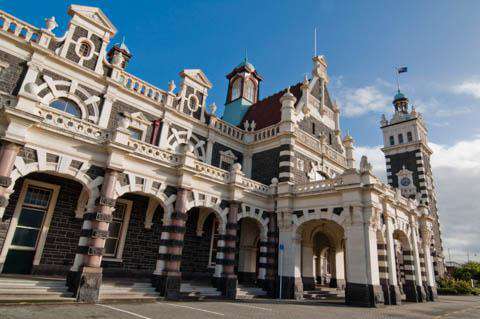 Dunedin is the second largest city on the South Island of New Zealand. It is situated on the southeast coast and is largely Scottish in its heritage. It is part of the Otago region and has mild temperatures during the spring and summer, but extremely cold temperatures during the end of fall and winter. Dunedin is a university town; The University of Otago is the oldest in New Zealand, established in 1869. The students make up over a tenth of the entire city's population.
Sights
There are tons of things to see while visiting Dunedin. For all you chocolate lovers, be sure to check out Cadbury World. This chocolate factory is a must see as it teaches about the history of Cadbury, allows you to see chocolate being made, and of course, try the delicious chocolate at the end of the museum tour. After seeing how the chocolate is made, you could head over to the Speights Brewery and see how the local beer is made as well. At the end of the tour you have an hour to drink all you want (and can) of all the different types of Speights beer they make, from lagers to ales to ciders.
The Octagon, which is the city center, is a unique place to see. It is shaped as, believe it or not, an octagon and has tons of restaurants, bars, and shops. Near the city center is the Old Railway Station, where you can see true Victorian architecture. As mentioned before, Dunedin is a university town, so be sure to stroll through the campus, as there are beautiful buildings throughout, especially the clock tower.
For those interested in Rugby and Football (soccer), you will want to go see the futuristic Forsyth Barr Stadium that was opened in 2011. The stadium is fully enclosed, however, the roof is transparent which allows real grass to grow on the field.
Lastly, walk through the Dunedin Botanical Gardens, which span over 123 acres at the northern end of the city. There is an aviary in the gardens with tons of tropical birds, a large fountain with a marble pool, and tons of exotic plants all over.
Neighborhoods
There are so many places around and outside of the city that are truly incredible. The Otago Peninsula as a whole is a beautiful place to explore; the whole coastline is very scenic with hidden beaches throughout. If you drive far enough on the western coast of the peninsula (about an hour), you can visit the Royal Albatross Colony, which is the only mainland nesting site in the entire world. Albatross are mainly seen during the summer months; however, if you happen to be visiting during the winter it is likely that you will see other types of wildlife. You can drive or take a bus to the colony.
There are tons of beaches around Dunedin that are less than 25 minutes away by car. Tunnel beach is probably the top beach that you will want to visit. You have to walk through farmland, which brings you atop massive cliffs over the ocean. There is access to get you down to the beach as well. Long Beach is another amazing beach to visit (and even camp at). There is a massive cave at one end of the beach where you can stay overnight, just know that it is usually inhabited by large groups of students during the weekends. Sandfly Bay is full of sand dunes, seals, and sometimes even penguins! Aramoana Beach has beautiful views and is also great for rock climbers. The Moeraki Boulders are a bit further out, but definitely worth visiting. The boulders are perfectly round and make for a great place to get some pictures standing on top of the rocks!
The Catlins are an area about two hours outside of Dunedin. Here you can hike through the lush forest, visit waterfalls, surf, mountain bike, camp, and much more. The Catlins are often overlooked by tourists, therefore, giving it a "hidden gem" feel.
Activities
Take a walk up Baldwin Street, which is the steepest street in the world. If you happen to be there during the annual chocolate festival (in the summer), you can witness over 15,000 chocolate-coated sweets being rolled down Baldwin Street. If you're up to it, you can also participate in the Baldwin Street Gutbuster, which takes place during the summer, and run up and then back down the world's steepest street.
There are a lot of hiking trails around Dunedin. Signal Hill, Mt. Cargill, and Nichols Falls are just a few. These are also great mountain biking trails for all you cyclists. The Taeri Gorge Scenic Railway ride is a great leisurely activity. Simply hop on the train and enjoy the beautiful views of central Otago.
Food and Dining
You can find so many different kinds of food ranging from fast food to high class, five-star restaurants. If you are looking for a classic New Zealand fish and chips shop while you are in Dunedin, head over to Mei Wah. It is very reasonably priced and too tasty to be true. They also serve delicious Chinese food there. George Street has tons of options as well, just walk down the street and there will definitely be something that catches your eye. Caper's Cafe is a delicious place for breakfast or lunch; their French toast is to die for.
There is a farmers market on Saturdays at the Railway Station where you can try some Kiwi favorites like bacon butties, Whitebait fritters, and crepes. Etrusco is a great mid-range Italian restaurant no far from the city center.
Transportation
There is an airport in Dunedin if you are coming from somewhere far. Otherwise, you can drive or take a bus into the city. Buses run regularly from the surrounding cities (Christchurch, Queenstown, Invercargill) through companies like Atomic Shuttles, InterCity, Wanaka-Connexion, and Knightrider. Once in the city, you can take a bus around town, rent a bike, walk, or take a taxi.
Related:
Looking for a party in
Auckland
or somewhere else in
New Zealand
?
Traveling
alone or with a group
?