Paihia On a Budget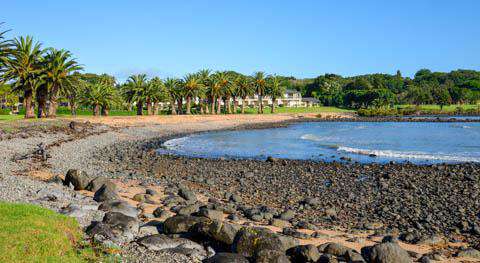 Paihia is a town on the North Island of New Zealand in the Bay of Islands region. It is about a three hours north of Auckland by car. For those visiting the Bay of Islands, it is the main town in the area and is located near the town of Russell and Kerikeri. There is a wharf in town where most ships depart from if you are planning on going out to explore the Bay of Islands. Paihia is a very small town with a population of about 1800 people. There is a fair climate all year round with temperatures ranging from sixty to seventy degrees Fahrenheit.
Sights
Paihia has many places where you can go for beautiful views of the stunning Bay of Islands. The Opua Lookout is a great place to walk up to for a beautiful view of the bay as well as the Paihia Township. This walk takes about one hour total and is one and a half kilometers in length.
Be sure to visit the Treaty House at the Waitangi Treaty Grounds. This historic site marks the beginning of the nation of New Zealand. The founding document was signed here in 1840.
Head to Haruru, which is west of Paihia, to see the beautiful falls and stroll along the boardwalk. There is a resort here as well, which is great if you are looking for a quiet stay. The resort offers activities like kayaking, water trikes, giant chess, as well as things like dolphin watching and swimming, fishing, and horseback riding.
Neighborhoods
The greater area that Paihia is a part of is called the Bay of Islands. This area is massively popular among travelers and tourists. This enclave contains over 140 islands, some with undeveloped beaches, and big-game fishing throughout.
Other towns in the region are Waitangi, Russell, Kawakawa, and Kerikeri. Waitangi is where the Treaty House is located, making it rich in history and culture. Russell is a ferry ride away from Paihia where you can find war remnants from the Maori Wars. Kawakawa is home to the famous Hundertwasser toilets, should you have any interest in visiting for that reason. You can also visit the Kawiti Caves at Waiomio and see hundreds of glowworms. Kerikeri is full of galleries, boutiques, and cafes. This town is also the gateway to the Puketi Kauri Rainforest.
Activities
Many of the main attractions in Paihia involve water. Whether you wish to take a cruise or do some other
activities around the Bay of Islands
, try your hand at big-game fishing, or just go for a swim on one of the many incredible beaches in the area, you will be able to find something suitable for you!
Fullers Great Sights is a company offering many different types of cruises around the Bay of Islands. Awesome NZ is another company specializing in high-speed boating adventures around the bay. Or, take a cruise out to the famous 'hole in the rock' and keep your eye out for dolphins!
Diving in the Rainbow Warrior wreckage is an amazing experience as well. The Rainbow Warrior was a Greenpeace boat that was sunk by the French in 1985. It was turned into an artificial reef a few years later.
The Rock
is an overnight cruise that lasts 22 hours. During this cruise, you can participate in many different water activities, explore the islands on foot, see incredible wildlife, and enjoy some great food on board.
If you are looking to do something on land instead, the Dune Rider Unique Adventure Tour offers a day full of hiking sand dunes and boogie boarding back down them.
Food and Dining
Seafood is a must while visiting Paihia. Only Seafood has delicious, fresh, and local cuisine. Another place to get some New Zealand cuisine is at Bistro40, which is housed in a historic colonial style building. Green's is a great restaurant that specializes in traditional Indian and Thai cuisine. 35 Degrees South has a prime location that looks out over the water, be sure to order the local oysters.
Transportation
Paihia is about three hours from Auckland by car or bus. InterCity and Naked Bus offer services into Paihia from Auckland and other cities nearby. There is a regional airport in Kerikeri that most main centers in the country have flights to and from. The nearest international airport is in Auckland. Paihia is a pretty compact town, so once you arrive there you can get around mostly on foot.
Related:
Looking for a party in
Auckland
or somewhere else in
New Zealand
?
Traveling
alone or with a group
?